How to AirPlay Videos and Music from iPhone to Mac
Written by Kaylee Wood | Last update: April 28, 2020
Just have got a new iPhone 6 or plus or still using you classic iPhone4? No matter what generation your iPhone is, ranging from 4 to 6 plus, you can count on this article to learn about how to use AirPlay on iPhone and how to AirPlay iPhone videos and music to Mac.
How to Use AirPlay on iPhone?
AirPlay enables two devices to make friends. Just as people from higher social class usually make friends with those who come from similar social level and share similar cause or hobby, this principle also applies to AirPlay, and that is the key to "how to airplay from iPhone to Mac".

How to AirPlay Prerequisites:
1. iOS 4.3 or higher
AirPlay requires an Apple TV (2nd generation or later) with an iOS device running iOS 4.3 or later or a Mac with iTunes 10.2 or later, which means that only when you have updated your iPhone to iOS 4.3 or newer, can you AirPlay from your iPhone to Mac or Apple TV with requested configurations.
2. Connect to the same WIFI network
Make sure that your iPhone and your AirPlay target device, for instance Macbook Pro, are connected to the same Wi-Fi network. Note that Peer-to-peer AirPlay requires your iOS device (late 2012 or later) with iOS 8, which cannot be achieved by iPhone 4.
How to AirPlay Music and Videos from iPhone to Mac
Want to know how to airplay from iPhone to Mac? Of course, you can use the iOS built-in AirPlay feature to stream your contents, but we strongly recommend you the powerful 5KPlayer, as it not only streams your videos and music but more importantly streams with high playback quality. 5KPlayer is a great HD AirPlay enabled media player that accepts high resolutions up to 4K/5K with 7.1 surround sound. It also accepts almost all file formats (AVI, MKV, WMV, FLV, DivX, etc.) and codecs, capacitating you to Airplay music directly from Third-Party Apps like Pandora and Spotify. It is a media software of versatility that basically caters for your all-round demands. And it is the best answer to how to airplay iPhone videos and music to Mac.
Step 1: Download and launch this AirPlay software on Mac. Note to connect your iOS device and Mac to the same Wi-Fi network.
Step 2: Go to Control Center on the display of your iPhone and click AirPlay. Select Mac here.
Step 3: Go to the AirPlay enabled video/music App, like iTunes, on your iPhone and play the video or music you want to stream. 5KPlayer grants you the best visual and audio experience with 100% quality reserved. And in the mean time you are free to go online shopping and other things on your Mac.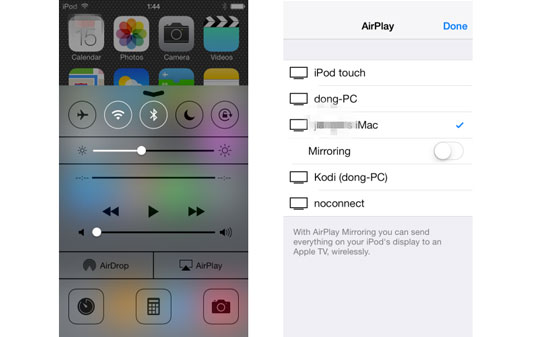 This free AirPlay player offers you the solution on how to airplay from iPhone to Mac, and it also enables you to stream movies and music from Mac to Apple-TV just as simple. And as a free video music player and online video downloader, 5KPlayer also surprises you with its extraordinary ability in playing AVI files on Mac, playing region DVDs, as well as downloading videos and music from over 300 websites.
Home | About | Contact Us | News | Privacy Policy | Agreement | Site Map
Copyright © 2023 Digiarty Software, Inc. All Rights Reserved.
5KPlayer & DearMob are brands of Digiarty Software, Inc. Any third party product names and trademarks used in this website are property of their respective owners. All the related logos and images, including but not limited to Apple's AirPlay®, Apple TV®, iPhone®, iPod®, iPad®, iTunes® and Mac® are registered trademarks of their own. Digiarty is not owned by or affiliated with Apple Inc. and any of those companies.