Apple Watch Function Review: Apple Watch Speaker Do's and Don'ts
This article details on Apple Watch (Series 2) function you need to know, and provides an review of Apple Watch speaker do's and don'ts when you use it to AirPlay music video from Apple Watch (2) to Mac/PC. Now that Apple Watch built-in speaker can't blast music and movies, you can pick the best free Apple Watch speaker to make the best of this wearable device.
Best Free Apple Watch (2) Speaker Helps You Blast Apple Watch Sound
Apple Watch speaker is only loud enough for taptic or Siri. How to play music on Apple Watch (Series 2 included) on a Mac/PC? 5KPlayer can optimize Apple Watch function in terms of audio output. Who wants to hang his ears only to tell out Apple Watch sound? If not, you need 5KPlayer to stream Apple Watch audio to Mac/PC.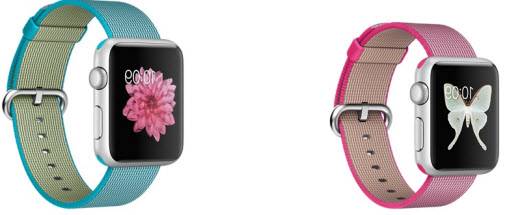 >> Watch Apple March Event 2016 Live Stream
Apple Watch is now a more affordable option with the Nylon Band version dished out in Apple March Event. It comes with 3 editions and 2 sizes — 38mm or 42mm case in 18-karat rose gold, stainless steel or silver aluminum, making the electronic watch visually elegant for a slim wrist to put on. However, neither of the two size is robust enough for music playback. Listed below is Apple Watch review focusing on Apple Watch built-in speaker 3 do's and 2 don'ts, you can learn Apple Watch function better in regard of sound input and output.
Apple Watch Built-in Speaker 3 Do's
Apple Watch built-in speaker makes it possible for a private interaction between men and the watch. You can in the first place dictate message content through Quick Board because the watch face is too tiny for a keyboard. Then you can wake up Siri to find the nearest destination like a Chinese restaurant. Apart from that, Apple Watch built-in speaker can alert you for an incoming call or message with its Taptic Engine.
As its name indicates, Apple Watch built-in speaker is indeed private, which also comes with some inconvenience.
Apple Watch Built-in Speaker 2 Don'ts
No. 1 Apple Watch Don'ts: Music Blast
As indicated above, Apple Watch built-in microphone and speaker are more suitable for a kind of more private and low-decibel communication. It can't output such high quality and resounding audio music as Mac/PC. However, this lightweight and portable device is really something you can't reject. To make Apple Watch a both private and public speaker, you need 5KPlayer. Once installed on Mac/PC, 5KPlayer will features its built-in AirPlay function which receives music sound from Apple Watch. In this way you can AirPlay music audio from Apple Watch to Mac/PC to enjoy its fantastic playback. This speaker really makes you alter flexibly from low volume chats to resounding audio blast. Imagine yourself exercising on a treadmill, you can remotely stream music to this Apple Watch speaker on Mac/PC without pausing the step.
No. 2 Apple Watch Don'ts: Film Audio Amplify
This Apple Watch speaker is also capable of video streaming to Mac/PC. When the watch taps your wrist for an interesting video post on Facebook or Instagram, it would be of course too feeble to view it with the tiny face and speaker. That's the time when you really need 5KPlayer, because it is not only a sophisticated AirPlay speaker but also an AirPlay video receiver from Apple Watch to Mac/PC without quality loss.
Get Best Free Apple Watch Speaker to Improve Apple Watch function?
Download 5KPlayer, launch it on your Mac/PC. This best free Apple Watch (Series 2 included) speaker preserves the authentic audio quality to the greatest extent.
Connect Apple Watch and Mac/PC to Enable the Apple Watch Speaker
Step 1: Please connect your Apple Watch and Mac/PC to the same Wi-Fi or Ethernet to enable best free Apple Watch speaker.
Step 2: Tap the AirPlay icon on your Apple Watch, choose your Mac/PC name to activate AirPlay on Apple Watch.
* After installing the best free Apple Watch speaker, the above steps work perfectly if your want to stream movies music on iPhone/iPod to Mac/PC, or from Mac/PC to Apple TV. Please refer to the tutorial on how to AirPlay from iPhone to Mac and how to connect Mac/PC to Apple TV.
Home | About | Contact Us | News | Privacy Policy | Site Map
Copyright © 2017 DearMob, Inc. All Rights Reserved.
AirPlay®, iPod®, iPhone®, iPad®, iTunes® and Mac® are trademarks of Apple Inc., registered in the U.S. and other countries. DearMob's 5KPlayer is not developed by or affiliated with Apple Inc.