How to Use Apple AirPlay to Stream Videos from iPhone/iPad to PC
Written by Kaylee Wood | Last update: April 28, 2020
Although Microsoft is making great investment in the "Internet of Things" by flavoring its Windows 10 system with the IoT scenario for different category of devices, like Windows 10 Mobile for IoT mobile devices, this big breakthrough is yet to come, and we still have to rely on traditional convergence of Wireless technologies, MEMS and Internet to get information. Apple Airplay is part of the wireless technology that we need daily for the purpose of streaming information from devices to devices.
Apple AirPlay was once called AirTunes and used for audio only, but in iOS 4.2, Airtunes becomes AirPlay that can stream both videos and music. And later on, the AirPlay protocol stack was licensed as a third-party software component technology, which can be applied by many manufacturers, like iTunes and 5KPlayer.
Nevertheless, despite the efforts of all the manufacturers to produce AirPlay-enabled APPs/devices, it's still primarily an Apple-tagged feature. Besides, though iPhones and iPads of Apple company have already prevailed in the market and almost anyone can afford at least one of them, the expensive Mac is less likely to gain the same heat of popularity. Here comes the problem, How do I use Apple AirPlay just on a PC? We recommend you 5KPlayer.
How to use Apple AirPlay to Stream Videos from iPad/iPhone to PC
With the installation of professional Apple AirPlay server –5KPlayer Win Ver. on your PC, you will find out how to use Apple AirPlay to stream videos from iPad/iPhone to PC. Your Windows PC can receive videos, video clips as well as music streamed from AirPlay compatible devices like iPhone/iPad etc without extra software or plug-ins. This Windows Apple AirPlay server enables you to have all the video files on your iPhone/iPad displayed on PC even if it is storage-strapped.
Step 1: Download and launch this Apple AirPlay receiver on PC. Note to connect your iDevice and PC to the same Wi-Fi network.
Step 2: Go to Control Center on the display of your iDevice and find AirPlay. Click AirPlay. Then you can see a list of Apple AirPlay receiver options, and select your Windows PC.
Step 3: Choose the videos or music you want to play, then the PC will start playing on your PC.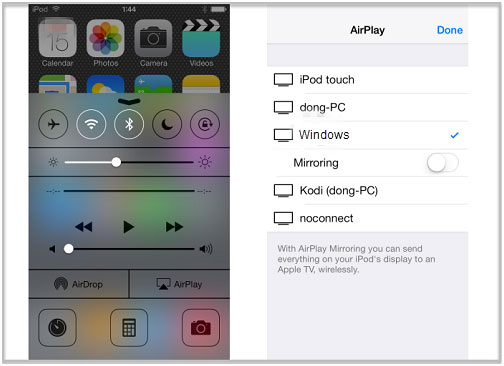 Apart from being an Apple AirPlay receiver, 5KPlayer also serves as an Apple AirPlay sender that lets you AirPlay videos to Apple TV.
Step 1: Download this free Apple AirPlay sender and launch it.
Step 2: Click the "AirPlay" button on the top right corner of the main interface of this free Apple AirPlay sender –5KPlayer. If the color of the icon turns into red, this Apple AirPlay sender is successfully enabled. You can then select the target receiver.
Step 3: Play the video you want to AirPlay, then the display will appear on the receiver you chose.
Note: Do make sure that the formats of the videos are supported by AirPlay –MOV, M4V, MP4.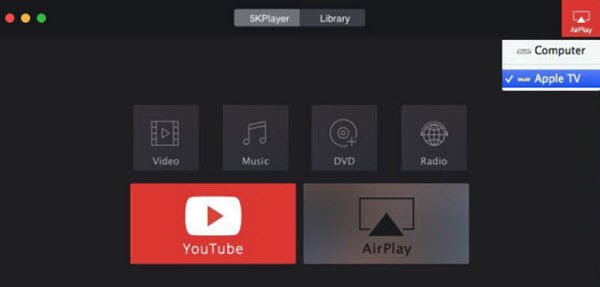 Home | About | Contact Us | News | Privacy Policy | Agreement | Site Map
Copyright © 2023 Digiarty Software, Inc. All Rights Reserved.
5KPlayer & DearMob are brands of Digiarty Software, Inc. Any third party product names and trademarks used in this website are property of their respective owners. All the related logos and images, including but not limited to Apple's AirPlay®, Apple TV®, iPhone®, iPod®, iPad®, iTunes® and Mac® are registered trademarks of their own. Digiarty is not owned by or affiliated with Apple Inc. and any of those companies.