Apple Watch (Series 4) can't go independently from iPhone to stream music — with the Bluetooth mode on, you can play the music on Apple Watch APP and get the music on iPhone.
This is because Apple Watch doesn't have its own speaker to listen to music. But is it possible to build connection between Apple Watch and Mac? By doing so, your Apple Watch is like a remote controller on your wrist that helps you step away and stay in control of the music playback. This is the time when you need 5KPlayer that helps AirPlay from Apple Watch, because Apple Watch itself doesn't support streaming to Mac without third-party help. Find below as of how you can enable AirPlay.
Music App : Apple Watch AirPlay (Series 4 Included)
Step 1: Toggle Switch Bluetooth Mode on after you pair Apple Watch with iPhone
Step 2: Go to the Music APP on Apple Watch, open play list (or the currently playing music)
Step 3: Force press the watch face, where you get four options including "Source" and "AirPlay", choose AirPlay
Step 4: Choose your Mac name and the menu folds automatically, then hit the Play button.
By following the steps, Apple Watch Music will play on Mac via AirPlay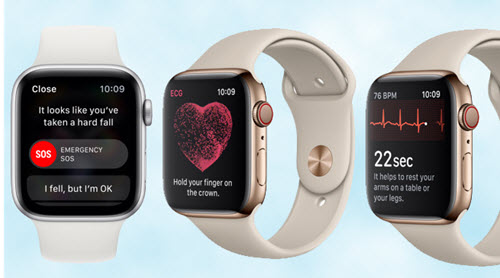 Note: By hitting "Source", you connect Apple Watch to an activated Bluetooth speaker
Having a tea break when you feel tired in the afternoon, that is the time when you can relax the stiff neck a little with Apple Watch AirPlay to stream your music to the inter-office Mac.
The motion of sports and the beats of music are born twins, and Apple Watch has made breath-taking innovations in fitness management. It will create infinite possibilities through combining fitness management with Apple Watch AirPlay.
Make the Best of Apple Watch AirPlay for Media Playback
Say you are about to present a product demo, or exhibit a photo gallery of new designs to colleagues from iPhone or iPad to a Mac screen, 5KPlayer is the best option you can turn to, because it serves as an AirPlay receiver on the Mac, and it supports any video format that Apple Watch can AirPlay. The same function works fine if you work at a college and don't want to paste your original videos to a public computer. Just use the Apple Watch AirPlay function to stream media to the Mac in classroom, for it transmits not a single data, which frees you from the worries of academic plagiarism.
Once you install 5KPlayer on your Mac, you turn it into a versatile AirPlay receiver. Not only your Apple Watch, you share iPad screen, or screen mirror iPhone to it, which can now behave together more seamlessly than ever before.