Airplay 8K Videos from Windows (10) to Mac and Vise Versa
Written by Kaylee Wood | Last update: April 28, 2020
It's time to switch back from Mac to Windows since the release of Windows 10 is brewing. Still waiting excitedly? Already tried the windows 10 insider preview? In that way, have you ever considered about some former demands for utilities such as Windows AirPlay? Has Microsoft done something to make direct streaming & AirPlay/mirroring from old/new Windows to Mac/Macbook/Apple-TV a wish come true? I'm afraid not! Indicating that we may still have to turn to third-party software for help! The free and tiptoe 5KPlayer for AirPlay 10/8/7/Vista Windows to Mac and other Apple products is right at your command.
Best Way to AirPlay Videos from Windows (10) to Mac and Reversely
5KPlayer explains for itself as the most well integrated UHD media player, that it's the best option out there for inter-platform media streaming services. AirPlay Windows 7/8/8.1 and even Windows 10 to Mac or streaming movies from Mac to Windows 10/8.1/8/7 can easily be achieved by 5KPlayer with extra bonus -8K res supported.

There are plenty of software and plug-ins in the AirPlay bandwagon for Windows/Mac AirPlay – Beamer, Airplayer, Airparrot, iTunes etc. while the latest news reveals that iTunes 12 fails to function on Windows 10. Then, which software shall we employ to omnibearingly and seamlessly AirPlay movies from Windows 7/8/8.1 Windows 10 to Mac or from Mac to Windows PC?
5KPlayer performs better than any AirPlayer to stream videos/movies played on Windows to Mac or Apple-TV. This free AirPlay software with 4K/8K res supported, allows you to:
1. Get free AirPlay/streaming service from Windows PC to Mac/Macbook and vise versa;
*You can even stream DVD contents from Windows 7/8/8.1 Windows 10 to Mac/iMac/Macbook air/pro or vice versa.
*You can stream Pandora, Spotify and Netflix content to both your Windows and Mac.
*you can stream MP4, MKV, AVI, MOV, MP4 etc. from Windows to Mac.
2. Beam video music from Windows 7/8/8.1 Windows 10 to Mac and Mac to Windows with highest video quality: 4K streaming, 8K streaming in 7.1 surround sound for theater experience at home;
3. Solve AirPlay not working problems and tackle AirPlay video delays.
4. Supplement the video music AirPlay that you can't stream from Xbox to Windows 10.
AirPlay Video Music from Windows to Mac (Windows 10 to Macbook Pro)
Step 1: Download and run 5KPlayer Windows version and Mac version respectively on your 7/8/8.1/10 Windows and Macbook Pro (10.7 and newer) for AirPlay contents of high res from Windows to Mac.
*Note to connect the Windows PC & Macbook Pro the same WIFI network.
Step 2: Drag'n drop a video file onto 5KPlayer UI, or you can click the video button on the main interface to browse files and select a video.
*If you want to try AirPlay an 8K file from Windows 10 to Macbook Pro, you'd better first download a video in 8K to avoid internet interferences.
Step 3: Click the AirPlay button on the top right corner of the playing UI and select Mac in the popup menu.
*You can also select Apple-TV in the menu to AirPlay from Windows 10/8.1/8/7 to Apple TV.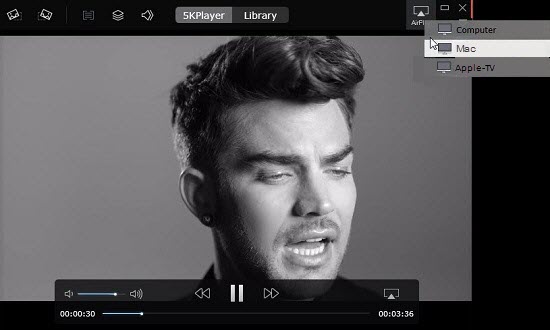 Note: AirPlay only support streaming videos in M4V, MOV and MP4, make sure to convert files into these formats. The video will instantly be streamed from Windows to Macbook and you'll see the AirPlay button go red, meaning AirPlay successfully enabled.
Tips on Mirroring iDevices on Windows PC
Since Apple Company only provides mirroring to Apple-TV from iPhone/iPad/Mac, how about to Windows 10/8.1/8/7? 5KPlayer capacitates you to make that move!
Step 1: Connect your iPhone/iPad and Windows 10/8.1/8/7 PC (with Windows Media Center Alternative 5KPlayer installed) the same WIFI network;
Step 2: Swipe up from the bottom of the iPhone/iPad screen to view the control center and click AirPlay. Select your Window PC;
Step 3: Enable Mirroring, and your iPhone/iPad screen will show up on the desktop.
Note: You can record your iPhone/iPad by clicking the recording button below.
*Click the button again to stop recording and the recorded video file will be saved on your Windows 10 PC and categorized in the playlist for a tidy video-management.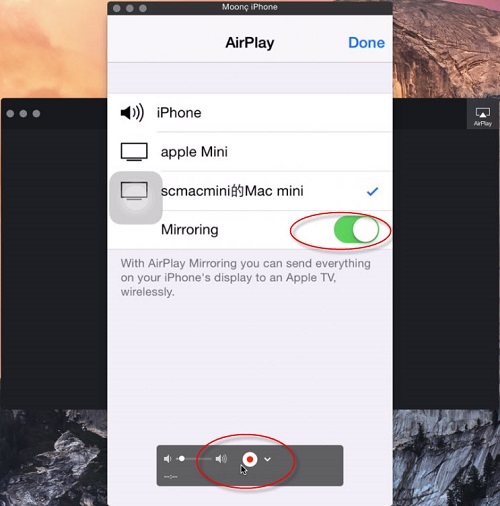 5KPlayer really facilitates the connection among the commonly used devices and platforms. It supports AirPlay from your old Windows to Mac/Windows and vise versa. So if you want to turn your old PC into a free media server you may also want to give 5KPlayer a try as it in the mean time, gives you access to millions of online video/music sources and downloading them likewise.
Home | About | Contact Us | News | Privacy Policy | Agreement | Site Map
Copyright © 2023 Digiarty Software, Inc. All Rights Reserved.
5KPlayer & DearMob are brands of Digiarty Software, Inc. Any third party product names and trademarks used in this website are property of their respective owners. All the related logos and images, including but not limited to Apple's AirPlay®, Apple TV®, iPhone®, iPod®, iPad®, iTunes® and Mac® are registered trademarks of their own. Digiarty is not owned by or affiliated with Apple Inc. and any of those companies.