How to Download Karaoke Music with 5KPlayer?
Let's assume that you already have 5KPlayer on your computer to download Karaoke songs free, here's how you can actually download the songs with lyrics and some useful tips to sing Karaoke songs, jump to a specific line, or convert Karaoke songs to ringtone or MP3 with this free tool.
Step 1: Search for the popular Karaoke song titles in the list above with YouTube, we recommend you choose karaoke songs download files uploaded by King Karaoke, which usually provide music of higher quality than the rest of the providers out there in the market.
Step 2: Copy & paste the URL to 5KPlayer to download Karaoke songs, and you should choose a preferred resolution of the music video before actually proceeding to karaoke songs download.
Step 3: Click on "Download", and by default 5KPlayer stores the downloaded Karaoke songs to "C:/ Users:/ Downloaded Videos".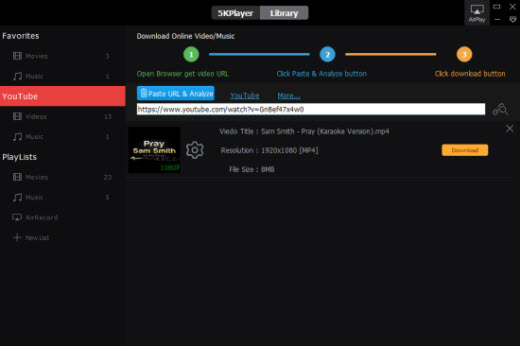 How to Jump to A set Line of a Karaoke Song?
Step 1: Hover your mouse over the control bar of 5KPlayer while using it to play a Karaoke song, you can see a thumbnail of lyrics so as to jump to the line directly by clicking on that point.
How to Convert Karaoke Songs to MP3 Free?
Step 1: On 5KPlayer's main panel, click on "YouTube", choose the title of karaoke songs downloaded to your computer and then click on "Convert" > MP3.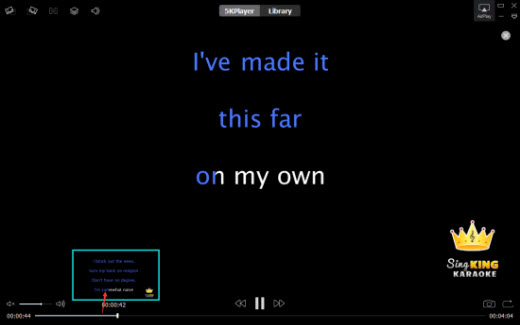 If you also have some plans on watching movies at home after singing the Karaoke, just stick with 5KPlayer to download best Hindi movies 2018 and the best dance party music 2018. Isn't it fun to turn your entire home into an entertainment hub with 5KPlayer – this all-in-one download tool to download Karaoke songs with lyrics? You should free download it right now for Windows or Mac.
Now that you've got the very best free Karaoke songs download tool, explore more features from it like streaming music from computer to Apple TV, or use it to download some of the best dance party music. Click to download it below now: