Top Rated New Hindi Movies 2016 Free Download
Why do you like watching Hindi movies? Simply because – they are the best movies in the world! If you are a fan of Hindi movies, this article will lead to recommend you the latest top 10 best Hindi movies of 2016 for you to enjoy. And if you are not familiar with Hindi movies and confused why there are differences between Hindi movies and Bollywood movies, this article will give you a clearer image of Hindi movies and teach you how to download and appreciate those Indian movie list.
Best Free Online Hindi Movies Downloader Download HD Hindi Movies
5KPlayer is the top free Hindi movies downloader software for both Mac and PC, this full HD Hindi movies downloader allows you to free download unlimited 720P, 1080P, 4K Hindi movies, Bollywood movies in MP4, FLV, 3GP no matter old or new.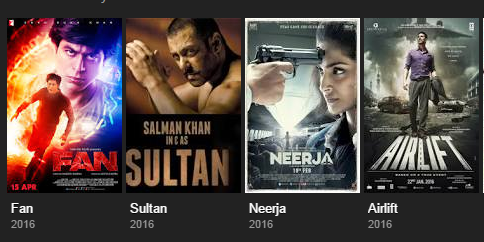 When speaking of Hindi movies or Bollywood movies, people will get a stereotyped pictures of a bunch of people leading by the main actor and actress dancing wherever. Seems like anything and any problems can be solved through dancing, they happy, they dance; they quarrel, they dance; breaking up, dance; get back together, just dance. No matter what they are doing, no matter where they are, once the music is on, there will be a huge audial and visual feast waiting for the audiences to enjoy. And it is not just stereotyped understanding, it is the truth, but we like and embrace this common sense, because that is how they made Hindi movies the "Hindi Movies".
Guide: Top 20 Bollywood songs of 2015 2016 free download ->
Top 10 Hindi Movies of 2016 1080P MP4 Free Download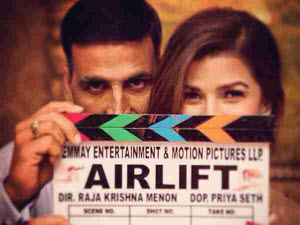 Movie: Airlift
This Hindi movie is based on real story which done by V.P Sing when he was PM of India. As this was not known to most of the Indians, this Hindi movie was pictured. When Iraq invades Kuwait in August, 1990, a callous Indian businessman becomes the spokesperson for more than 170,000 stranded countrymen.
Director: Raja Menon
Stars: Akshay Kumar, Nimrat Kaur, Taranjit Kaur, Sameer Ali Khan
Runtime: 130 mins
Released: 22nd Jan, 2016
It is so easy to watch the best Hindi full movies on YouTube nowadays, just type "best Hindi movies 2016" in the search box on YouTube, there is a list of Hindi movies will show in the results and almost all of those latest Hindi movies are in full length. However, in order to avoid a load of ads and buffering, you need a top Hindi movies downloader to download Hindi movies in 1080P HD free from YouTube or other online Hindi video sites.
With 5KPlayer, this best free online Hindi movies downloader and Hindi video player 2-in-1, you are allowed to download and watch MP4 Hindi movies on iPhone/iPad/Android, download Rajini Kabali movie free. And you can also stream Hindi movies from Mac/PC to Apple TV, enjoy the best quality Hindi movies on the big screen HD TV.
Bonus Tips: Guide to New Hindi Movies 2016 Free Downloads
Step 1: Free download the best Hindi movies/videos downloader software and then launch on your Mac or PC.
Step 2: Copy the URL of the latest Hindi movies 2016 listed above on YouTube.
Step 3: Click "YouTube" button on the main interface of this best new Hindi movies downloader to enter to the video/movie/mp3 downloading window.
Step 4: Click "Paste URL & Analyze" to parse the URL of Hindi movies 2016, when it's finished, hit download to start download the best Hindi movies of 2016.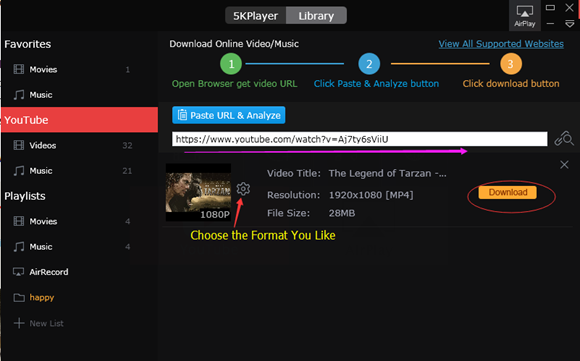 Note: You can also free download top 10 Bollywood movies 1080p/4K of all time and convert Hindi movie soundtrack to MP3, create your own Hindi songs playlist!
★ Further Reading: What's the Difference between Hindi Movies and Bollywood Movies:
Hindi is a major language in india, and movies which are made with Hindi being the predominant language of dialogue are called hindi movies.

Bollywood is the film industry based in bombay (currently known as mumbai). The B from Bombay is what leads to B-ollywood. The bollywood film industry mainly produces hindi films, so many would say that hindi movies and bollywood movies are synonymous.

Basically speaking, movies in Hindi language they are called Hindi movies and in English or the outside world like USA or other countries call them bollywood movies. Its like Hindi movies are kind of Indian name for it and Bollywood is the international name for it.