Top 20 Memorial Funeral Songs MP3 Download Free
Written by Kaylee Wood | Last updated: May 06, 2020
Funeral songs can reflect the whole life of your beloved departed mom or dad……
Funeral songs are your best wishes to your dear mother/father to heaven at funeral……
Funeral songs will help your families bid their farewells in the most unique and perfect way to your dear one……
What's an imperfect funeral service without funeral songs that celebrate the life of your beloved family perfectly!
So, here we list top 20 popular funerals songs/mermorial music that are a nice mix of beautiful odes to someone's life and ones that inspire you to just get all of the tears out of the way.
[Warning] YouTube music & copyright-protected contents are not supported for download.
Download the Best Funeral Songs MP3 to Mourn for Your Dear
You can use the best free MP3 downloader 5KPlayer to download pouplar funeral songs MP3 AAC FLAC etc for mom, dad or others to express best wishes at the funeral. You can download popular, religious, traditional, quirky, humorous, etc funeral songs from Dailymotion, Vevo, SoundCloud, etc at pleasure.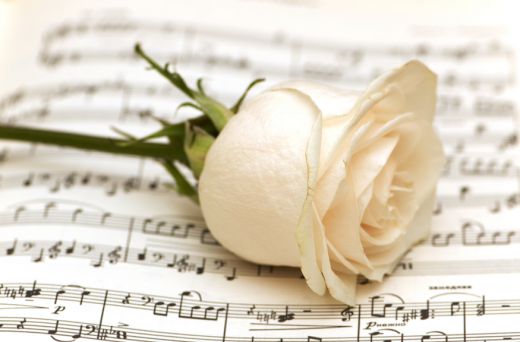 Guide to Transfer Funeral Songs MP3 to iPhone/iPad ->>
Modern funerals are very much about personal choice, which can be reflected in the choice of music, dress, coffin, flowers, heares or memorials, and funeral song is now a necessary fashion to lament for the departed kinsfolk. "Music plays such an important part in people's lives that it now acts as the theme tune to their passing." said Co-operative Funeralcare's operations director David Collingwood. Top 20 popular funeral songs are set out here to help you download the best funeral songs MP3 that you are looking for.
Charlie Puth if You Leave Now Free Download >>
To 20 Popular Funeral Songs MP3 AAC FLAC etc Download Free
# 01. Always Look on the Bright Side of Life (Monty Python)
The song is a comedy song written by Monty Python member Eric Idle that was first featured in the film Monty Python's Life of Brian and become a singalong at public like football matches as well as funerals: "Some things in life are bad/They can really make you mad/Other things just make you swear and curse/When you're chewing on life's gristle/Don't grumble, give a whistle/And this'll help things turn out for the best.../And...always look on the bright side of life..."
# 02. Somewhere Over the Rainbow (Israel Kamakawiwo'Ole)
Somewhere Over the Rainbow is a ballad that was written for the movie The Wizard of Oz and had won the Academy Award for Best Original Song. From the comforting voice and beautiful lyrics, you can imagine the doves being released to this song on the day someone leaves this world: "Somewhere, over the rainbow, way up high/There's a land that I heard of once in a lullaby/Somewhere, over the rainbow, skies are blue/And the dreams that you dare to dream really do come true."
# 03. Feels Like Home (Chantal Kreviazuk )
"It feels like home to me, it feels like home to me/It feels like I'm all the way back where I come from/It feels like home to me, it feels like home to me/It feels like I'm all the way back where I belong." The song from Chantal Kreviazuk perfectly shows that the one you love is all the back where she/he comes from.
How to Free Download Popular Funeral Songs MP3 with 5KPlayer
5KPlayer is designed as a standalone online video music downloader that can download funeral songs music MP3 AAC OGG etc for mom/dad, 4K 5K 8K MKV WMV AVI MP4 etc videos movies music from 300+ online sites safely as well as steadily.
Download the Funeral Songs MP3/AAC Directly
Step 1: Free download this funeral music MP3 download software and run it on your Mac/PC.
(PS: 5KPlayer is perfectly compatible with Windows 10/Mac OS X 10.11 and before.)
Step 2: Open your browser like IE, Firefox, Chrome and put the name of funeral songs mentioned above into the search box to search the funeral songs you prefer, then open what you have searched and copy the song URL.
Step 3: Click the "YouTube" tab on the main interface of 5KPlayer and click "Paste URL & Analyze" to start analyzing the URL.
(You can also discover a clear guide on the main interface of this funeral songs downloader, just follow it.)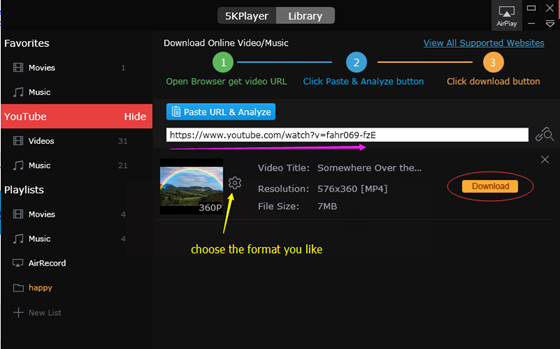 Related Articles
Happy Mother's Day Song DownloadFree download Mother's Day songs MP3 AAC FLAC to celebrate Mother's Day and thank Mom who gave us life on Mother's Day.
Top 20 Best Graduation Songs MP3 2021 Free DownloadCheck the top 20 graduation songs 2021 including best college graduation songs mp3 mp4 (free download), or best graduation music for high school like Friends Forever by Vitamin C MP3, learn to download and create your graduation playlist.
Home | About | Contact Us | News | Privacy Policy | Agreement | Site Map
Copyright © 2021 Digiarty Software, Inc. All Rights Reserved.
5KPlayer & DearMob are brands of Digiarty Software, Inc. All other products or name brands are trademarks of their respective holders. All logos, trademarks and images relating to other companies that may be contained wherein are applied in the Internet that are not used for commercial use. Digiarty's software is not developed by or affiliated with such companies.