Best Free 4K Video Converter: Convert 4K Video to Any Format
Written by Kaylee Wood | Last updated: April 27, 2020
Finding a 4K video converter to convert 4K UHD video to any video format for any device? Since 4K resolution is the new trend of video resolution, there are few devices compatible with 4K video now. To enjoy various 4K videos on iPhone/iPad/Mac/PC easily, you can use a 4K video converter to convert 4K UHD video to HD, 1080p, 720p in MP4, M4V, MOV, AVI, MPEG, 3GP, ASF, SWF, etc. without any quality loss.
[Warning] YouTube music & copyright-protected contents are not supported for download.
Best 4K Video Converter Free Download to Convert 4K UHD Video
Featuring DXVA2, QSV, NVIDIA, AMD Hardware Acceleration technology, 5KPlayer is the best free 4K video converter, 4K video downloader, 4K video player and 4K streaming server compatible with 4K resolution (4096x2160). You can use this four-in-one software to download and convert 4K video to any format for any device or play 4K, MP4, M4V, MOV, AVI, etc videos on PC/Mac with high definition.

What is 4K Resolution?
4K resolution, 4096 x 2160 (4,000 pixels, 8.8 megapixels, 17:9 aspect ratio), refers to a display devices or content having horizontal resolution on the order of 4,000 pixels and vertical resolution on the order of 2000 pixels approximately. Put it another way, standard 1080p and 720p resolution are named because of its vertical resolution and 4K resolution renders more than four times higher image definition than 1080p resolution. 4K video has higher image definition quality, more detailed picture, better fast-action and larger projection surface visibility that there are more and more 4K video contents on the internet for better viewing experience and the newly-released iPhone 11 also support recording 4K videos.
How to Convert 4K Video to Any Format for iPhone/iPad/Mac/PC?
Before you convert 4K UHD video to the format you need, you should prepare:

4K Videos: If you have locally-stored 4K video files, you can ignore this. Otherwise, you need a 4K video downloader to download 4K videos from sites like:
1. YouTube: Since YouTube had announced the availability of 4K resolution videos in 2010, YouTube now has a 4K, 60fps videos channel that is convenient for you to enjoy vast 4K videos. Now there are over five hundred thousand 4K videos available for you to download and convert.
2. Dailymotion: Dailymotion is also a great place where there are a variety of 4K resolution videos provided for you to download. There are over 30,000 videos and 2,000 channels of 4K available that you can convert 4K video for any device.
3. Netflix: 4K video on Netflix is extremely limited at the present time with only a dozen titles available. Despite that, Netflix 4K is still widely searched because of its popularity and high quality. There are 4K movies like Ghostbusters, Hidden Dragon: The Green Legend, Crouching Tiger, 4K TV series like Fuller House, Game of Thrones, Flaked and 4K special like A Very Murray Christmas offered to download and convert. And more 4K contents will come out on Netflix according to the company.

4K Video Converter: You can use 5KPlayer to convert 4K video to any format like MP4, M4V, MOV, AAC, etc for iOS and AVI, MPEG, 3GP, ASF, SWF, FLV, WMV, MKV, etc for Mac OS X/macOS Sierra/Windows. Besides, it is also a four-in-one software: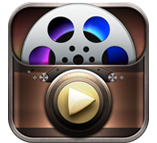 4K Video Downloader: Compatible with 300+ online sites and easy to download 4K VR videos, 4K porn, 4K video songs and any other hot music songs MP3 and popular movies videos MP4 FLV AVI etc.
4K Video Player: Smoothly play 4K 5K 8K videos movies without choke. It is also a powerful 4K DVD player and 4K Blue-ray player that will handle DVD videos and Blue-ray files well with high definition.
4K Streaming Server: Convert 4K video to watch on iPhone/iPad/Mac/PC? It is never better than watching 4K videos movies on Apple TV with high-definition images and DTS multichannel surround sound. And 5KPlayer can achieve that.
4K resolution will surely be the new trend of video resolution. Before there are kinds of devices adaptable to 4K resolution, you really need the 4K video converter 5KPlayer to convert 4K video to the format compatible with your device like iPhone/iPad/Android/Mac/PC. This 4K video converter is also an excellent video format converter that you can convert videos from MP4, AVI, MKV, FLV, etc. to WMV, SWF, ASF, DAV, etc. at will.
Advisably, you can directly play 4K movies on PC/Mac with this 4K movie player when you don't need to convert the 4K video movie. It will give you a theater effect!
Related Articles
Top 5 Real 4K Video Downloaders for Mac 4K video downloader Mac OS X/High Sierra download free here to free download 2160p 4K UHD videos movies on 5K Retina iMac, iMac Pro, MacBook, etc.
Home | About | Contact Us | News | Privacy Policy | Agreement | Site Map
Copyright © 2023 Digiarty Software, Inc. All Rights Reserved.
5KPlayer & DearMob are brands of Digiarty Software, Inc. All other products or name brands are trademarks of their respective holders. All logos, trademarks and images relating to other companies that may be contained wherein are applied in the Internet that are not used for commercial use. Digiarty's software is not developed by or affiliated with such companies.