How to Play M3U8 Stream and Download M3U8 to MP4 in VLC?
Posted by Kaylee Wood | Last update: May 31, 2021 | 5 Min Read
Besides common media playback, VLC also supports streaming protocols HTTP that used for media streaming among various servers. The file extension of HTTP Live Streaming playlist is .m3u8 which often comes with the form of a live streaming IPTV link. So, this M3U8 VLC guide will teach how to use M3U8 player VLC to stream and download M3U8 to MP4.
Best M3U8 IPTV Player VLC Alternative Free Download
5KPlayer is as of now the best M3U8 player VLC alternative that can directly play .m3u8 streaming IPTV link and download M3U8 file to MP4, TS, MKV, etc without trouble. And cross-platforms streaming M3U8 files to DLNA-certified devices is also supported by the DLNA-enabled 5KPlayer.
How to Play M3U8 Streaming Files in VLC Media Player?
Step 1. Free download VLC media player, install and launch it on your computer.
Step 2. Copy the .m3u8 streaming video link you want to play with M3U8 player VLC.
Step 3. On the main interface of VLC, click on Media on the top left corner to choose "Open Network Stream…"
Step 4. Input the .m3u8 video link to the box and then hit Play at the right bottom. Then, VLC media player will parse the .m3u8 streaming link and play the video.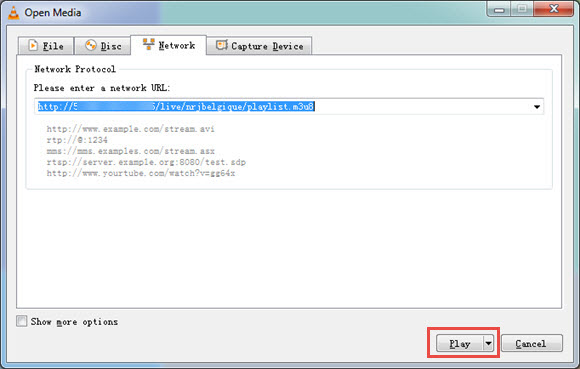 Notice: In case that you need the way to find an .m3u8 playlist to play with M3U8 player VLC, you can do as follows:
1. Open a video site on Chrome, find the video you want to extract the M3U8 URL and play it. Remember to skip the advertisement before extracting. 2. Right-click the video to click on Inspect to see the HTML interface.
3. Click the small phone icon to choose your phone type > refresh the web page > choose Network > click the funnel icon > click Media > play your video > then there will pop up an.m3u8 link > just copy the link address.
We have tested that most mainstream video streaming sites including YouTube, Dailymotion and Vimeo don't offer .m3u8 video links, so you probably can't play the video link from such sites. However, you can download the online videos and then play them offline.
How to Download M3U8 and Convert to MP4 via M3U8 Player VLC?
Compared to VLC M3U8 stream, the process is much more complicated for M3U8 download.
Step 1. Open VLC and click on Media to choose "Open Network Stream…".
Step 2. Input the .m3u8 playlist link to the box and then click on Convert from the drop-down menu of Play at the right bottom.
Step 3. Choose the output format as MP4 from the drop-down menu of Profile. Then, click on Browse to choose the destination folder and rename your file.
Step 4. After saving, just click on "Start" to converting the .m3u8 stream to MP4 with M3U8 player VLC.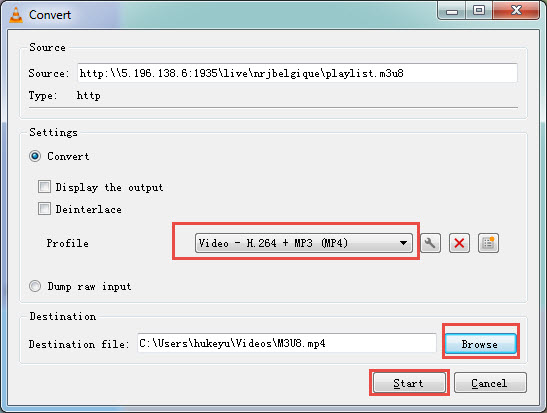 How to Solve VLC M3U8 Stream not Working?
"I entered a m3u8 link in Open Network Stream but nothing happens. Can someone try it in VLC?" - A user from VLC forum
"Hi, I sometimes try to extract m3u8 file from the streaming site in order to play it in VLC. Sometimes it's working, sometimes it's not." - A user from VideoHelp forum
Are you like those people who get a .m3u8 link but can't play it with VLC media player? It seems that there is still no feasible solutions to solve this kind of problem. If VLC M3U8 not working problem is a big headache to you, then your worries will end here. If the .m3u8 IPTV link that is available in the source of the website works perfectly fine, the powerful IPTV M3U8 player 5KPlayer will help play it successfully on computer. As the best free VLC alternative, 5KPlayer will handles any .m3u8 video streaming link and downloaded M3U8 files as easy as ABC.