How to Create New Playlists in VLC for Local Media?
I've coming up with 2 VLC playlist creation guides for local media contents, and I gather them together here below with step by step pictures to walk you through. Note that currently there's no way to create dynamic playlist in VLC - "a playlist of your top 25 most played songs, or the 25 least played of the highest rated." VLC just can't do that and lots of local media players, including KMPlayer/GOMplayer/Potplayer, cannot auto generate a playlist based on your playback frequency.
But do understand the logic of creating VLC player playlist first:
VLC player playlists in Guide 1 are created based on files, meaning you will have to create a solid playlist file (*.XSPF) rather than giving direct command to VLC to virtually playback selected items. This is a tedious method for something that should be intuitive, yet works.
Guide 1:
Step 1. Download VLC and launch it
Step 2. Click on "View" and select "Playlist" or you can use shortcut "Ctrl+L" to open VLC playlist.
Step 3. Use right-click context menu or drag&drop method in the area to move media items to "Playlist"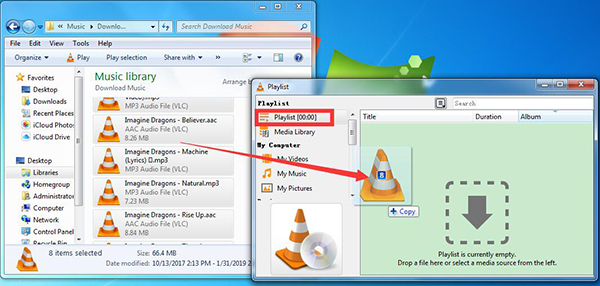 Step 4. Right click on the Playlist panel and select "Save Playlist to File..."
Step 5. Name your playlist and save it to a logical folder for your own preferences.
To open your playlist, simply go back to VLC menu bar and select "Media". Then select "Open File..." and select your previously saved VLC playlist XSPF file and click "Open".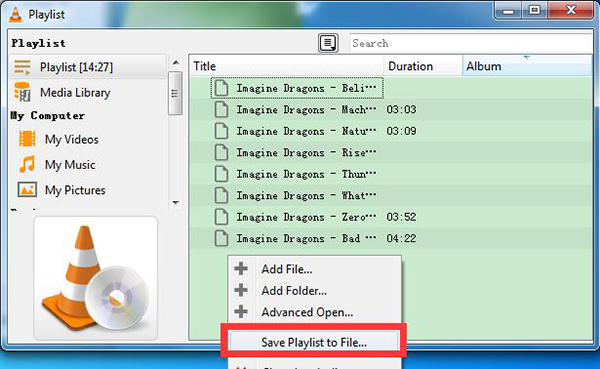 Important! VLC Playlist Options Explanation:
Note that in VLC, a XSPF playlist is a XML Shareable Playlist Format, meaning XML-based playlist format for digital media, which is a file format for sharing the kind of playlist that can be played on a personal computer or portable device.
Choose this XSPF VLC playlist format for creating your local media playlists.
However, M3U/M3U8/HTML playlist options are for IPTV playlists. If you want to combine several IPTV channels or streaming sites together in a playlist, go ahead and choose these M3U/M3U8/HTML VLC playlist formats.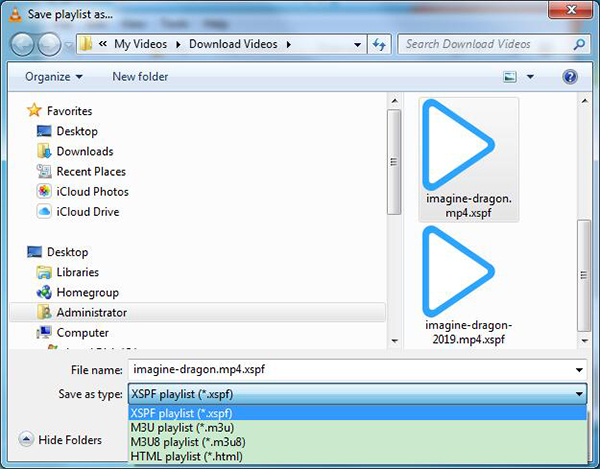 The drawback of this method is that you might not find it easy to edit the playlist created in VLC if you want to add some more tracks into it (deleting tracks can be easy), since they are already formed into a VLC playlist file. As *.XSPF is a basically text file format, Notepad could be one of the best program to open it for further editing.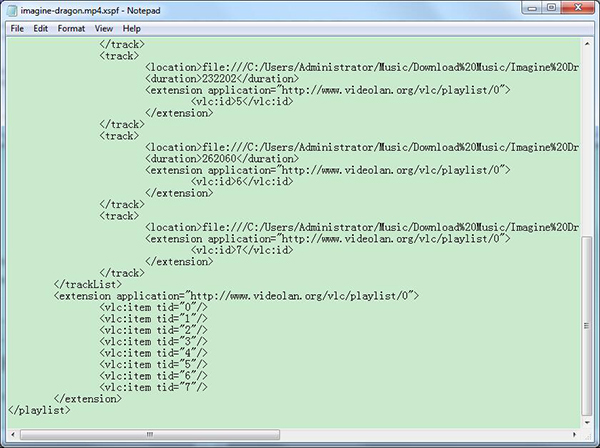 Guide 2:
The basic idea of the second way to create playlists for VLC is to create music shortcuts and gather them in a folder for VLC to open.
This method of creating VLC playlist is easy to understand and implement, especially for further editing - adding tracks and deleting tracks, but when your media contents are too large to organize, this method will only make more file folders for you to look after.
Step 1: Go to the Media pull-down menu, left clicked Open Files
Step 2: Navigate to self-named folder where all your music/video files are stored
Step 3: Select "Ctrl/Left click" all individual songs/video files you wanted in the playlist.
Step 4: Right click to find "Send To" option and choose "Desktop (create shortcut)".
After creating file shortcut, you should gather them together in a new folder.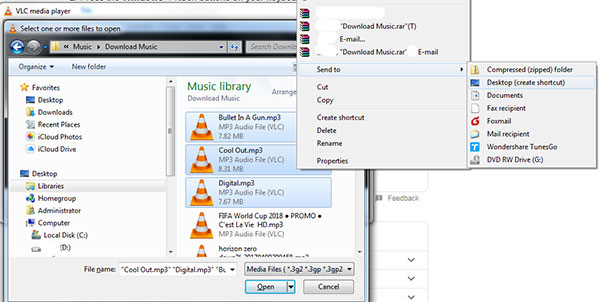 Step 5: Left click create new folder and name the playlist folder.
Step 6: Drag and drop all the shortcuts to the playlist folder.
To open the VLC playlist, you can directly click on "Media" drop-down menu and select "Open" file, then select all the shortcuts under the playlist folder you create.