Free Download Best WebM Player to Solve WebM Not Playing
Posted by Kaylee Wood | Last update: September 18, 2021 | 3 Min Read
"The videos I downloaded from online are WebM videos instead of FLV, I use VLC player, but it can't really play WebM files smoothly and the video and audio doesn't sync. Pls help, any recommendation for a decent WebM player?"
Actually there are two simple solutions to solve the problem of downloaded WebM not playing, one is to get a professional WebM video player like 5KPlayer to handle with a lot of WebM files once and for all, and another way is to choose a proper WebM video converter to convert the WebM files to the common video format like MP4 that nearly 99% video players can digest. Guessing you are looking for a direct and easiest way to open WebM files, this place will mainly introduces you the best free WebM player.
Best WebM Player Download Free for Windows 10 & Mac
The best and easiest way to play WebM video files on your computer is to download and install the best free WebM player software. 5KPlayer is a standalone WebM video player with embedded WebM codec that plays WebM without the need of downloading extra codec or installing any third-party plug-ins.
What is WebM Video?
Developed by Google, WebM is an open and free video file format. WebM video format is a new video container that actually based on Matroska (MKV) video container. Initially, it supports VP8 video and Ogg Vorbis audio streams, and in 2013 it was updated to include VP9 video and Ogg Opusa audio. Though big names like YouTube is starting to adopt AV1 codec for their videos, WebM is still a popular video format for online videos.
Said by Google that WebM format is very effective which preserves a video's quality while minimizing its size, and usually could be smoothly played on tablet, mobile and other handsets. It is a video format that can be directly opened in online video sites and any web browser using HTML 5. Specifically, YouTube can play WebM video files, so as the web browser including Mozilla Firefox (4 and later), Opera (10.60 and later), Google Chrome (6 and later), and Microsoft Internet Explorer (9 and later). Although the native WebM format is supported by the most majority of internet browser if you play it online, what about the WebM videos already downloaded off of the internet?How to play WebM files stored in local folder or directly play the WebM links without download?
Notice: To watch a video saved in WebM video format from the Safari web browser, you need to install the VLC web browser plugin for macOS to realize that.
Best Free WebM Player to Play WebM Videos and Links on Windows/Mac
VLC media player, PotPlayer and KMPlayer all have the native support for WebM video playback ability, but for better user experience, 5KPlayer is a better choice for it is not only play the downloaded WebM files but also the .webm video link without download. 5KPlayer is a new style WebM player for Windows 10 that not only natively supports WebM format playback, but also empowers you the ability to download WebM videos from online while playing videos at the same time. Besides WebM support, 5KPlayer also comes with an array of solid features which you will love.
Play high-resolution videos including 4K UHD, H.264 8K, 360-degree, AV1, etc.
Full video audio formats support including MKV, AVI, MOV, M4V, MP4, WMV, RMVB, FLV, MP3, AAC, etc.
AirPlay videos and music from iPhone iPad to computer.
DLNA stream media files to LG/Samsung/Sony etc. smart TV.
Live streaming contents including IPTV playlists, M3U8/M3U links, online radios, Twitch stream URLs, Esports live stream, WebM links and the like.
How to Open WebM Files and Links with 5KPlayer?
Preparations: Before any actions, please click on the "Free Download" button on this page to download 5KPlayer on your PC or Mac computer. Then, install and launch it.
Part 1. Downloaded WebM How to Play
You have following ways to set your WebM file for playing with 5KPlayer.
Drag and drop the target WebM file to the main panel of 5KPlayer to play.
Click on "Video" button on the main user interface to add offline WebM files for playback.
Right-click on the target WebM video, and navigate to "Open with 5KPlayer" option.
If needed, you can flip or rotate your WebM video, add subtitles to the video, or simply cut the video to keep a part of the video with 5KPlayer.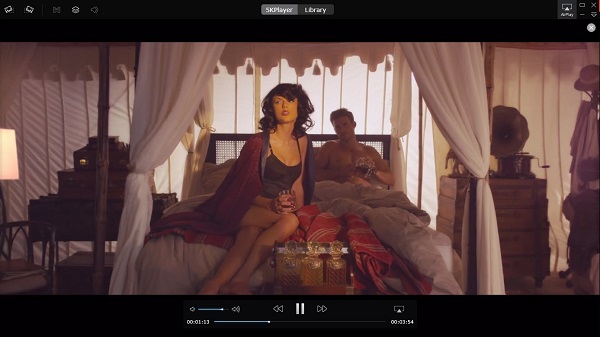 Part 2. How to Play WebM Video Links?
As some online sites like Steam adopt .webm link to live stream their videos, you are allowed to use 5KPlayer to directly open a video by streaming the URL if you don't want to download the WebM video.
Simply click on the "Live" icon on the main user interface of 5KPlayer to access the new playback window, copy and paste the .webm video link to the "Input a URL" box and hit "Play" to start playing WebM videos.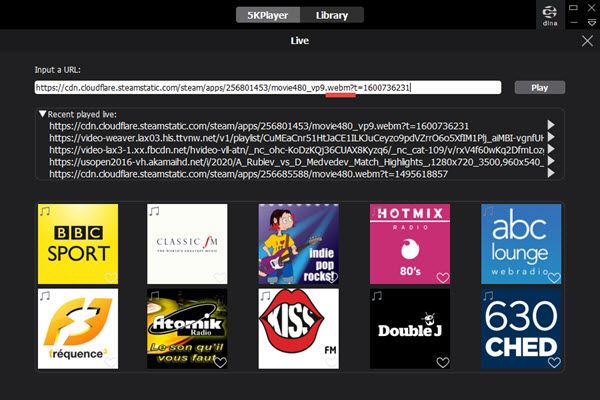 Note: Don't forget I have mentioned another way to play WebM video successfully is to get a WebM video converter, and then you would worry nothing about finding WebM to MP4 way. As you can convert WebM to MP4 that nearly every media player can play, you are free from WebM not playing problem. When 5KPlayer already offers you the ultimate solution to play WebM files and this excellent WebM player is also with a great function to download HD/UHD videos containing VP8/VP9 codec, you can get your free WebM video player here and now!