Top 3 Best SMPlayer for Mac Free Download
Posted by Kaylee Wood | Last update: April 28, 2020
Changed your computer from Windows system to Mac OS yet is reluctant to say goodbye to SMplayer? You have to accept the fact that there is no SMplayer for Mac OS but some SMPlayer Mac alternatives. Get the better closest alternative to Mac SMplayer or just get used to Mac built-in QuickTime player is your own choice to make. And here below is what we can offer in case you choose the former: A list of top alternatives to SMplayer for Mac free download.
Apart from all media formats support on which all media players are advocating their superior competence, our hands-on experience of SMPlayer has listed 4 top features that make this player a great keeper on Windows/Linux and that users might want to continue having on Mac: YouTube support, subtitle support, advanced video audio features, and language support.
Top 3 Best Free SMPlayer for Mac Alternative Free Download
1. Overall Top SMPlayer for Mac Sierra Alternative - 5KPlayer
This "best Alternative to SMplayer for Mac OS X" title we would like giving to 5KPlayer, not just because you are on our site but it deserves. 5KPlayer, best free media player for MacOS Sierra, dishes out a plenty of utilities that can replace SMplayer on Mac:
Full support for YouTube videos free download, robust subtitle-adding support, free AirPlay video audio streaming and many more advanced features concerning filters, tuners, change of playback speed, adjustment of audio & subtitles delay, and video equalizer etc. These functions perfectly make up the loss of SMplayer for Mac and elevate to a better effect in terms of video rendering, audio image processing.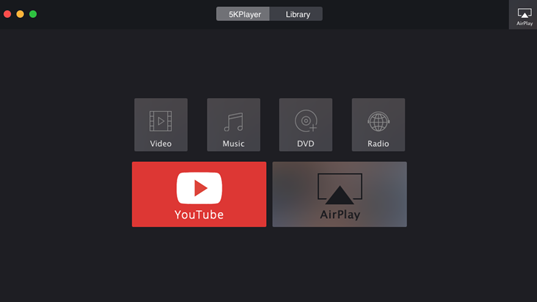 The bonus feature of this SMplayer alternative for Mac is its AirPlay mirroring recording utility which is a more prominent feature on Windows.
Just because you deem SMplayer the best on Windows/Linux platform, doesn't mean it couldn't have a better alternative on Mac even if it does have a Mac version right now yet doesn't.
Drawn from the above list, we get an universal conclusion on SMPlayer Mac alternatives - 5KPlayer, choice of novelty hunters; VLC, power users' second to none choice; Potplayer, intermittent users's choice. We bet one can find plenty brilliant freshness from the SMPlayer Mac alternatives listed above.
Home | About | Contact Us | News | Privacy Policy | Agreement | Site Map
Copyright © 2023 Digiarty Software, Inc. All Rights Reserved.
5KPlayer & DearMob are brands of Digiarty Software, Inc. All other products or name brands are trademarks of their respective holders. All logos, trademarks and images relating to other companies that may be contained wherein are applied in the Internet that are not used for commercial use. Digiarty's software is not developed by or affiliated with such companies.