Netflix vs Apple TV+ vs Disney+: The Contents
Now, Netflix is the king of contents and its original contents are ahead of the rest particularly. Netflix has a contents library containing Netflix originals, films, documentaries, TV shows, etc from different regions. Also, you can always discover something new as new TV shows and movies will be added every week. As always, Netflix is working with great content creators so that we can at anytime see the classic movies and TV series like The Walking Dead, Arrow, The Flash, Scandal, Grey's Anatomy, Daredevil, House of Cards, Stranger Things, and Luke Cage. Besides, it is also the first video streaming service to help Marvel Studio Releases like Captain America: Civil War and Doctor Strange. However, Netflix has no live TV that you have to find another way to watch new series when they air.
Apple TV Plus video streaming service is really absorbing because of the budget-friendly $4.99/month cost, besides it also tries to offer you the high-quality contents as much as possible. Apple has prepared a variety of originals as well as cooperated with big names like Oprah, Steven Spielberg, and J.J. Abrams to offer superlative shows. As of now, Apple has prepared:
Premium TV services: HBO, Starz, Showtime, CBS All Access, Smithsonian Channel, Epix, Tastemade, Noggin, MTV Hits, Cinemax, Acorn TV, NickHits, PBS Living, College Humor's Dropout, Acorn TV, BritBox, Curiosity Stream, Lifetime Movie Club, Shudder, Urban Movie Channel, Sundance Now, Eros Now, Comedy Central Now, Up Faith & Family, Mubi.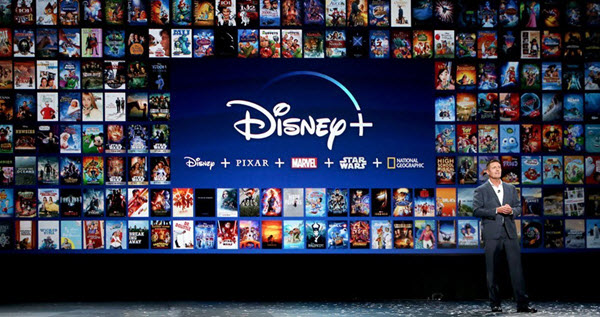 Services that require a separate account: Hulu, Amazon Prime Video, ESPN Plus, MLB.TV, ABC, NBC.
Cable and satellite mobile apps, along with internet-based TV cable services: Charter Spectrum, DirectTV, Hulu TV, Playstation Vue, Optimum by Altice, Fubo
Shows: From serious dramas and comedies to kids shows and documentaries, on November 1, you will see the original and exclusive TV shows including The Morning Show, See, Dickinson, For All Mankind, Snoopy In Space, The Elephant Queen, Helpsters, Peanuts, Ghostwriter, Oprah's Book Club, Untitled CIA series, Central Park, Untitled Damien Chazelle show, Little America, Little Voice, My Glory Was I Had Such Friends, Defending Jacob, Time Bandits, Foundation, An eight-episode adaption of Stephen King's Lisey's Story, Amazing Stories, Home Before Dark, Truth Be Told, Mythic Quest, Hala, Servant and Dear…
Now, let's turn to Disney Plus. As is known, Disney has several content creation studios under its corporate umbrella. Since the rumor that Disney was preparing its own video streaming service, Disney began pulling contents from Netflix. To distinguish itself from the rest of the pack, Disney+ makes itself the exclusive home of the Star Wars franchises, Marvel superheroes, Pixar characters, TV series and National Geographic. It will also offer legacy contents from Disney and Fox, including every season of The Simpsons, as well as new shows, movies and documentaries. Upcoming titles include Captain Marvel (first movie on Disney plus), Star Wars spinoff The Mandalorian, Obi-Wan Kenobi series with Ewan McGregor, Mary Poppins Returns, Thor: Ragnorak, Captain America: Civil War, Black Panther, Avengers: Infinity War, Rogue One: A Star Wars Story, Star Wars: The Last Jedi, Finding Dory, Coco, The Incredibles 2, Moana and Beauty and the Beast.