Best Free MP4 Media Players to Play Any MP4 Files Flawlessly
It's often the case that your default media player such as Windows Media Player and Quicktime can't successfully play the most commonly used MP4 format, and you have no idea about how to deal with such media player MP4 errors at all, or just find the online tutorials so complicated. If so, you'd better read the following parts which will show you how to play MP4 files flawlessly with best free media players for MP4 playback on Windows 10, Mac, iPhone, and Android.
How to Play MP4 Files on Windows 10/Mac Easily and Successfully?
You need the prominent Mac/Windows 10 media player MP4 playback software - 5KPlayer. Working with all sorts of MP4 codecs like H.264, H.265, MPEG-4, DivX, VP9, this powerful MP4 media player is able to play any MP4 files (.mp4, .m4a, .m4p, etc.), especially 1080p, 4k, 8k, bluray and 3D MP4 movies. Just give it a whirl!
Best Free MP4 Media Player for MP4 Playback on Windows 10/Mac
Although the default MP4 media player for Mac/PC can play MP4 files indeed, they are not do a good job at all. The MP4 not playing problem of Windows Media Player and QuickTime occurs often and causes a lot of troubles. Sometimes we should download a codec pack for WMP/QT, sometimes we have to even pay $29.99 for a powerful QT 7 Pro or more for a MP4 converter to convert the MP4 to other WMP/QT compatible formats. Isn't that too much trouble ? If you want to play all sorts of MP4 files without any hassle, 5KPlayer is worth a try!
2. MP4 Media Player APP for Android
PlayerXtreme MP4 Media Player [FREE]
PlayerXtreme is a professional video player for iPhone/iPad. It allows you to watch movies in MP4 and other format on the go from anywhere. This powerful MP4 media player currently is able to run files in MP4, 3gp, avi, divx, flv, m2ts, m4v, mkv, mov, mts, rmvb, webm, wmv, etc. and supports (MP4) file transfer between two iPhone PlayerXtreme devices over wifi.
Pros:
• Supports HD playback (in 1080p) for MP4, MOV and M4V
• Play files from iPhone/iPad email attachments
• Set passcode on your video library and hide folders
• Download (MP4) files from network to your local library
• Transfer files between two iOS PlayerXtreme devices over Wifi
Cons:
• Video can't auto fill the screen when rotating to landscape orientation
Guides on MP4 Files Playback with Best Free MP4 Media Player
Step 1. Free download and install this professional MP4 player for Mac/PC.
Step 2. Double-click the icon to launch 5KPlayer for MP4 playback.
Step 3. Select the specific MP4 file you want to play through the following ways:
Hit "Video" button to add a MP4 file;
Right click on the target MP4 video, tap "Open with" and then choose "5KPlayer";
Directly drag the MP4 file to the main interface.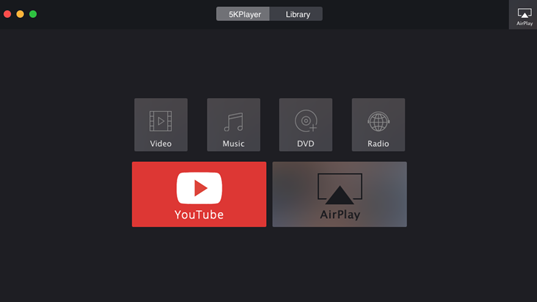 The above MP4 players for Mac/PC are all worth a try. Go ahead and find yoursef the most suitable MP4 player for your Mac/PC.
The excellence of this perfect HD media player not just lies in high-quality MP4 playback performance. In addition, as a 100% clean media player MP4 solution, it also allows you to download HD MP4 videos from Youtube and 300+ online video sharing sites, and airplay MP4 files to big screen with the remarkable AirPlay sender and receiver.
Related Articles
How To Play MP4 Files Ultimate GuideUltimate guide on how to choose MP4 player, how to play MP4 on various occasions and platforms, how to download MP4, how to convert MP4. All about MP4 playback and more.
MP3 MP4 Player Reviews | Free Download Best MP3 MP4 Player Here introduces a few free MP3 MP4 player software which are willing to play all mainstream music and video formats on Windows and Mac including MP3, AAC, MP4, RMVB, H.264, H.265, WMV, MKV, AVI, etc.
How to Uninstall RealPlayer on PC and Mac CompletelyRead this step by step guide on how to uninstall RealPlayer on both Mac and PC to get rid of RealPlayer/Downloader for good. Free alternatives of RealPlayer are also introduced.