Guide to Uninstall 5KPlayer 3.6 for Mac and Windows
"How to remove all traces of 5KPlayer from my Mac, I have tried App cleaner and searching out hidden files, there are still traces that 5KPlayer still presents."
Alright, a lot of users find 5KPlayer is hard to uninstall or 5KPlayer can't be removed completely from Mac and Windows. First of all, we are sorry to leave you such trouble, and here offers you the official and most effective way to uninstall 5KPlayer no matter which version of 5KPlayer you are currently using. Please read on.
How to Uninstall 5KPlayer and Remove 5KPlayer Completely
5KPlayer is a multi-functional media player which plays video and music in almost all formats as the main duty including MKV, MP4, AVI, H.265/HEVC and H.264/AVC video codec. And it is also a standalone free video/movie downloader that enables you to download free video from YouTube, Facebook, Dailymotion, etc., more stable and safer than online video downloader. The added AirPlay function of 5KPlayer makes it stand out in the rest of media players, which allows you to free stream video music from iPhone/iPad/iPod to Mac/Windows, and stream video content between Mac and Windows and from Mac/Windows to Apple TV as well.
For those who uninstall 5KPlayer just want to install the latest version of 5KPlayer, click the download buttons below to download the latest version of 5KPlayer for Mac or Windows.
Tutorial on Uninstalling 5KPlayer from Windows:
Step 1: Right click 5KPlayer and click Exit.
Step 2: Click the Start icon

.
Step 2: Click on the Control Panel from there.
Step 3: Go to Programs and then click Programs and Features to find 5KPlayer, if you can't find it, just type "5KPlayer" on the searching box and you will be able to see it.
Step 4: Right click 5KPlayer and an "Uninstall" command will pop up, just click to uninstall 5KPlayer from your Windows PC. And then just follow the instructions – keep clicking "Yes".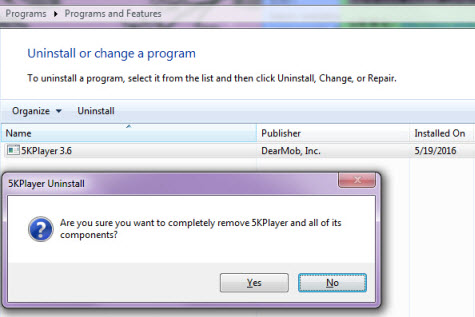 Note: Sometimes when you uninstall 5KPlayer, the will be pop ups saying "uninstall has detected that 5kplayer is currently running", which means you have to quite 5KPlayer from the task manager before you uninstall the program.
Just simple and common steps, uninstalling 5KPlayer for Windows is easier than uninstalling from Mac, because 5KPlayer is completely removed already when you uninstalled it from Windows. For Mac, here is a clearer view on how to remove 5KPlayer for Mac completely.
5KPlayer's Uninstalled, WinX MediaTrans Is Here to Cheer You up!
Besides uninstalling 5KPlayer, this new iPhone file manager is recommended to you. Free download MediaTrans for Windows and for Mac to start backing up iPhone photos and transfer videos (4K), music between iPhone and computer freely and feetly without iTunes. The greatest and safest iPhone file transfer tool ever, all you need to do is just try it!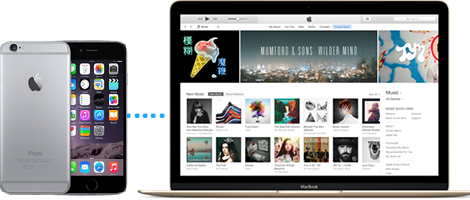 Tutorial on Uninstalling 5KPlayer for Mac:
Step 1: Force quiting 5KPlayer on your Mac.
Step 2: Go to the Applications and find 5KPlayer.
Step 3: Right clicking on 5KPlayer icon and selecting "show package contents".
Step 4: Drag all the contents to trash can.
Step 5: Go back to the Applications and drap the icon of 5KPlayer to trash can.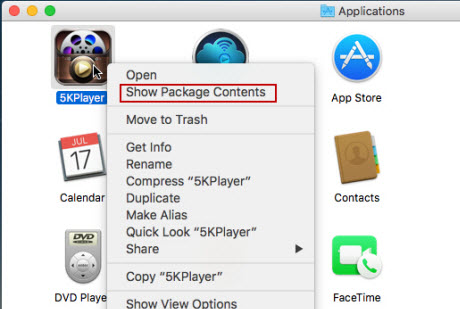 Notes: If you still have trouble, like the 5KPlayer icons still exist after uninstalling, try INSTALL (Yes, install it again) and REMOVE it via MacClean. Go Cleanup Tools ->App Uninstaller, wait for its scanning your apps. Locate 5KPlayer and make sure you select all items here and remove them all.
Here it is! Now you have removed 5KPlayer on your Mac completely without a single trace. If you are still worried, choose to clean your trash can permanently.
This is how you uninstall 5KPlayer from your Windows or Mac. For people who think 5KPlayer contains malware or adware, you can rest assure because the standalone 5KPlayer is 100% safe and free of adware. You should download and install 5KPlayer from the official site: don't download 5KPlayer from unstable software download sites, they may force you to download malware along with 5KPlayer without you even notice it.
At last, 5KPlayer is still a young and free media player, we're striving to optimaze it and trying hard to make it better and better. If you like 5KPlayer, and enjoyed the convenience it brought to you, and impressed by the amazing features it has, think twice before you uninstall it. Of course, you are always welcomed to be back! 5KPlayer will grow up a bit anytime you are back!