Tutorial on Uninstalling 5KPlayer for Mac:
Step 1: Force quiting 5KPlayer on your Mac.
Step 2: Go to the Applications and find 5KPlayer.
Step 3: Right clicking on 5KPlayer icon and selecting "show package contents".
Step 4: Drag all the contents to trash can.
Step 5: Go back to the Applications and drap the icon of 5KPlayer to trash can.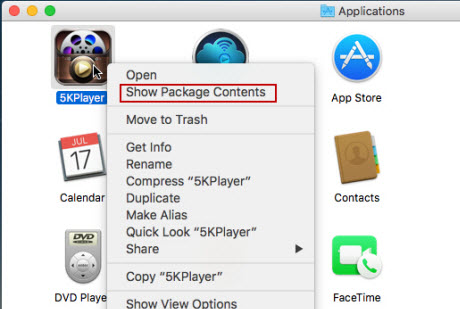 Notes: If you still have trouble, like the 5KPlayer icons still exist after uninstalling, try INSTALL (Yes, install it again) and REMOVE it via MacClean. Go Cleanup Tools -> App Uninstaller, wait for its scanning your apps. Locate 5KPlayer and make sure you select all items here and remove them all.
After deleted 5KPlaye the software, if you want to delete 5KPlayer entirely, you also need to remove all the 5KPlayer leftover files on Mac.
Completely uninstall 5KPlayer on Mac
Step 1: Click on Go — Go to folder… — type "~/library/" in the box — press Return, and you will go to the Library folder
Step 2: Click on Application Support in the Library folder, and delete the support files or folder of 5KPlayer
Step 3: Back to the Library folder, and click to open Containers, erase everything related to 5KPlayer inside
Step 4: Continue to open Caches in Library, and delete the caches with 5KPlayer's name
Step 5: Finally, click on Preferences, and remove 5KPlayer's preferences inside
Here it is! Now you have removed 5KPlayer on your Mac completely without a single trace. If you are still worried, choose to clean your trash can permanently.