How Do I stream in HD [YouTube, Movies, News, and TV]?
1. The streaming content is available in HD
The most important thing need to be determined is that the video you want to stream is available in 720p or the higher. I know most of the channels and platforms nowadays provide even UHD 4K video, but if you are watching the old movies or old shows, how can you know you are really watching in HD resolution?
On YouTube, the classic movie My Fair Lady (1964) with only up to 480p resolution; on Facebook, the live video has the maximum 720p resolution but limited to video format and codec, many video are re-compressed and lose its quality after uploaded. Therefore, check the original video resolution and make sure it is available to be streamed in HD resolution.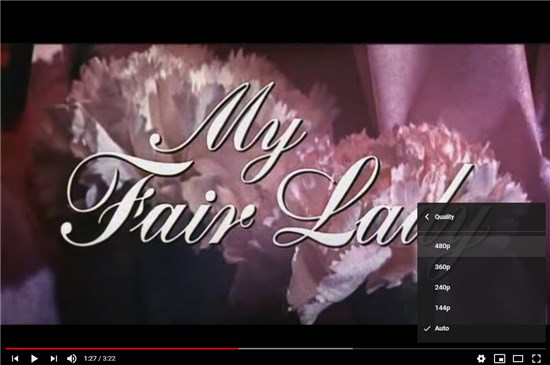 2. Devices that support HD playback
How about watching 4K video on a computer with 1080p monitor? Of course, you will not get the video watching in 4K, but in 1080p only or a bit better than 1080p. The same, if you watch a 1080p video on a 720p monitor, it will not actually reach 1080p.
Except monitor resolution makes sense, the processing speed of the computer also needs to be considered. For computers without hardware acceleration, they have to load all the cache on the CPU, so maybe the computer for 720p works well, for 1080p (30fps) works fine, but for 4k is facing problems like video stuttering or playing video without audio. Check both of your monitor and CPU is compatible with your HD streaming requirement, otherwise, you have to lower the video resolution while watching.
3. Stable network connection
Make sure your devices are well connected to your home network, and the connection is stable. If you are unable to open the streaming file or playing it for pretty a while but the video is still lagging, you need to restart the Wi-Fi or disconnect and reconnect power of the home network.
Also, make sure there are not too many devices connected to take the bandwidth, such as check if your mobile phone, iPad, smart TV, laptop, desktop and other game console are connected with the same Wi-Fi, if so, then the network speed will be reduced.
To solve this problem, you have to disconnect some devices which are not in use to spend part of the bandwidth for HD video streaming.
4. Software that supports HD video streaming
There are two things that need to be done by the program, one is to support video playback in HD resolution, and the other is to support streaming video, including supports playing M3U, M3U8, etc. file formats. The former is very easy, I can say that all media players are able to access at least 1080p resolution video now, and the only problem lies in the video streaming feature. In contrast, very few media players have built-in online video streaming feature as well as supporting all the live video codecs. So, here we recommend you the qualified video tool – 5KPlayer.
5KPlayer is a free multimedia player with built-in hardware acceleration tech that makes the image of your HD video more crystal. To streaming HD videos up to 4K, it also handles the whole play process smoother. Just input the URL of the streaming address, you can watch any video, movie and TV shows from YouTube, Facebook, Instagram and other more video sites.