Download Hindi Video Player Free (HD) for Windows 10/Mac
Posted by Kaylee Wood | Last update: April 28, 2020
A genuine Hindi video player free you won't regret downloading is 5KPlayer. If you're like me, holding a big collection of latest Hindi movies but can't find a free hindi video HD player HD to play them all, or simply you can't find an English to Hindi video player so as to watch the Befikre, Ae Dil Hai Mushkil properly, then end your search here with the highly-compact and competent free hindi video player - 5KPlayer!
Why is 5KPlayer Better Than Other Hindi Video Players Out There?
Search for "Hindi Video Player" in Google or Bing, you'll most likely be disappointed by some website recommending bunches of options without indicating the specific performance of each, and others just ostentatiously claiming themselves as hindi video players providers, but sheer dishing out an English to Hindi translation software.
However, 5KPlayer is an out-and-out Hindi video player. Playing popular Indian movies in MP4, 3GP, MKV, and in HD 720p 1080p sterlingly and sleek. It's typically suitable for the music-intensive and dance-concentrated Hindi films, which often come with higher frame rates than the rest, thus blurring in less-competent video players. In this page, you can get an overall picture of this Hindi video player with 4 part of content
1. English to Hindi Subtitles - English to Hindi Video Player
2. User Feedbacks of Hindi Video Player
3. How Play Hindi Video with Hindi Video Player
* List of Best Hindi Videos HD
If you're also attracted by the melodrama-inserted hindi films, then nothing matches 5KPlayer as a free hindi video player HD, featuring stutter bumpers for fast-paced movies without blunting a single pixel, this is a genuine free hindi video player worth taking.
User Feedbacks of Best Free English to Hindi Video Player
Now that video players like VLC out there doesn't seem to very configurable when it comes to play Hindi videos, as is described by a tumhara_bijoy, a user in search of a free Hindi video player download, and ended up with VLC, only to find that things didn't quite turned out well. He posted his problems as below,
---" VLC player doesn't support the Hindi fonts as subtitles. I tried all the options you explained, like changing the "text rendering module" to "Freetype2 font renderer" and using the "Mangal true type" font. Also, by changing the default encoding did not help."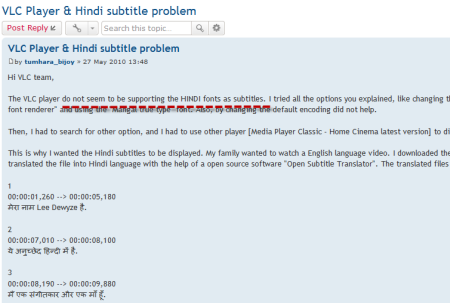 If you have the same problems as tumhara, searching for a hindi video player HD, but the efforts turned in vain, then try and we promise you'll stick to 5KPlayer - it's recognized as NO.1 popular video player on softonic.com, awarded as:
----- "The best Bollywood Hindi video player, and the last one you need."
Don' t belittle 5KPlayer as a sheer player, if you're also thinking of download best hindi movies like Airlift, Budhia Singh: Born to Run, Pink, M.S. Dhoni: The Untold Story, Sultan, or Dangal, and top 10 Hindi movies torren you may find the free 5KPlayer extremely helpful, as it supports a wide variety of Hindi video download sites such as www.videoming.in, www.video9.in, and www.mobmp4.in, etc You may free download 5KPlayer below for Windows 10/Mac.
Use Best Free Hindi Video Player to Play Hindi Videos HD Free Fast
Download 5KPlayer, the best free Hindi video player HD so as to non-stop play local Hindi/India videos, movies in MP4, 3GP, MOV, MKV or any other formats free and fast.
Step 1: Directly play Hindi videos movies song with 5KPlayer
By and large, there are 3 ways to play a video with this free Hindi video player:
Directly drag-n-drop a Hindi video into the playback area;
Right click on a hindi video saved in folder > Open with > 5KPlayer, immediately it will start to play;
On 5KPlayer main panel> Video > double-click to open a video;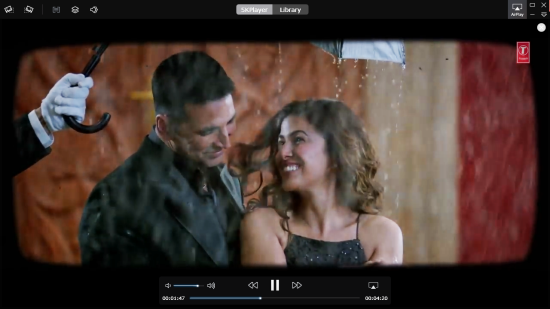 Step 2: Add Hindi/Hindu Subtitle to an English movie
1: Visit a Hindi subtitle resource website, type the exact name of the Hindi video/movie you wish to subtitle, find a subtitle file in *.srt, *.ass, *.ssa, *.json, *.aqt and *.sub, then download with care to a certain folder.
2: Start a clip with the free Hindi video player, then right click on the playback area > Subtitles > Load subtitle file, which leads you to navigate to the certain folder you just saved the Hindi subtitle file(s) to, double click to load it.
* In case the subtitle doesn't sync with the video, you can right click on this English to Hindi video player's playback area > Synchronization, for step-by-step guide, please read audio and video out of sync [solved].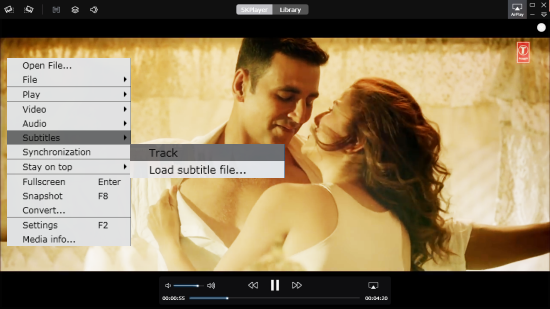 Now that you already know how to play any Hindi video with this free Hindi video player HD, it's time to get more advanced tricks and nab more binge-worthy Bollywood/Hindi movies, series, and music videos into your media archive. Don't get surprised when you discover that 5KPlayer is far more than a sheer Hindi video player, it's also a noteworthy online video downloader that easily download videos from 300+ online video sharing websites. You may either check out this list of best Bollywood songs, or top 10 Hindi movies list, or just stay with us and see the list of best 10 Hindi movies and play them with this Hindi video player - 5KPlayer
List of Top 10 Hindi Videos Movies You Can Play with 5KPlayer
| Rank | Hindi Video Titles | Director | IMDb Rating | Movie Release Date |
| --- | --- | --- | --- | --- |
| 1 | Dangal | Nitesh Tiwari | 9.2/10.0 | 2016 |
| 2 | Ae Dil Hai Mushkil | Karan Johar | 5.8/10 | 2016 |
| 3 | Befikre | Aditya Chopra | 3.5/10.0 | 2016 |
| 4 | Budhia Singh: Born to Run | Soumendra Padhi | 8.3/10.0 | 2016 |
| 5 | Shivaay | Ajay Devgan | 7.2/10.0 | 2016 |
| 6 | Pink | Aniruddha Roy Chowdhury | 8.5/10.0 | 2016 |
| 7 | Airlift | Raja Menon | 8.3/10.0 | 2016 |
| 8 | M.S. Dhoni: The Untold Story | Neeraj Pandey | 8.1/10.0 | 2016 |
| 9 | Jolly LLB 2 | Subhash Kapoor | 9/10.0 | 2018.2 |
| 10 | Raees | Rahul Dholakia | 7.5/10.0 | 2018.1 |
| 11 | Baahubali 2 | S. S. Rajamouli | 7.5/10.0 | 2018.3 |
Home | About | Contact Us | News | Privacy Policy | Agreement | Site Map
Copyright © 2023 Digiarty Software, Inc. All Rights Reserved.
5KPlayer & DearMob are brands of Digiarty Software, Inc. All other products or name brands are trademarks of their respective holders. All logos, trademarks and images relating to other companies that may be contained wherein are applied in the Internet that are not used for commercial use. Digiarty's software is not developed by or affiliated with such companies.