Best GoPro Video Player for Windows 10 & macOS
Posted by Kaylee Wood | Last update: April 28, 2020
When our demand for video shooting and photography goes beyond air or a static state, GoPro camera might be the first tool we think of - shooting videos under water, in the space, during extreme sports etc. But you will always need an equivalent GoPro video player on PC to play back and show off those videos. GorPro video are generally saved in H.264 and H.265 MP4 format, a good GoPro player Windows 10 should 100% support these new codecs and format. Here we would like to list out 2 professional GoPro players for Windows 10 PC and Mac with reviews.
5KPlayer Plays GoPro Videos on Windows 10/macOS Hassle Free!
5KPlayer is one of the best GoPro player that opens GoPro Hero 8/360 video files directly on your Windows 10/macOS as easy as ABC. It supports HEVC MP4 with hardware decoding utility to boost 4K video playback performance. It supports H.264 (MPEG-4 AVC), H.265 (MPEG-4 HEVC), CineForm, VP8/VP9, Theora, WMV.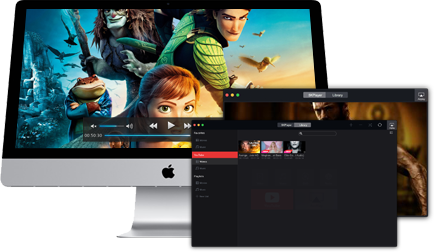 Best Free UHD GoPro Video Player Windows 10 - Kolor GoPro VR Player 3.0.5
The highlight of Kolor GoPro VR Player is that it is a free 360 video player that can handle GoPro 360 videos. Though GOMPlayer/KMPlayer also supports interacting with 360 degree video, this VR player offers even better features like 360 live streaming. Kolor GoPro video player is supported by many bakends - VLC (3.0.0-git Vetinari), AV Foundation, DirectShow, WMF, to achieve image decoding, video decoding as well as 360 live streaming.
Best Free UHD Gopro Player Windows 10/Mac - 5KPlayer
5KPlayer strives to forge itself as a professional UHD media player to support smooth playback of 10bit color depth, 4K and even 8K videos at 60 fps and more. It reads the latest video formats and codecs of UHD videos even in its raw format or incomplete/broken state. If you'd like to save those Gopro videos on VCD/CD/DVD discs, this GoPro video player also helps play back physical discs on computers without hiccups.
- Supports HDR HEVC and H.264 codec and MP4 format
- Support hardware acceleration to boost performances
- DLNA Stream Gopro video to TV/PC
- Supports UHD DVD playback
- Supports 360 degree video playback and interaction
Home | About | Contact Us | News | Privacy Policy | Agreement | Site Map
Copyright © 2023 Digiarty Software, Inc. All Rights Reserved.
5KPlayer & DearMob are brands of Digiarty Software, Inc. All other products or name brands are trademarks of their respective holders. All logos, trademarks and images relating to other companies that may be contained wherein are applied in the Internet that are not used for commercial use. Digiarty's software is not developed by or affiliated with such companies.