Play AV1 with VLC & Solve VLC Won't Play .av01 Videos
Posted by Kaylee Wood | Last update: May 27, 2021 | 3 Min Read
To be straightforward, VLC supports AV1 codec as it is one of the promoter members of AV1 format. Since VLC 3.0.0 released in 2018, VLC AV1 support had been introduced. After about 3 years, VLC 4.0 with DXVA AV1 decoding on GeForce RTX 30 and Intel TL/Xe GPUs will come out late. So, this article is mainly focus on how to play AV1 videos in VLC media player and solve VLC not playing the brand-new media codec.
VLC Won't Play AV1? Try Professional AV1 Video Player 5KPlayer
5KPlayer announced the full support for AV1 video codec in 2020, making it a tailor-made AV1 video player for you to play AV1 videos in MKV, MP4, 720p, 1080p, HDR and up to 4K. With AV1 hardware decoding support to come, 5KPlayer will also support AV1 video playback up to 4K 30fps/60fps and even 8K in the near future no matter you have a NVIDIA GeForce RTX™ 30 Series GPU or AMD RX 6000 Series GPU computer or not.
Part 1. Does VLC Support AV1 Codec?
VLC get updates frequently. From its change log, we can see that VLC is under way to improve itself to fully support AV1 video codec.
VLC 3.0.0 introduced the early support for AV1 codec on February 8, 2018.
VLC 3.0.4 could decode AV1 streams on August 9, 2018.
VLC 3.0.5 on October 19, 2018 added a new AV1 decoder based on dav1d library, improved AV1 demuxing and added an AV1 packetizer.
VLC 3.0.6 on January 10, 2019 added support for 12 bits decoding of AV1 and fixed the HDR AV1 errors.
VLC 4.0.0 beta can correctly play AV1 HDR contents.
VLC 4.0.0 full version will ultimately support AV1 and AV2 codecs.
VLC 4.0.0 can use Windows 10n AV1 hardware acceleration soon, and NVIDIA RTX 30 Series is also working with VLC for supporting their AV1 hardware decoding.
Part 2. How to Play AV1 Video in VLC Media Player?
Since AV1 is an unfinished project and still under development, there are seldom platforms provide video sources encoded with AV1 codec. But we still have found some examples for you. So, to play .av01 videos with VLC player, you should firstly download AV1 videos from one of the following sites.
YouTube: https://www.youtube.com/playlist?list=PLyqf6gJt7KuHBmeVzZteZUlNUQAVLwrZS
Vimeo: https://vimeo.com/blog/post/av1-new-standard-codecs/
Elecard: https://www.elecard.com/videos
Note: The videos you just downloaded maybe in MP4, MKV, WebM, etc. format. When playing, you can check the video information and see that their codecs are AV01.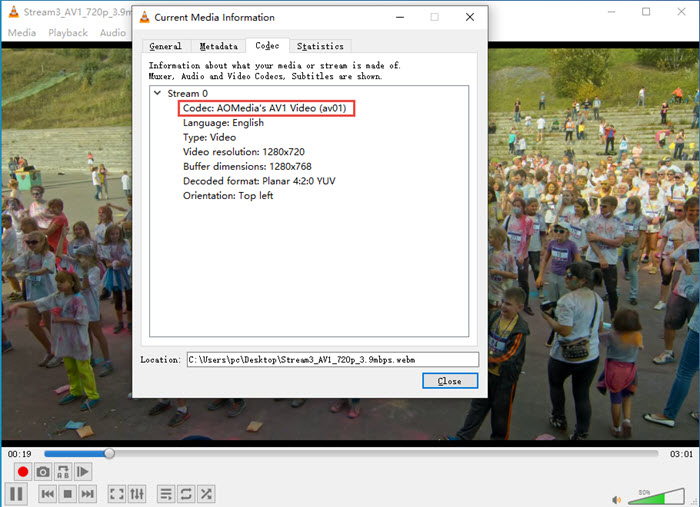 Step 1. Free download VLC Media Player, install and launch it on your computer.
Step 2. Play AV1 videos with VLC.
Drag and drop the AV1 video to VLC to play.
Click the Media option on the top right corner and choose Open File. Then, choose your AV1 video and click Open. You can also choose Open Multiple Files and Open Folder to play an .av01 video playlist.
Right click on the AV1 video you just downloaded and choose VLC media player to play.
Part 3. How to Solve VLC Won't Play AV01 Videos?
AV1 is a future project so that seldom software, hardware and platforms fully support it. That's why you may encounter some errors when playing it. The typical VLC AV1 problems as of now are error message "Codec not supported: VLC could not decode the format av01 (AOMedia's AV1 Video).", choppy and black screen.
On the one hand, missing codec or codec incompatibility should be to blame. Other the other hand, AV1 video codec is mainly designed to bring higher compression rate to UHD 4K, HDR and even 8K videos, so even a modern computer could hardly handle it smoothly. Turning on VLC hardware acceleration may help, but VLC AV1 H/W is still under development.
So, here are possible solutions you can try to solve AV1 VLC not working problems.
Solution 1. Try More Powerful AV1 Video Player – 5KPlayer
5KPlayer is born to be a 4K UHD video player that has years of experiences to play 4K, HDR, 360°, HDR, etc. high-resolution videos on Windows and Mac. Now, it is also a qualified AV1 player to help decode AV1 videos in MP4, MKV, 4K, HDR, etc. when your VLC media player has problems with AV1 videos. It is currently the best choice.
Solution 2. Download dav1d Decoder for VLC
dav1d is a new open-source AV1 decoder developed by the VideoLAN and FFmpeg communities and sponsored by the Alliance for Open Media. dav1d decoder focuses on speed, size and correctness, and it is the fastest AV1 software decoder as of March 2020. The newest version dav1d 0.6.0 has seen much improvements with 1080p and 4K videos for the Intel/AMD processors.
Solution 3. Convert AV1 to Other More Compatible Codec
For example, you can change AV1 to H.264, a quite popular codec used to encode videos. All you need to do is to choose an ideal video converter to help convert AV1 to H.264 so as to play with VLC more smoothly. Here, we suggest you WinX HD Video Converter Deluxe – an established converter brand that process 50 million videos per year.
Solution 4. Download VLC 4.0
According to the flying news, VLC 4.0 will ultimately support AV1 and AV2 codecs. The beta version VLC 4.0 nightly has been proved to correctly handle HDR AV1 videos, so we believe VLC 4.0 public version would not disappoint you.