How to Listen to Apple Music via Apple Music Web Browser?
Posted by Kaylee Wood | Last update: April 28, 2020
"Apple really needs a web player for Apple Music
I love Apple Music and would love to be able to listen to it at work but since I don't want to use iTunes on the computer (too much hassle), I Just use Spotify and don't like it as much." – Reddit user
This post, getting over 60% upvotes, shows to a large extent that Apple Music web browser or web player is to be expected by most of the Apple Music users. Luckily, our expectance seems to be realizable finally as there is a clue indicating that the web version of Apple Music is probably ready to let you listen to Apple songs more easily like Spotify and Amazon Music without endure the hassle of iTunes. So, this guide will tell you how to use Apple Music web browser to listen to Apple Music on computer easily.
[Updated!]: No further reading, you can just go https://beta.music.apple.com/us/browse, the beta version of Apple Music web player to listen to Apple Music on your computer.
When Will We Use a Standalone Apple Music Web Player?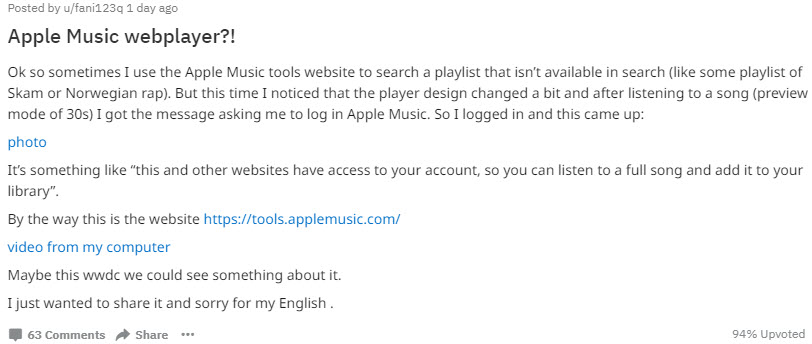 This could seem not to be a problem now as a sharp-eyed Reddit user had found that there is an interface upgrade of the widget that Apple Music service provides for artists to promote their music, and also allows users to log in to Apple Music accounts to listen to Apple Music on computer directly. Why this Apple Music embeddable web player widget is added at the very moment before the launch of WWDC 2019? Maybe Apple has got Apple Music web browser prepared, and we hope the official Apple Music web player for all browsers on different platforms will be announced quickly.
When this Reddit user posts the update, it gets hot discussions. Most of the Apple Music users are very pleased to hear this and tell that they are looking forward to Apple Music web player for a long time.
"This would be the best thing ever. I've been waiting for a web player forever and this shows that they at least have the functionality somewhat there." - butzsecs
"Wow If this is legit I'm staying with apple music" - AquamarineHills
"Wow really cool. I would love to have a web based iTunes like this as an option over fucking iTunes."
If this Apple Music web browser widget would work on your computer, you can no longer be tied to the annoying iTunes and even uninstall it, or you may simply want to take a look at how to install Apple Music for Windows 10.
How to Play Apple Music when Apple Music Browser not Working
Whether Apple will show more about the Apple Music web player or not on WWDC 2019, it is already good news that you can use this web browser widget to enjoy Apple Music on computer without iTunes. However, what if Apple Music web browser is not working because of the internet or other issues, how to listen to Apple Music without Apple Music web player?
This way is only for you who has excluded iTunes and whose Apple Music web browser totally doesn't work.
It is suggested to download Apple Music on iPhone and transfer to computer to play with an offline music player. 5KPlayer is such an application for Mac and Windows to allow users to double-click to play kinds of DRM-removed Apple Music and 4K 1080p 720p HD MP4 MKV etc. videos in high quality. Here, you may wonder how to transfer Apple Music and remove DRM, and the answer is 5KPlayer mate DearMob iPhone Manager.
DearMob iPhone Manager is a Apple Music transfer tool that you can use to bulk transfer music on iPhone to computer in a click. Moreover, DearMob iPhone Manager can magically remove the DRM protection to Apple Music without influencing the file quality and allows the encrypted Apple Music to be sharable among platforms including Windows and Android. After removing DRM from Apple Music, you can throw the music files at 5KPlayer to play without restrictions.
Home | About | Contact Us | News | Privacy Policy | Agreement | Site Map
Copyright © 2023 Digiarty Software, Inc. All Rights Reserved.
5KPlayer & DearMob are brands of Digiarty Software, Inc. All other products or name brands are trademarks of their respective holders. All logos, trademarks and images relating to other companies that may be contained wherein are applied in the Internet that are not used for commercial use. Digiarty's software is not developed by or affiliated with such companies.