Method 3. Play Apple Music on Computer through Apple Music Player for PC
Disadvantages of iTunes and Apple Music web player are obvious and disappointing, thus you may need third-party Apple Music player for PC - 5KPlayer. It is a totally different way for you to listen to Apple Music on Windows PC by wirelessly streaming Apple Music from iPhone, iPad, iPod and Apple Watch to computer.
With inbuilt AirPlay ability, 5KPlayer helps turn your Windows or Mac computer into an AirPlay receiver to receive anything streamed from iOS device, covering Apple Music, live radio stations, videos, movies, Podcasts, photos, spreadsheets, presentations, games, PDFs, etc. In case needed, each line of lyrics appears in time along with the music so you can follow along when you listen. Use 5KPlayer, and jam Lady Gaga's Chromatica, Taylor Swift's Lover or Camila Cabello's Romance on a loop.
Step 1. Connect your iOS device and Windows PC to the same WiFi network.
Step 2. Click on the download button below to free download 5KPlayer, install and launch it on your PC computer. Then, click on the "DLNA AirPlay" button on the main UI of 5KPlayer to access the AirPlay Setting windows and turn on the AirPlay service option.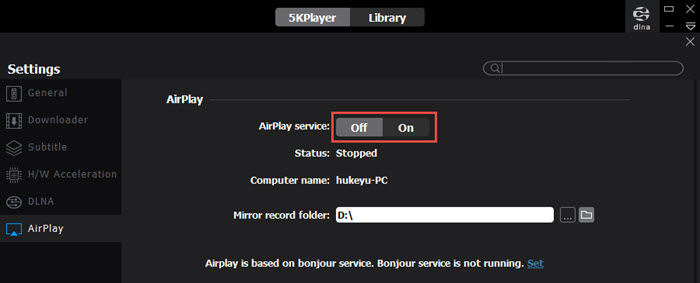 Step 3. Now, go to your iOS device (here we take iPhone as an example), and find the Screen Mirroring option.
• For iPhone with iOS 13 or later: Swipe down from the top right corner of the screen of your iPhone/iPad to access the Control Center.
• For iPhone with iOS 12 or older: Swipe up from the bottom of the screen of your iPhone/iPad to access the Control Center.
Step 4. When seeing the Screen Mirroring option, tap Screen Mirroring and tap 5KPlayer to connect when your iPhone has discovered 5KPlayer.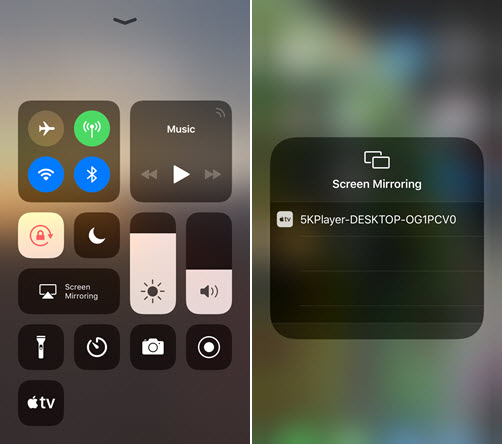 Step 5. Now, play Apple Music on your iPhone, and 5KPlayer will automatically and wirelessly receive the Apple Music songs and play them with lyrics.
* Alternatively, you can directly tap the music AirPlay icon

when playing a song to stream Apple Music to PC.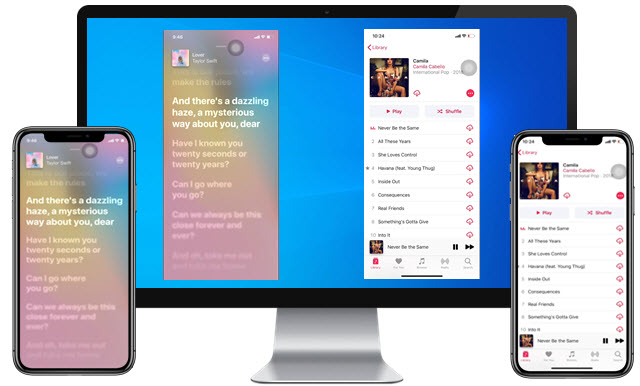 Cons of Playing Apple Music on PC with 5KPlayer
Like Apple Music web player, 5KPlayer needs network to receive Apple Music. Currently, you can't stream Apple Music video to PC via 5KPlayer, but 5KPlayer developer team is working hard to fix the error.
However, regardless of the two cons, streaming Apple Music on PC via 5KPlayer is great. Besides that, nearly all contents on iOS device can be streamed to Mac/PC wirelessly, smoothly and with no quality loss through this way. For example, playing iOS game on PC with 5KPlayer is quite smooth with no lags.