Top 5 Cheaper AirPods Alternatives for iPhone 7/Plus/8/XS/XS Max/XR
Posted by Kaylee Wood | Last update: April 28, 2020
Will you buy the AirPods if you have an iPhone 7 or iPhone 7 Plus/8/XS/XS Max/XR?
I think besides the dual camera of iPhone 7 Plus, another biggest innovation of this generation is that iPhone 7 won't have a headphone jack anymore, and besides charging your iPhone, you have to charge your AirPods as well, it promises to last up to 5 hours for music listening or phone talk with one sufficient charge. The $159 price of a pair of AirPods has scared away some budget-minded iPhone 7 users, because with lower price, they can buy other good AirPods alternatives. Today we're going to list the best 5 lower-cost AirPods alternatives, let's dive in!
It has arisen a huge discuss after the announcement of iPhone 7 AirPods, everyone has something to say. Someone is making a joke - "I would never pay $159 to buy a mini hair dryer" or "The AirPods look like toothbrushes or Snoopy", and some other tech digger says "$159 of AirPods are just pretty good? The money is worth more than that, 'pretty good' is not enough to convince me to buy AirPods." You cannot nickel and dime with Apple, the deal is the deal, want it or leave it. So, before listing the top 5 AirPods alternatives, let's review AirPods first, see if they really deserve this price.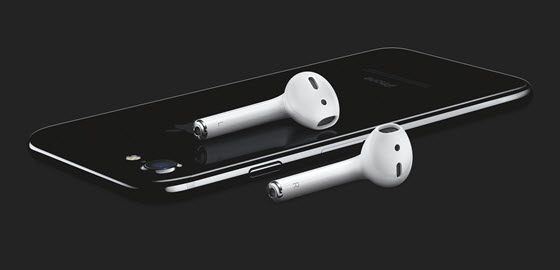 AirPods for iPhone 7/Plus
Price: $159
Battery life: 5 Hours.
Highlights: Automatically on, automatically connected, and automatically off, one-tap setup for all your Apple devices, and rich, high-quality audio/voice, waterproof.
Size: 0.65 by 0.71 by 1.59 inches (16.5 by 18.0 by 40.5 mm), almost tiny that easy to lose in a short time. You will probably pay another $10 to buy AirPods trap.
From all the above wireless headphones for iPhone 7 review, I admit that Apple's AirPods is 100% wireless, but the AirPods are easy to lose and kind of hedious, and unconfortable in beauty appreciation.
At last, the reason why some people are angry with Apple's AirPods is becase it totally changed our habits without giving us enough choice. We need to accept this change gradually, and try to think about that it is a big step towards wireless technology. For people who think iPhone 7 Airpods are wired, let's imagine that if we were using wireless AirPods for a long time and then Apple introduces the normal headphones, we would still make another joke - "I won't pay my money to buy a "Stethoscope""
Home | About | Contact Us | News | Privacy Policy | Agreement | Site Map
Copyright © 2023 Digiarty Software, Inc. All Rights Reserved.
5KPlayer & DearMob are brands of Digiarty Software, Inc. All other products or name brands are trademarks of their respective holders. All logos, trademarks and images relating to other companies that may be contained wherein are applied in the Internet that are not used for commercial use. Digiarty's software is not developed by or affiliated with such companies.