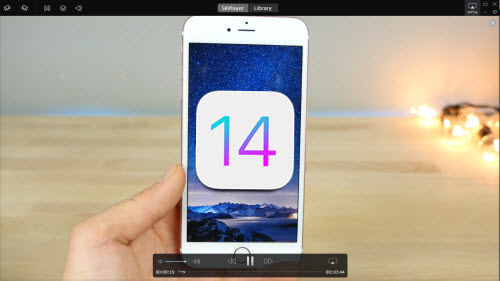 Hi WWDC! DearMob's Free iPhone File Managers are in Place for iOS 11 to Come
Upon the announcement of the brand-new iOS 11 to come this autumn on WWDC 2017, DearMob is in line with this monumental upgrade and is now on the edge of its chair with 2 full-fledged free iPhone managers released on May 23rd - DearMob iPhone Music Manager version 1.0 for Windows and Mac, and DearMob iPhone Photo Manager version 1.0 for Windows. Designated to transfer music, photos between iPhone and computer or Mac, as well as to create, edit photo albums, play lists, etc, these 2 resourceful new tools are out and out ready to play awesome new tricks with the iOS-based file system, thus enabling users to make the best of every byte on their iOS devices.
The free DearMob iPhone Music Manager, supportive of not only exporting music from iPhone to PC or Mac, but also backward importing MP3 and AAC songs to iPhone and iPad, is an innovative and reliable solution for music management. Unlike the traditional logic where music purchased via a 3rd-party APP won't share with Apple Music, the free music manager can transfer every piece of music, album between iPhone and computer or Mac, with another special ringtone-DIY feature as a bonus.
With DearMob iPhone Photo Manager to assist, iPhone users can achieve 2-way transfer of iPhone photos at a dearly fast speed. Back in time, user-generated photo albums fell foul of the Windows File Explorer, which only recognized photos in the Camera Roll folder in iOS, which didn't change until flexible 3rd-party free tools like DearMob iPhone Photo Manager is unveiled to manage selfies, panorama pictures, and even photos saved from Instagram and Facebook, etc.
Though it's still almost 3 months before the official iOS 11 can land publicly on iPhone and iPad, the preview of a revamped Siri, a more comprehensive iOS Control Center, and the Files APP, etc all promise us a mind-blowing grand upgrade this autumn. Together with talented developers cranking out new wonders for the upcoming iOS 11, DearMob intends whole-heartedly to perfect iOS file management across the board with its tagline products - the free iPhone music manager and iPhone photo manager.
Freeware Availability
iPhone's useful file managers - DearMob iPhone Music Manager version 1.0 for Windows and Mac, as well as DearMob iPhone Photo Manager version 1.0 for Windows are currently free for download at https://www.5kplayer.com/iphone-manager/
About DearMob Inc.
DearMob, Inc. is a pioneer in mobile software developing. In pursuing the vision of providing users sophisticated mobile solutions for free, it strives to create cross-platform freeware for Windows, Mac, iOS and Android. Its product lines currently involve in multimedia playing, music video streaming and downloading, as well as file manager and backup solution for iPhone, iPad. DearMob iPhone Photo Manager and DearMob iPhone Music Manager, currently available in English, Japanese and traditional Chinese, are new talents for iPhone backup which thrive committedly to meet versatile user demands. For more information about the company, please visit: https://www.5kplayer.com/iphone-manager/