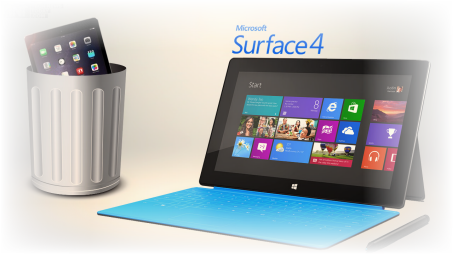 DearMob's 5KPlayer Succeeds on Surface Book and Surface Pro 4 After Windows 10 PC
DearMob releases 5KPlayer for Windows version 3.1, hitting another success on Microsoft Surface Book and Surface Pro 4 after earning 397,304 downloads on Windows 10 PCs. Major upgrade of the best Microsoft Surface APP this time is the YouTube video download on Windows: Download speed approximately trebles with the new Intel Skylake CPU. Other improvements include: native support to play H.265, H.264, VOB on Windows, consolidated video music AirPlay on Surface Book and Surface Pro 4 just as on Mac or iPad.
5KPlayer makes quick response to Microsoft devices upgrade consecutively: Being the best APP for Surface Pro and Surface Book to replace the $14.99 Windows DVD player on Windows 10, it is offering multi-media playback solutions on Windows platform swiftly. This is a cooperation mode that Microsoft creates devices, and DearMob innovates media solutions correspondingly.
Surface Book or Surface Pro 4 can now see a threefold speed-up when downloading YouTube videos on Windows with this media player category best APP for Surface Book, given an average bandwidth of 25Mbps in U.S. families. The Intel Skylake CPU which Microsoft adopted this year, can handle 4K UHD films at 60fps on 3 displays simultaneously. Seizing the remarkable upgrade in hardware, 5KPlayer presents the improvement in video download as main character this time.
The competition between Microsoft and Apple is stepping up since the release of Surface Book, and 5KPlayer AirPlay seems to add value to the latter. The 13.5-inch display may not be glitzy enough to clinch a deal - though nothing stops Microsoft from reaching the top end of laptop processing speed - but the best Surface Pro APP seems to increment the $1499 laptop and the $899 tablet without charging users: By enabling equivalent AirPlay video quality while maintaining the convenience and compatibility of Windows OS. This is, without doubt, good news to both Surface Pro 4 and Surface Book users.
Customers in favor of Windows 10 office system can enlarge their video rig with more 4K UHD videos. Now that H.265, H.264, and VOB - UHD video format - matter more than ever, Windows Media Player shows no intent to offer support. Thus in joint effort with YouTube and Netflix, which supply an increasing number of 4K contents, 5KPlayer configures codec support for VOB, bolstering to play H.264, H.265 on Windows as well.
About DearMob Inc.
DearMob, Inc. is a promising mobile software developing company with the ultimate goal of giving users full-featured mobile tools for free. It strives to create useful software compatible with different platforms such as Windows, Mac, iOS and Android. Its product lines currently involve in new-generation multimedia playing, music video streaming and downloading and multi-screen video playback, and will extend to the use extension of mobile apps, mobile antivirus solution, file manager and backup solution for iPhone, iPad and Android devices. For more information about the company, please visit: http://www.5kplayer.com