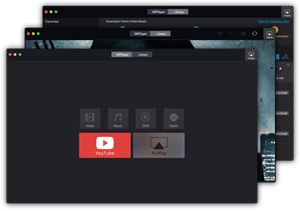 5KPlayer Sets Epitome of How 4K DVD Playback Should Be in Version 3.4
DearMob, Inc. today renews 5KPlayer for Windows to version 3.4 in improving the DVD playback ability alongside the lifting up of 5KPlayer's overall performance in order to meet higher user expectations and create better user experience. 5KPlayer now gets faster in DVD loading and smoother in 4K UHD video playback on PC and Mac which sets an Epitome among all free media players of how 4K video and DVD Playback should be.
As a leading DVD video player software, the update of 5KPlayer this time mainly focuses on improving 4K video and DVD playback function. It was reported on CNET 2016 that some awesome IMAX movies will be hitting the shelves as 4K DVD discs in 2016, so to keep walking on top of the newest entertainment trends, DearMob, Inc, the developer of 5KPlayer strengthens the DVD playback capability of 5KPlayer to offer a smoother UHD DVD movies playing with the hope of satisfying higher user requirements.
Major improvements in 4K DVD Playback of 5KPlayer Version 3.4:
1. Smartened 4K and DVD video file detecting ability which reduced greatly the graphic 4K and DVD video loading time. 5KPlayer's overlay model is automatically engaged in optimizing the rendering pipeline so as to solve 4K video playback error and deliver smoother and lag-free 4K and DVD playback.
2. Fixed the problem in version 3.3 that in some cases language list is not in line with subtitle list when switching DVD titles.
3. Fixed some minor bugs of playback window getting transparent and control bar stretching out when the program is auto started with computer.
4. Improved playback module which solves media player stuck problem when playing certain videos.
5KPlayer is a free 4K 8K UHD video player for Mac OS and PC (Windows 10 compatible). Besides playing 450+ video formats including MKV, AVI, MP4, DivX, H.265, H.264, etc. this all-in-one media player is also carrying out other tasks. Such tasks as downloading online video from 300+ online video sites legally, free streaming video and audio from Mac, PC to Apple TV, and syncing video audio playback from iPhone, iPad, iPod to Mac and PC via its built-in AirPlay function.
"As a multifunctional media player, 5KPlayer has been updated continuously to widen the range of video audio formats that it supports, and enhance DVD and 4K video playback," said Houston Xu, product manager of DearMob. "The most significant upgrade in 5KPlayer version 3.4 is the improvement of the playback module which solves media player stuck problem when playing 4K and DVD video."
Additional bonus: 5KPlayer is now celebrating its one year Anniversary by offering DVD ripper free giveaway, this world's No.1 fast DVD ripper aims to rip and backup 4K and DVD files and allows 5KPlayer to AirPlay 4K and DVD video from Mac and PC to Apple TV. Feel free to visit the promotion page at https://www.5kplayer.com/software/dvd-video-converter-giveaway.htm.
About DearMob, Inc.
DearMob Inc is a vigorous software company with cutting-edge DVD and video software developing outlook which never loosens the efforts in developing new software as well as revamping 5KPlayer's ability. In 2016, DearMob, Inc is ready to enable and support dynamic growth in the fast-moving mobile software market by delivering more convenience and entertaining helper to all the Mac/Windows/iOS/Android users. For more information about the company, please visit: https://www.5kplayer.com/.