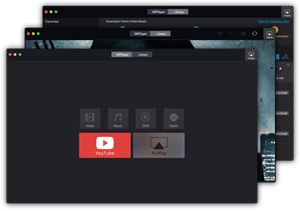 DearMob Furnishes Time-limited Christmas Giveaway 2015 with World's No.1 Fast Video Converter
DearMob, Inc. furnishes an event of video converter Christmas giveaway, which starts today. This time, to express the warm gratitude towards the users of 5KPlayer, DearMob introduces this extremely useful video converter as a Christmas gift to maximize 5KPlayer video playback and AirPlay function.

DearMob's monthly report suggests that the successful installs of 5KPlayer are over 250K in November, 2015. The figures have increased by 10 times comparing to the initiate month. It indicates that this video music player becomes more and more appealing during its continuous updates in 2015. 60% of 5KPlayer users (Mac users are in the majority) intend to convert MKV, AVI, and WMV to MP4 for AirPlay or for playing on iPhone or iPad. Therefore, in meeting 5KPlayer users' Christmas demand for movie and video viewing as well as improving user experience, DearMob presents this ideal Christmas video converter giveaway event with special and grateful intension.
"5KPlayer should be working together with this video converter to make the best out of videos or movies in any formats," said Hoston Xu, the producct manager of 5KPlayer. "Even if 5KPlayer is powerful enough to decode and play all kinds of video codec and formats, but the AirPlay technology doesn't natively support videos in MKV, AVI, FLV, etc. Now with this video converter, 5KPlayer is able to crack the format restriction to AirPlay pretty much any format you throw at it."
Highlights of video converter giveaway version
1. Convert HD and Ultra HD M2TS, MKV, VOB videos to AirPlay compatible formats for 5KPlayer to stream from Mac or PC to Apple TV, such that users are enabled to AirPlay and play all the videos ripped from DVDs/Blu-rays, recorded by high DV or downloaded from internet on different devices.
2. Download Christmas songs, kids music, and movies from over 300 video music sharing sites including YouTube, Dailymotion, etc.
In the mean time of the video converter giveaway, DearMob upgrades 5KPlayer for Mac to version 3.2 and 5KPlayer for Windows to version 3.3 by fixing bugs, sharpening H.265/HEVC playback ability and speeding up downloading function which makes it easier and 2X faster to download the top Christmas movies. Better still, with the free video converter, it is beyond question that 5KPlayer can now AirPlay videos in HEVC, MKV, AVI from iPad/iPhone to Mac/ PC, or from Mac/PC to Apple TV.
Price and Availability
It is free to get the license copy of DearMob video converter at:
https://www.5kplayer.com/software/dvd-video-converter-giveaway-mac.htm(for Mac version)
https://www.5kplayer.com/software/dvd-video-converter-giveaway.htm(for Windows version)
The 5KPlayer version 3.3 for Windows and version 3.2 for Mac are also available and downloadable for free on http://www.5kplayer.com.
About DearMob Inc.
DearMob Inc is a vigorous software company with fresh software developing outlook which never loosens the efforts in developing new software as well as revamping 5KPlayer's ability. In the upcoming 2016, DearMob, Inc is ready to enable and support dynamic growth in the fast-moving mobile software market by delivering more convenience and entertaining helper to all the Mac/Windows/iOS/Android users. For more information, feel free to visit DearMob at http://www.5kplayer.com.