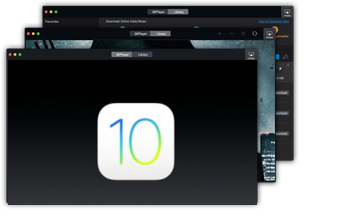 iOS 10 Compatible! DearMob's 5KPlayer Takes AirPlay to the iPhone 7 (Plus)
5KPlayer's proves fully capable to AirPlay iOS 10 powered iPhone and iPad to PC or Mac, an inspiring piece of news after the eagerly-expected iOS 10 release.
This free multimedia player features built-in AirPlay to help users beam videos and music from iPhone to PC or Mac, and to stream media files from computer to Apple TV just equitably smoothly. To date, with the developers' side confirming 5KPlayer's all-round support for iOS 10 and iPhone 7 (Plus), the much-coveted free video player connects iPhone, iPad with computer and Apple TV more closely than ever. Software available at: https://www.5kplayer.com
The iOS 10 compatibility announced by DearMob, the progressive software provider, is indeed a mixture of toil and luck. Back in June, against plenty of AirPlay servers still trapped by AirPlay not working with iOS 9, the diligent developers successfully made 5KPlayer an iOS 9-compatible AirPlay server, and simultaneously picked up their efforts on iOS 10. Now gains build over time and the free software again ascends as the first few to take uplifted AirPlay to everyone.
By calling it "fully compatible" for iOS 10 and the iPhone 7 (Plus), the three major features that 5KPlayer renders will work flawlessly with the new iOS before long: lossless video and music AirPlay, full-screen mirroring and screen recording. This smooth transition attributes much to DearMob's preparedness after iOS 9 AirPlay issues, and will hopefully serve users with first-class wireless video and music streaming experience as early as possible.
5KPlayer's iOS 10 compatibility marks a new record of this progressive free video player to act ahead of schedule: Perfecting AirPlay for iOS 10 and recommending a practical iPhone file manager, DearMob pushes itself to be a team that stays not only resilient, but also grows stronger by remembering the past experience, and forges ahead with the foresight for any technical event that matters.
Freeware Availability
5KPlayer can AirPlay videos and music from iOS 10. The Version 4.1 for Windows (Windows 10 compatible) and Mac (macOS Sierra compatible) are available for download: https://www.5kplayer.com/
About DearMob Inc.
DearMob, Inc. is a vigorous software company aiming at developing innovative video software. In pursuing the ultimate goal of providing users with omnipotent mobile tools, it never loosens the effort to research and develop practical applications compatible with the mainstream platforms like Windows, Mac, iOS and Android. In 2016, DearMob, Inc is ready to enable dynamic growth in the fast-growing mobile software market by delivering more convenience and entertaining helper to iOS and Android users. For more information about the company, please visit: https://www.5kplayer.com