5KPlayer is your most complete free DLNA solution for Mac and Windows. With support for hardware acceleration and 4K 8K HDR playback, it turns your macOS computer into a DLNA media server with powerful Hi-res media playback and streaming competence.
1. DLNA/UPnP media Server for Windows 10/Mac - turn PC/Mac into a media server:
5KPlayer equipped computer can now serve as a media server via UPnP protocol. It opens a portal for UPnP compatible devices to access its media library. All your downloaded online videos, ripped movies, unlocked iTunes purchases in the 5KPlayer library can all be accessed from TV sets/tablets/mobile phones via UPnP/DLNA search app.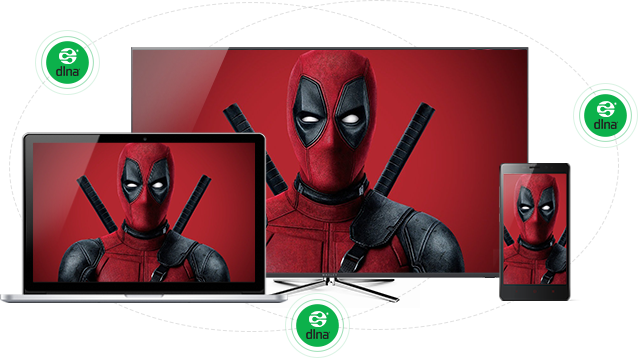 2. UPnP Player/Renderer for Windows 10/Mac- stream mobile to PC/Mac: 5KPlayer mounted computer can easily receive UPnP streams from UPnP controllers.
Beam media contents from your UPnP-compatible controller device like a tablet, mobile phone or Android to 5KPlayer installed PC/Mac, and you can enjoy videos/audios wirelessly on bigger screen without moving the original file. In the meantime, your mobile phone/tablet are set free for any incoming calls, whatsapp messages, video calls etc, and control the playback on 5KPlayer.
3. DLNA/UPnP Controller for Mac - stream PC/Mac to device and fetch from media server: 5KPlayer is a free UPnP media player with built-in UPnP-client that provides UPnP Control Point capabilities as a controller. It sends audios and videos to DLNA/UPnP compatible renderer devices and controls the playback there wirelessly. It also detects other DLNA/UPnP servers to extract files for playback from PC/Mac end.
4. By far the most user friendly DLNA server that supports video/audio playlist streaming via DLNA and playback in loop.
How to Stream from Mac to DLNA Certified Devices with 5KPlayer
step 1: After installing and launching 5KPlayer, connect your computer and smart TV/DLNA devices to the same network
Step 2: Click on "DLNA&AirPlay" on the main UI and toggle on DLAN service on Mac
Step 3: Back to main UI and Click DLNA drop down menu, select Samsung TV
Step 4: Now you can stream a movie/video from Mac to DLAN certified Samsung TV.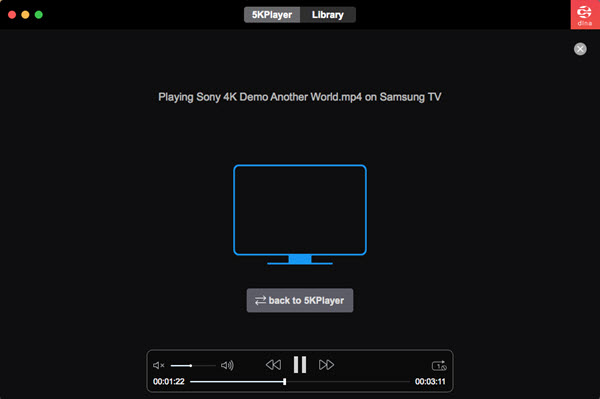 Other Can-do DLNA Servers for Mac to Choose from!