Posted by Kaylee Wood - Contact Author

Netflix AirPlay not Working on iPhone iPad? [Solved]

If you are finding a solution to help cast Netflix to Apple TV, click here: The solution most recommended by us [85%]
Can't AirPlay Netflix App to Apple TV because of iOS Netflix AirPlay not Showing? Below are Workarounds
Netflix AirPlay Apple TV not working happens when trying to AirPlay Netflix movie or TV show from iPhone/iPad to Apple TV? You're out of luck, as Netflix confirmed that it had killed the AirPlay support due to "technical limitations". Now, there is no AirPlay icon on Netflix playback window for you to tap directly to beam shows or movies from iPhone iPad to Apple TV. Even by using AirPlay in Control Center on iOS device, it just won't connect to Netflix but receives an error message "Cannot play title. Please try again later."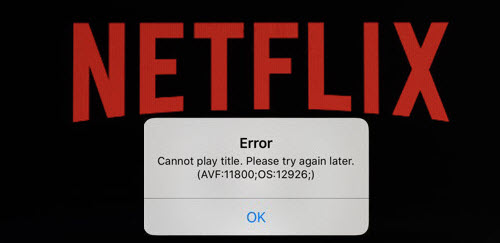 Why is Netflix AirPlay not working on iPhone iPad now? Netflix said that "We want to make sure our members have a great Netflix experience on any device they use. With AirPlay support rolling out to third-party devices, there isn't a way for us to distinguish between devices (what is an Apple TV vs. what isn't)" or certify these experiences." The statement explains that "technical limitations" is to blame for the Netflix AirPlay not supported error, but reviewers from tech websites do not agree with that. Possible reason is that Netflix is taking action to defend Apple's video streaming service that was announced just a month ago, though Netflix does not claim that it is a business competition play. Whatever the reason is, the feature is gone after six years. Now, the only way to stream Netflix on Apple TV is to use the inbuilt app on Apple TV. But, how to cast Netflix from iPhone iPad to Apple TV when Netflix AirPlay is not working?
Netflix AirPlay is not working because Netflix officially ends the AirPlay support on iOS Netflix app The solution: Use another Netflix streaming method to cast Netflix to Apple TV and other devices. The Easiest Solution
Though you can still enjoy Netflix TV shows and movies on Apple TV through the built in tvOS Netflix app, but the truth is that you can't AirPlay Netflix from iOS to Apple TV, as well as AirPlay Netflix from iPhone iPad to other AirPlay-enabled devices like Samsung, LG, Sony and Vizio smart TVs. However, every road leads to Rome, there is always a way to help you out when Netflix AirPlay Apple TV not working.
The most similar media streaming protocol to AirPlay is DLNA, of course. It is wireless and free, no third-party plugin needed. You can stream video music from iPhone iPad Android to Apple TV, Samsung/Sony/LG TV and millions of DLNA-compliant devices, instantly and in high quality. What makes DLNA superior than AirPlay is that DLNA is often a built-in feature and is opened to millions of devices, free of charge. If you want to have a DLNA experience, DLNA player 5KPlayer will give some help.
5KPlayer - The Best DLNA Player, DLNA Controller & DLNA Media Server, 3-in-1
DLNA stream Netflix TV shows and movies from computer to Apple TV, no lag;
Smoothly plays what streamed from Netflix iOS app on Mac/PC;
Compatible with millions of DLNA-certified devices;
AirPlay mirroring supported for iPhone iPad Mac PC screen mirroring.

Free Download 5KPlayer on Windows

to solve Netflix AirPlay not working

Free Download 5KPlayer on Mac

to solve Netflix AirPlay not working
Possible Solution 1 to Solve Netflix AirPlay not Working: DLNA iOS Netflix to Apple TV
Step 1. Do some preparations: free download DLNA iOS app on your iPhone/iPad and also download a DLNA app on your Apple TV.
Step 2. After step 1, connect your iPhone/iPad and Apple TV to the same WiFi network. Then, activate both the two apps, make your iOS DLNA app find the TV and connect.
Step 3. Open your Netflix app on iPhone/iPad, play the media file and it should be cast to Apple TV instantly.

Notice: Through the method, you can also cast Netflix to other smart TV like Samsung, Sony and LG. If this way is not useful, go on reading to find more solutions to Netflix AirPlay not supported on iPhone iPad.
In cased needed, you can use DLNA player 5KPlayer to stream Netflix from iOS to Mac/PC:
Step 1. Free download DLNA streaming software 5KPlayer, install and launch it on your computer. Also, install a DLNA-enabled app on your idevice.
Step 2. Connect both your iPhone/iPad and computer to the same network. Open the iOS DLNA app and choose the DLNA device with 5KPlayer to DLNA streaming media to.
Step 3. Play your Netflix TV show or movie on iPhone/iPad, and then 5KPlayer on your computer will instantly receive the media display perfectly on computer.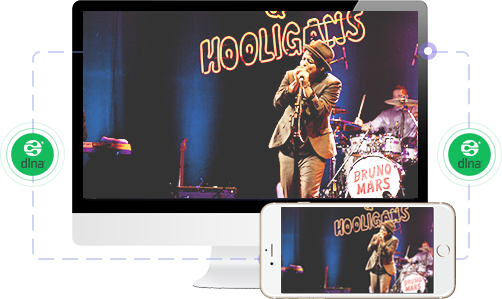 The good news is that Google Chromecast is still working on Netflix iOS app, but this also implies that Netflix is souring with Apple's video streaming service plan.
Step 1: Launch the Netflix app on your iPhone or iPad.
Step 2: Once you are signed in, select the Cast icon

in the upper or lower right corner of the screen. Then, select a device you want to cast Netflix media to.
Step 3: On your Netflix app, choose a TV show or movie to play, and then it will be instantly displayed on your TV.
Notice: Chromecast built-in is only available on Philips, Polaroid, Sharp, Skyworth, Soniq, Sony, Toshiba, and Vizio TVs, but not supports Apple TV. So, Chromecast Netflix from iPhone iPad to Apple TV is impossible.
Go Back to the Easiest and Most Effective Solution

Step 1: Plug the HDMI cable into your TV on one end and the adapter on the other to plug in your iPhone iPad's Lightning cable. Also, the Lightning cable should be plugged into your iOS device at the same time.
Notice: An iPhone 4 will require a 30-pin to HDMI adapter, and newer iPhone needs Lightning port.
Step 2: Turn on your TV and set the TV to the appropriate input to select the HDMI port which your iPhone iPad is connected.
Step 3: After that, the screen of your iPhone iPad will exactly mirror on TV which we call screen mirroring. And then play your videos or movies on iPhone iPad, and they will be instantly synced to your HDTV.
Notice: If there is a better choice, do not try this method. Firstly, this way won't give you enough freedom to control your iPhone iPad, for you have to keep it close to your TV as much as possible. You can't rest in your sofa and play Netflix TV shows on Apple TV freely. Besides, if you stream the downloaded Netflix media files to Apple TV via HDMI cable, you will notice black bars surrounding the video.
Go Back to the Easiest and Most Effective Solution

Final Words:
Netflix AirPlay function on iPhone iPad is actually not that important as you can directly stream Netflix TV shows and movies on Apple TV with the built in tvOS Netflix app. However, when more and more devices support Apple's AirPlay, Netflix AirPlay not working problem would be a big headache to whoever wants to AirPlay Netflix to AirPlay enabled devices. Under such circumstance, be it AirPlay or other streaming protocol, the method that can stream Netflix movies and TV shows from iPhone iPad is satisfactory.
DLNA protocol is the ideal way to stream Netflix media files from iPhone iPad to Apple TV, smart TVs and other AirPlay-supported devices. And DLNA player 5KPlayer is another good option for who wants to stream Netflix from iPhone iPad to Mac/PC and from computer to Apple TV wirelessly.
Free Download 5KPlayer on Windows
Free Download 5KPlayer on Mac