Download VLC Streamer to Stream/Copy Videos from PC/Mac to iDevice
In the fast pace and mundane world, people's needs are changing all the time. They make big-screen TV for better video entertaining, and then they have iPhone/iPad to watch movies for carry-convenience. Now they have VLC Streamer to stream videos from computer (Mac/PC) to iDevice (iPhone/iPad/iPod), with which they can arbitrarily switch the devices to watch videos. By getting such a fantastic experience, a few preparation needs to be done: Get unlimited video/movie resource, download VLC Streamer, and set up VLC Streamer for video streaming.
5KPlayer Download Online Videos and Stream from iDevice to Computer
5KPlayer, as it were the best VLC Streamer complementary program that not only downloads millions of videos for VLC Streamer to stream from Mac/PC to iDevice, but also streams videos from Mac/PC to Apple TV as it is a free video streamer itself.

How to Download Video/Movie for VLC Streamer to Stream?
You ought to get enough video/movie resources to stream from your computer with VLC streamer and watch them on your portable iDevices. In that case, 5KPlayer will be the best free video downloader to let you free download videos and movies from 300+ online video sites so as to offer unlimited video resources for VLC streamer to stream on iPad, iPhone or Apple Watch.
Download VLC Streamer and Get VLC Streamer Set up
In order to get VLC Streamer set up for receiving videos on iDevice that streamed from Mac/Windows, first you need to download VLC Streamer App to your iPhone/iPad/iPod and then download and install VLC Streamer Helper on your Mac or PC.
Step 1: Open App store on your iPhone/iPad/iPod and then purchase & download VLC Streamer which worth $1.99.
Step 2: Free download VLC Streamer Helper for Windows or Mac OS at hobbyistsoftware.com.
Step 3 : Run both VLC Streamer and VLC Streamer Helper respectively and you will see the computer in the VLC Streamer app on your iPad/iPhone/iPod after scanning automatically.
Step 4 : Tap on the computer > Tap on "Add a movie" > Tap on the movie you want to stream > Pick "Normal resolution" > Hit "Watch".
Note: : You can also add movies from your VLC Streamer Helper. Click "Add movie" > Choose the movie that you want to add from your local folder. And you will see the movie is streaming to your iDevice. Alternatively you can simply drag the movie you want to add and drop it into the movie panel on your VLC Streamer Helper.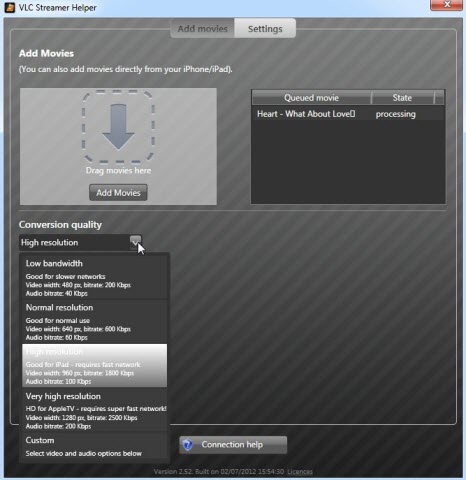 Not sure if I mentioned, 5KPlayer is also a media streamer server as well. And to put it simply it is rather a complementary program to VLC Streamer. You use VLC Streamer to stream videos from Mac/PC to iPhone/iPad/iPod, and 5KPlayer helps you to stream videos from iDevice to Mac/PC. Not only stream the video audio content, but also AirPlay mirroring iPhone/iPad/iPod full screen on Mac/PC and even on Apple TV.
Home | About | Contact Us | News | Privacy Policy | Site Map
Copyright © 2017 DearMob, Inc. All Rights Reserved.
AirPlay®, iPod®, iPhone®, iPad®, iTunes® and Mac® are trademarks of Apple Inc., registered in the U.S. and other countries. DearMob's 5KPlayer is not developed by or affiliated with Apple Inc.