How to Achieve VLC Video AirPlay?
Can we AirPlay VLC videos, like MKV files on Mac book air/pro? This article will help you find out whether this media player tycoon can meet your increasing new demand –AirPlay. And the answer is half positive, as it cannot achieve AirPlay independently and may bring along a whole litany of inconveniences.
How to AirPlay VLC Videos Like MKV Files on Mac?
The built-in Bonjour protocol is only applied to VLC app for iOS, therefore, VLC for Mac should adopt external helps in order to perform AirPlay. However, if VLC fails to AirPlay MKV files on Mac, you can turn to 5KPlayer which can remove all the obstacles on the way of AirPlay easily and fast.

"Integrate" VLC AirPlay
* You can resort to the Mac OS X built-in AirPlay function to enable VLC video AirPlay. By turning on AirPlay Display in the display setting, you can connect your Mac to Apple TV and then start AirPlay. Make sure your VLC MKV files are converted into AirPlay supported formats.
* You can also make use of the Streaming/Transcoding Wizard plug-in to mirror your screen to Apple TV. Play the video with VLC on Mac, while the same display is shown on Apple TV. This approach allows you to play any file formats you want as long as VLC manages to support, which means that you can directly use VLC to AirPlay MKV files.
"Disintegrate" VLC AirPlay
AirVLC on the other hand provides the disintegrate method that adheres to its banner –"Watch videos in VLC on your Mac and play the audio over AirPlay. All in sync" –which means that it separates sound from video display, and only AirPlay audio content which will in the meantime solve the AirPlay delay problem.
Drawbacks of These VLC AirPlay Methods:
* The Streaming/Transcoding Wizard plug-in of VLC is quite unstable, and the connection may undergo failure at times, which can be really annoying.
* AirVLC requires the installation and run of both AirVLC and VLC to perform AirPlay and you will need another speaker for your audio AirPlay, which is quite demanding.
* Mac models that support AirPlay Mirroring are limited to MacBook Air (Mid 2011 or newer), MacBook Pro (Early 2011 or newer) and Mac Pro (Late 2013 or newer), so you will need to check your Mac if it is AirPlay compatible before using the Mac built-in AirPlay function.
Then, how to avoid those potential troubles? A VLC AirPlay alternative –5KPlayer, stands out here to volunteer its service.
How to AirPlay MKV with VLC AirPlay Alternative on Mac Book Air/Pro
5KPlayer is an all-in-one media player that provides one-stop video/audio service that combines Ultra HD playback, online download, online streaming and built-in AirPlay function. It is a powerful and independent player that requires no extra software or plug-ins and is compatible with OS X 10.7 (Lion) above.
Step 1: Download and launch this VLC AirPlay Alternative on your Mac book air/pro. (Download Windows Version for Windows users)
Step 2: Click the AirPlay button on the up right corner of the main interface and select Apple TV as the target AirPlay Receiver. The airplay is enabled if that button goes red.
Note: You can also tap the bigger AirPlay icon beside the red YouTube button to view the AirPlay guide. Make sure that the two devices are connected to the same Wi-Fi network.
Step 3: Drag and drop the selected MKV file onto 5KPlayer interface to start playing, and the display will be shown on the screen of Apple-TV connected HDTV.
Note: To AirPlay MKV files with VLC AirPlay Alternative, you should first make sure that you've got a great video converter to have those files converted into airplay required formats: MOV, MP4, M4V before playing.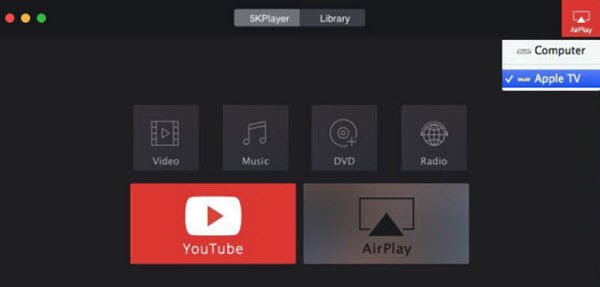 The VLC AirPlay alternative –5KPlayer offers the best AirPlay solution that performs seamless 4k streaming and solves AirPlay Video Delay and not working problems. Its core value is built around the notion of versatility and user-friendly. This newly devised AirPlay media player will definitely satisfy you with its fabulous video music playing function.
Home | About | Contact Us | News | Privacy Policy | Site Map
Copyright © 2017 DearMob, Inc. All Rights Reserved. AirPlay®, iPod®, iPhone®, iPad®, iTunes® and Mac® are trademarks of Apple Inc., registered in the U.S. and other countries. DearMob's 5KPlayer is not developed by or affiliated with Apple Inc.