"Integrate" VLC AirPlay
* You can resort to the Mac OS X built-in AirPlay function to enable VLC video AirPlay. By turning on AirPlay Display in the display setting, you can connect your Mac to Apple TV and then start AirPlay. Make sure your VLC MKV files are converted into AirPlay supported formats.
* You can also make use of the Streaming/Transcoding Wizard plug-in to mirror your screen to Apple TV. Play the video with VLC on Mac, while the same display is shown on Apple TV. This approach allows you to play any file formats you want as long as VLC manages to support, which means that you can directly use VLC to AirPlay MKV files.
"Disintegrate" VLC AirPlay
AirVLC on the other hand provides the disintegrate method that adheres to its banner –"Watch videos in VLC on your Mac and play the audio over AirPlay. All in sync" –which means that it separates sound from video display, and only AirPlay audio content which will in the meantime solve the AirPlay delay problem.
Drawbacks of These VLC AirPlay Methods:
* The Streaming/Transcoding Wizard plug-in of VLC is quite unstable, and the connection may undergo failure at times, which can be really annoying.
* AirVLC requires the installation and run of both AirVLC and VLC to perform AirPlay and you will need another speaker for your audio AirPlay, which is quite demanding.
* Mac models that support AirPlay Mirroring are limited to MacBook Air (Mid 2011 or newer), MacBook Pro (Early 2011 or newer) and Mac Pro (Late 2013 or newer), so you will need to check your Mac if it is AirPlay compatible before using the Mac built-in AirPlay function.
Then, how to avoid those potential troubles? A VLC AirPlay alternative – 5KPlayer, stands out here to volunteer its service.
How to Airplay from VLC to Apple TV?
Stream VLC iPhone to Apple TV:
Step 1. Download newest VLC player on APP Store (3.0 and the later). If you already had VLC installed, check the upgrade.
Step 2. Connect your iPhone and Apple TV with the same Wi-Fi network.
Step 3. Choose your local file that you want to stream to Apple TV and play it on VLC, then tap the cast icon on the end side of the progress bar. .
Step 4. After VLC had automatically recognized your devices, it will show you a selection box to ask you to choose a display device. Then, choose the Apple TV you want to stream from VLC.
Note: You need to add the video to VLC iOS on your phone and then it is able to be played. Because AirPlay is a proprietary protocol stack developed by Apple Inc. for wireless streaming across iDevice, VLC Android does not support streaming to Apple TV, it only support Android TV.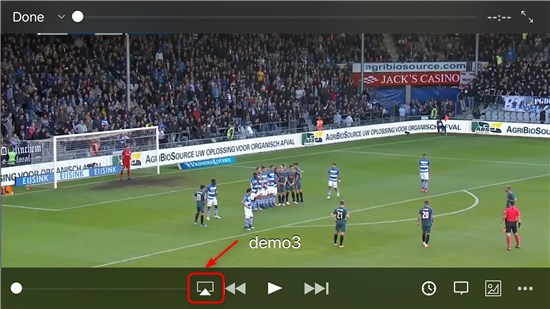 AirPlay from VLC Windows or Mac to Apple TV:
Step 1. Install "VLC for Mobile" on Apple TV. Go to the App Store on Apple TV, use the remote control to select "V" in the A-Z initial search menu, and scroll to find "VLC for Mobile" and choose to install it.
Step 2. Open VLC for Mobile on Apple TV, and on the very top navigation, scroll left to select "Remote Playback".
Step 3. Click "Enable Remote Playback" on the center of the user interface, and you can see two lines of link addresses.
Step 4. Go to your PC, remember the first line of the link address on the Apple TV, and then type it on your browser to open it, and just drop the video you want to stream to Apple TV on the page.
Note: If you want to stream from PC to Android TV, you need to install "VLC for Android" on the Android smart TV.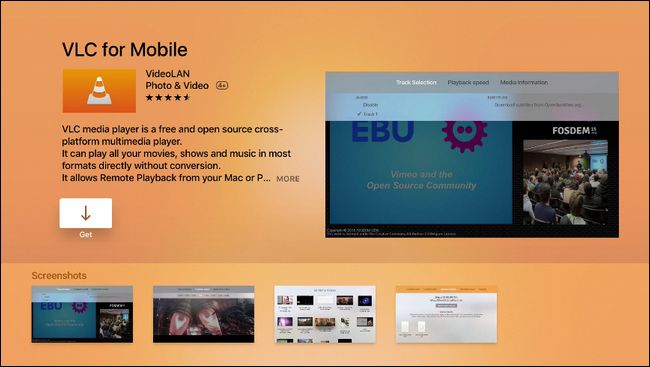 Can I stream VLC iPhone or Android to PC/Mac?
No, you can't.
Whether VLC for iPhone Android phones, or VLC FOR Mac windows PCs, so far they are only supporting streaming from VLC to TV. Even though it will be upgrade and have the features supported, adding the videos to VLC iOS is also annoying. If you want to AirPlay iPhone to Mac or Windows PC, you have to turn to find a VLC alternative for help.