Sky: Children of the Light PC Download & Play Guide
Written by Kaylee Wood | Last update: September 10, 2020 | 2 Min Read
As of now, Sky: Children of the Light game is only available on Android and iOS. Though you can't directly download Sky: Children of the Light game on PC Windows to play, directly being the keyword, you can still have a way to play this social indie adventure game on PC. And here is the detailed how-to guide.
Play Sky: Children of the Light Game from iOS to PC
Based on the fact, you need a different way to play Sky: Children of the Light on PC. Here, AirPlay-enabled 5KPlayer gives you the new way to realize that by screen mirroring the adventure game from iOS to computer. If interested, you can also AirPlay the game soundtracks/gameplay, iPhone/iPad videos, photos, presentations etc. wirelessly.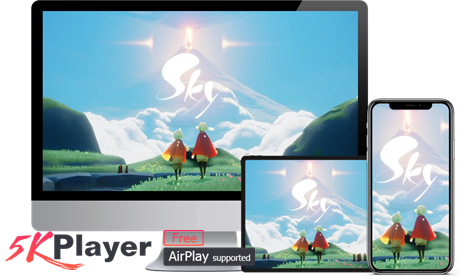 Why Is Sky: Children of the Light PC Search High?
Available for iOS and Android devices plus Nintendo Switch to come in 2021, Sky: Children of the Light is an award-winning game created by Thatgamecompany which brought you Journey (2013 Game of The Year) and Flower. The celebrations and awards include but not limit to Best of 2019 iPhone Game of the Year, 2020 Apple Design Winner, Game Developers Choice Awards, 2020 Webby Award Winner, People's Choice Mobile Games Award 2020 and 2020 Games for Change Awards Best Gameplay. Also, word-of-mouth praises from game players flood when Sky: Children of the Light download and play is available.
"I've been playing this since May 30th 2020 and I have to say that no game compares." - Spazmatic Fanatic
"One of my favorite games of all time. Everything is fantastic, and the graphics/music are beautiful. This is an extremely well done game and I praise TGC for all their hard work!" - Evelyn Smith
I also downloaded this game on my iPhone and explored one chapter already. I have to say I love it and I hope it can have a Windows version. But based on the fact that the game is only available for iOS and Android at present, I have to use a different way. 5KPlayer, an iOS game to PC mirroring software, satisfies my curiosity about how it performs when playing Sky: Children of the Light on Windows PC. If you also want a try, just follow my step-by-step guide.
Tips!
You may have found there is another way suggested to help you download and play Sky: Children of the Light game on PC, that is installing iOS emulator to create a virtual iOS system on PC. It is indeed an option if there is no other choices. However, you should be told that the way has a complicated installation process, requires payment for premium version and sometimes may bring adware or malware to your computer.
How to Play Sky: Children of the Light on PC with 5KPlayer?
Preparations: Go to Apple App Store (https://apps.apple.com/us/app/sky-children-of-the-light/id1462117269) to download Sky: Children of the Light iOS version on your iPhone first, create an account and log in. Then, use 5KPlayer to mirror the game from iPhone to PC.
Step 1. Free download 5KPlayer on your PC, install and launch it. Then, click on the "DLNA AirPlay" button on the main UI of 5KPlayer to configure the AirPlay settings. Here, just turn on the AirPlay option as shown in the picture.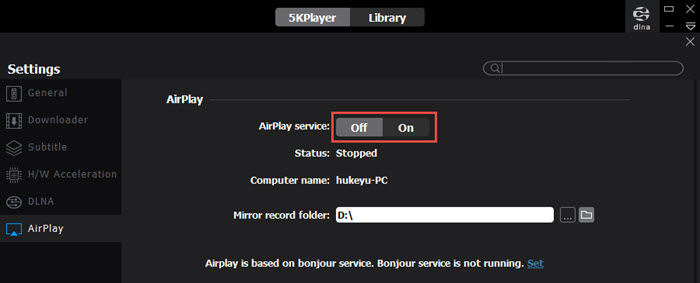 Step 2. Connect your iOS iPhone or iPad and PC to the same WiFi network.
Step 3. Find the Screen Mirroring function in Control Center on your iOS device.
• For iPhone with iOS 13 or later: Swipe down from the top right corner of the screen of your iPhone/iPad to access the Control Center.
• For iPhone with iOS 12 or older: Swipe up from the bottom of the screen of your iPhone/iPad to access the Control Center.
Step 4. Tap Screen Mirroring to search for 5KPlayer and then tap 5KPlayer to connect.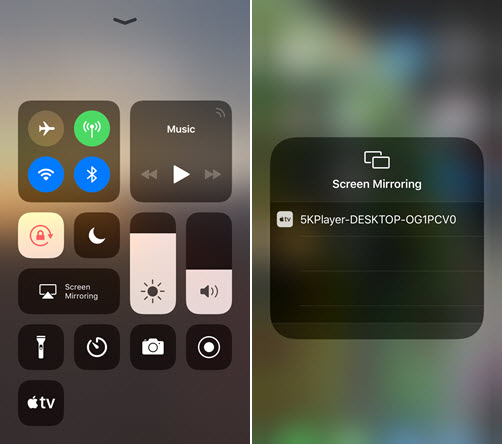 Step 5. Now, play Sky: Children of the Light game on your iPhone or iPad, and your PC will automatically and wirelessly receive the game and display it synchronously.
This guideline is also available for any other iOS games like Apple Arcade games to be played on PC from iOS iPhone iPad. The AirPlay-supported 5KPlayer can also be the key when you want to AirPlay mirroring videos, music, photos, apps, spreadsheets, live streams, etc. from iOS devices to Mac or Windows. If needed, 5KPlayer lets you download gameplay and soundtracks from 300+ sites.
Home | About | Contact Us | News | Privacy Policy | Agreement | Site Map
Copyright © 2023 Digiarty Software, Inc. All Rights Reserved.
5KPlayer & DearMob are brands of Digiarty Software, Inc. Any third party product names and trademarks used in this website are property of their respective owners. All the related logos and images, including but not limited to Apple's AirPlay®, Apple TV®, iPhone®, iPod®, iPad®, iTunes® and Mac® are registered trademarks of their own. Digiarty is not owned by or affiliated with Apple Inc. and any of those companies.