iPhone 7 Screen Mirroring: to TV/PC/Mac User Guide
iPhone (7) screen mirroring user guide - If you want to use screen mirroring iPhone to PC/Mac or Apple TV, you can easily find a way out here. All iPhone models will be covered, and you can freely choose the device as an iPhone screen mirroing target, such as iphone screen mirroring to: PC, TV or Mac. Now get iPhone screen mirroring useful tips to take your screen mirroring performance to a new stage!
New Style iPhone Screen Mirroring - Taking AirPlay to Next Stage
Forget about old ways of iPhone screen mirroring! Why pay dollars now that you can use a screen mirroring free program to display iPhone screen to PC, Mac and Apple TV without cables? 5KPlayer is a new-style mirroing tool to help your iPhone se/6s/6s Plus,6/6 Plus, 5s/5, 4s to use screen mirroring!

Part 1. iPhone Screen Mirroring to PC and Mac
[System requirements] iPhone 4s or newer for iPhone screen mirroring, PC with Windows 10/8/7/XP/Vista.
Method 1: iPhone Screen Mirroring to PC with AirPlay-supported Free Program
This method features both iPhone 6s screen mirroring to PC and Mac via Apple AirPlay technology: Empower Windows PC to receive iPhone screen mirroring, 5KPlayer installs Bonjour Protocol to turn your PC into a Wi-Fi audio receiver.
When iPhone natively recognizes this wireless streaming method, this screen mirroring process outperforms the rest without doubt. And that's not the best: 5KPlayer attaches screen recording function to capture what's going on on your iPhone se/6s/6s Plus without jailbreak.
Method 2: $16 X-Mirage: Similar Screen Mirroring + Multiple-device AirPlay
In the review of 5KPlayer VS X-Mirage VS Airserver in regard of AirPlay and iPhone 6s/6s Plus screen mirroring utilities, X-Mirage ranks NO.1 in paid AirPlay server chart: Boosting equal mirroring performance to 5KPlayer and meanwhile configures the multiple-device AirPlay to suffice. If economic factor doesn't matter, give it a go.
Part 2. iPhone Screen Mirroring to TV
[System requirements] iPhone 4s or newer for iPhone screen mirroring, Apple TV 4/3/2, Chromecast 2015[for iPhone screen mirroring Chromecast]
Method 1: Screen Mirroring iPhone to Apple TV [Most Stable]
iPhone 7 (Plus), 6s (Plus), 5s/5 and 4s, as is detailed above, have been designated to fit in to Apple AirPlay all from the beginning. This doesn't mean purposefully that other wireless streaming method like Miracast wireless display or video stream Chromecast is lesser-reliable, just footed on the pursuit for a secure way of data-sharing. To set up iPhone screen mirroring to Apple TV, no 3rd-party software will be involved. You just: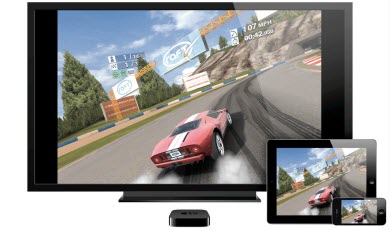 ->> Connect iPhone se/6s/6s Plus and Apple TV 4 to the same Wi-Fi > Swipe for Control Center on iPhone >
Turn on AirPlay > Enable Mirroring and select Apple TV as target
Method 2: iPhone Screen Mirroring Chromecast [Chromecast 2015 new function]
Designed for Android devices and Windows Phone, new Chromecast 2015 greets iPhone se/ 6s/6s Plus users with the new overture of iPhone screen mirroring. This $34.99 device is a great help when Wi-Fi signal is weak or the Internet is less perfect.
->> Plug new Chromecast into an HDMI port of your HDTV
Download TV Cast (C) APP on iPhone 6s/6s Plus > run the set-up procedure.
Then you can experience the screen mirroring iPhone Chrome browser, video streaming APPs to HDTV at a maximal 1080p standard.
Tips and Notes:
New as it is, the new Chromecast to mirror iPhone screen remains less-perfect: Netflix Chromecast error 16004, HBO GO Chromecast error 102 keep troubleing users, here a
top 4 new Chromecast alternative review
could just help you out.
Part 3. Taking iPhone Screen Mirroring One Yard Further - Screen Recording iPhone For Free!
To capture everything on iPhone, the free screen mirroring tool-5KPlayer takes this nifty utility from "outside the jail" into formal release. This screem mirroring-based recording captures game demo, APP demo and more into HD output: everything that's easier showed than said.
When successful screen mirroring iPhone is set up, just hit the red icon. For more features of screen recording with 5KPlayer, please turn to how to record iPhone screen.
This free screen mirroring tool has been dedicated to innovate safe and reliable iPhone screen mirroring with best regard to iPhone se/6s/6s Plus configureation. Carry the professionality of iPhone screen mirroring to more devices including Android, Windows Phone, etc, please refer to the all-in-one guide on how to use screen mirroring with 5KPlayer. If after this article you have doubts on Apple TV 4, please resort to how to AirPlay from PC to Apple TV for more.
Home | About | Contact Us | News | Privacy Policy | Site Map
Copyright © 2017 DearMob, Inc. All Rights Reserved.
AirPlay®, iPod®, iPhone®, iPad®, iTunes® and Mac® are trademarks of Apple Inc., registered in the U.S. and other countries. DearMob's 5KPlayer is not developed by or affiliated with Apple Inc.