AirPlay Video/Music with Beamer
Written by Kaylee Wood | Last update: April 28, 2020
How to AirPlay with Beamer? Although it may be quite handy for you to directly stream movies and music from Mac to Apple-TV with a built-in iOS (4.2 or newer) AirPlay feature or a native OS X (Mountain Lion or later) AirPlay mirroring feature, Beamer is capable of drawing much more attention by just focusing on one thing in particular –AirPlay video from Mac to Apple-TV, in the best audio and video quality possible. And as Mac Stories commented –"Beamer does one thing and it does it extremely well!"
Best Beamer Airplay Alternative for iPhone/PC/Mac/Apple TV 4/3
With high rendering ability to AirPlay and playback UHD 4K 8K videos, 5KPlayer is one of the best alternatives to Beamer to AirPlay videos from PC/Mac to Apple TV 4/3. It also has support for 7.1 surround sound and reads almost all popular video/image formats and codecs. Free download 5KPlayer now!

How to Use Beamer to Airplay Videos from Mac to Apple TV?
With high playback quality in regard of image (full HD support) & sound (5.1 surround sound) and support for almost all common formats and codecs, Beamer is an easy and the quickest solution for you to AirPlay video from Mac to Apple TV, as it works just like a regular media player but the video plays on Apple-TV.
How to AirPlay with Beamer to stream videos from Mac to Apple TV? Forget all the limitations you know about AirPlay on the Mac! To realize Beamer AirPlay video, all you need to do is to download the Beamer and drag a video onto the interface for AirPlay. The Beamer will automatically detect the AirPlay receivers, and you can select the target receiver in the popup menu by clicking the AirPlay icon at the lower-right corner. The Beamer new 2.0 version also creates playlists to queue up a bunch of videos for watching in succession. Beamer also remembers what you have watched and at what point in the video you stopped watching.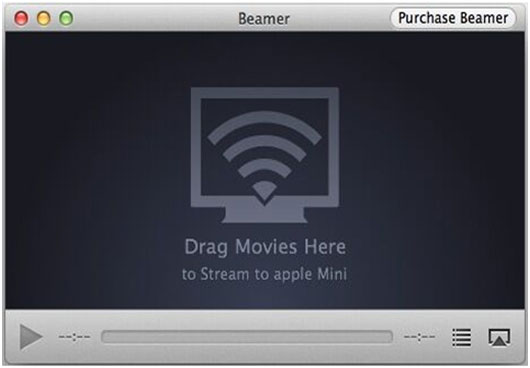 Nevertheless, there are certain limitations of Beamer AirPlay video that we should also be aware of:
Beamer 2.0 Limitations:
$15 Fee-based AirPlay software.
Requires Apple TV and OS X Mavericks (10.9) or Yosemite (10.10).
Only support one-way AirPlay: from Mac to Apple-TV.
  How to achieve Beamer AirPlay on Windows>>
No video or audio online resources support.
However, chances are that if your Mac system is OS X Mountain Lion or older, or if you want to AirPlay from Mac to Mac/PC or iDevices (iPhone SE/iPad pro) to Mac/PC, or if you want to AirPlay music from Pandora, this Beamer might be useless and you may find yourself at sea trying to fish another powerful Third-party App for smooth and seamless AirPlay playback quality. Here, we recommend you a robust free alternative to Beamer AirPlay –5KPlayer.
Use Free Alternative to Beamer to AirPlay from PC/Mac to Apple TV 4/3
5KPlayer is a great free alternative to Beamer for AirPlay that enables you to enjoy videos and music on a bigger screen. It can stream video contents just as smoothly as the Beamer and reads and processes those file contents with high image and sound quality. Also, 5KPlayer expands its AirPlay routes to PC-to-Mac/Apple TV 4/3, Mac-to-PC/Apple TV 4/3, iPhone/iPad-to-PC/Mac...
As a great Ultra HD video-music player, 5KPlayer plays any audio video files including AVI, MKV, MOV, MP4, WMV, FLV. It is also a free online A/V downloader that downloads videos and albums of music from over 300 online websites like YouTube and Spotify, and a free radio player that brings any online radios within your ears' reach. 5KPlayer is equipped with all the features that a professional media player supposed to possess and much more.
As a cost-free Beamer alternative for AirPlay, 5KPlayer particularly features in:
1. AirPlay Sender & AirPlay Receiver:
Support AirPlay from Mac to Mac, Mac to Apple TV and iDevices (iPhone/iPad/iPod Touch) to Mac.
2. Playing and Airplay AVI, MKV, WMV, FLV, DivX, etc.:
Accepts almost all A/V formats, codecs.
3. Full HD Support with High Quality Display & sound:
a. Accepts high resolutions up to 4K/5K;
b. Supports 5.1 Surround Sound and Even Higher (7.1).
4. Supporting Airplay-Enabled Third Party APPs: Spotify, Pandora etc.
5. Creating playlist for all AirPlay files.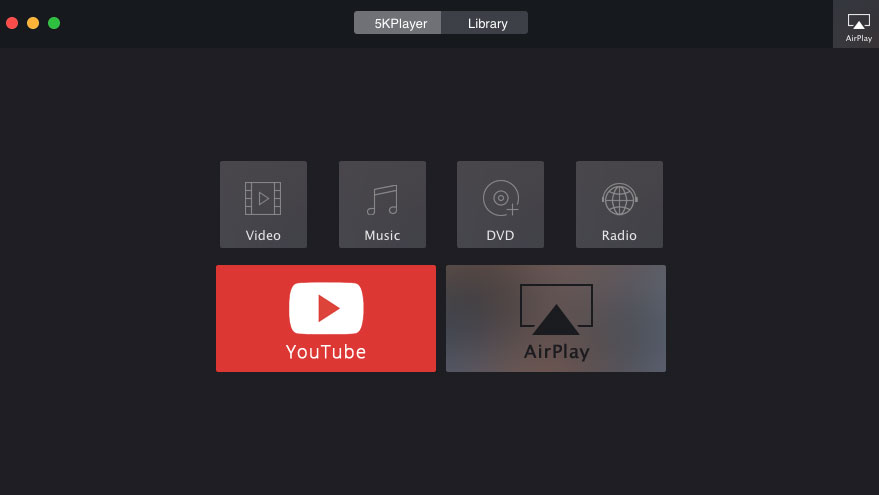 Step 2:Go to Control Center on the display of your iPhone (11) and find AirPlay. Click AirPlay. Then you can see a list of AirPlay receiver options, and select your Mac.
Step 3: Select a video to be streamed by this free Beamer alternative from iPhone to Mac. Then 5KPlayer will start playing and streaming. The whole process of streaming is quick with not a bit loss in quality, and in the mean time, you are free to do other things on your Mac, like online shopping and browsing news.
Note: As AirPlay only supports videos in MP4, M4V, MOV format and music in MP3, M4A and AAC format, you may need an efficient DVD video converter software for Mac OS to convert your films into target formats first.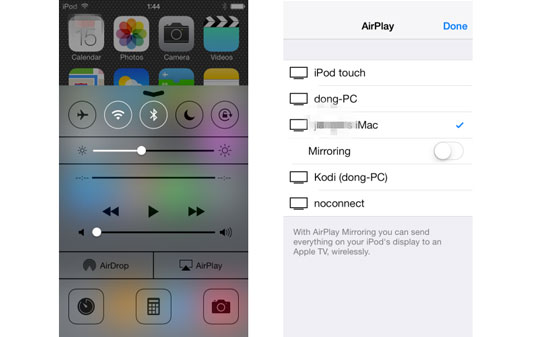 Apart from being a free Beamer alternative for AirPlay, 5KPlayer is also a powerful media server that has access to vast online A/V resources for us to download online video music and can provide playback customization. Exactly as the world welcomes the multi-disciplinary talents, we welcome software of versatility that basically caters for our all-round demands in a particular field. 5KPlayer aims to make itself a powerful and cover-all media player that brings convenience and flexibility for us all. Therefore, to coin a phrase: In 5KPlayer we trust.
Home | About | Contact Us | News | Privacy Policy | Agreement | Site Map
Copyright © 2023 Digiarty Software, Inc. All Rights Reserved.
5KPlayer & DearMob are brands of Digiarty Software, Inc. Any third party product names and trademarks used in this website are property of their respective owners. All the related logos and images, including but not limited to Apple's AirPlay®, Apple TV®, iPhone®, iPod®, iPad®, iTunes® and Mac® are registered trademarks of their own. Digiarty is not owned by or affiliated with Apple Inc. and any of those companies.