Download and AirPlay Movies 8K to 8K TV — Your 8K Video Library
Written by Kaylee Wood | Last update: April 28, 2020
8K TV display is taking the place of 4K 5K videos movies to blast your eyeballs, and will be replaced by even higher pixels to come, for sure. Now to the point: Are you planning a budget on a 8K TV display but got no authoritative review to turn to? Or you paid for that insane Sharp 8K TV but got on movie 8K? Nice to have you here, you'll detect the maximal amount of 4K 5K 8K UHD videos movies to AirPlay to 8K TV.
>>> Guide to 4K 8K UHD Videos Free Play/Download/AirPlay <<<
8K TV is Here! Now AirPlay Online 8K Videos Movies to 8K TV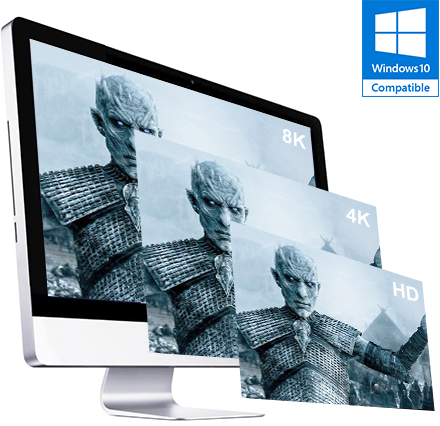 Cabled TV channels, due to the strict censorship, will lag behindonline 4K 5K 8K Quad UHD movies videos for 6 months. AirPlay 8K UHD videos to 8K display, don't leave the Sharp 8K TV, Apple TV neglected if you don't have this best 8K video player.
But how? Online 8K UHD video resources spread faster than you can imagine online. Indeed watching 8K video on PC or Mac is rather convenient, but why waste the 8K TV yards away? See to the 1st premiered Beauties À La Carte 8K movie by NHK, or download the first 8K UHD video Ghost Towns, all throwing a vibrant punch to your eyes before you even realize. Everything for 8K TV is available online, just download best 8K video player for Windows 10 and Mac and stream UHD videos to 8K TV for maximal ecstasy!
But How Can I Download Movies 8K and AirPlay to 8K TV?
You don't have to think, the only thing you need to do is remember a name — 5KPlayer. It already discovered, analyzed, and prepared a whole battery of function for you to AirPlay to 8K TV. This freeware downloads 8K video superfast in any bandwidth environment, serving as the first mature software to download 4K 5K 8K 4320p videos superfast, and sure enough, in terms of your 8K TV Quad UHD display, be it Samsung, Sharp or Apple TV, it envoys every pixel to reach the stunning 8K screen intactly. When it comes to AirPlay 8K AVCHD MKV movies, this 8K player software for Mac and PC dares to claim NO.1, for nothig matches it in regard of the sleek 8K playback performance, superfast downloading of 8K videos and the impeccable AirPlay to 8K TV. Moreover, it renders 300+ online video sites for you to download videos!
3 Things You Should Know Before You AirPlay 8K Videos to 8K TV
5KPlayer hates to see a single 8K TV humiliated due to the ineligible Quad UHD video content. So read the following improvements for 8K TV streaming bugs [solved], both AirPlay 8K TV beginners and advanced user are recommended to.
[1] AirPlay to 8K TV is the top-notch method to stream 4K 5K 8K videos. It's the lossless 8K video transmission method thatoushines WIDI or other wireless streaming method. Featuring highest agility to push pixels and at the same time rendering no wireless glitches at all.
[2] AirPlay technology assents only 8K videos in MP4, M4A and MOV format to stream to 8K TV display. Does this filters another proportion of 8K video resources now that they don't aggregate much? Don't forget you just got 5KPlayer, how could it miss the format issue as an pioneer in AirPlay to 8K TV? Turn to the best converter for Windows or Mac to convert your 8K video for AirPlay.
[3] Streaming of 8K movies videos puts higher requirements on bandwidth, thus sluggish networks will most possibly lead to AirPlay to 8K TV video delays or chokes. Yes, to your surprised "WOW" mouth i can say, that this self-integrated AirPlayer for 8KTV preset the option to fix AirPlay delays to 8K TV, and that's what a real player can do.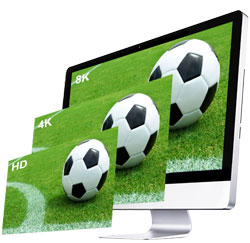 Home | About | Contact Us | News | Privacy Policy | Agreement | Site Map
Copyright © 2023 Digiarty Software, Inc. All Rights Reserved.
5KPlayer & DearMob are brands of Digiarty Software, Inc. Any third party product names and trademarks used in this website are property of their respective owners. All the related logos and images, including but not limited to Apple's AirPlay®, Apple TV®, iPhone®, iPod®, iPad®, iTunes® and Mac® are registered trademarks of their own. Digiarty is not owned by or affiliated with Apple Inc. and any of those companies.