AirParrot Mac Cracked Free Download to Mirror Mac Screen to Apple TV
Written by Kaylee Wood | Last update: April 28, 2020
AirParrot 2 for Mac is great, but it is expensive. So maybe you would want to download AirParrot Mac cracked to use AirParrot on your Mac so as to stream or mirror your Mac display on Apple TV. But you do know download AirParrot Mac cracked is illegal right? Not to mention the consequence that AirParrot Mac cracked will lead you to but do you know for real that the AirParrot Mac cracked you download from some crack sites is safe? Don't blame me for accusing you trying to download AirParrot Mac cracked, because I'm going to recommend you a completely safe way to stream or mirror your Mac desktop to Apple TV and mirror iPhone/iPad/iPod to Mac!
5KPlayer – Free AirParrot Mac Alternative Spikes AirParrot Mac Cracked
As a free AirPlay server 5KPlayer from DearMob is the best free AirParrot Mac alternative that offers you completely free and 100% safe access to screen mirror Mac to Apple TV and stream video audio from Mac to Apple TV without installing AirParrot for Mac cracked.

There are many sites offering AirParrot 2 Mac cracked free download but without telling you the side effects of using AirParrot Mac cracked. Ok, let me remind you the hazards of downloading AirParrot Mac cracked:
1. Copyright infringement. Users of AirParrot Mac cracked could be held responsible for violating the copyright law.
2. No Airparrot updates and not getting proper tech supports. If you are using the AirParrot for Mac cracked, you won't be able to get any tech supports or free updates from Squirrel official.
3. Low quality AirParrot software. The AirParrot for Mac cracked may still have problems according the certain extent of cracking.
4. Virus and malicious malware.The AirParrot Mac cracked you download may contain ads, virus or malicious malware that will harm your Mac hardware.
In that case, you need to reconsider to download the AirParrot Mac cracked and consider to give 5KPlayer this free AirParrot alternative a try.
5KPlayer itself is one of the best multimedia player for Mac which supports to play hundreds of video format including DVD, MKV, AVI, MP4. HEVC, AVC. With built-in AirPlay function, this AirParrot alternative can swiftly detect the target AirPlay devices including Apple TV 4/3/2, Apple watch, AirPlay speaker, iPhone 6S/6/5S, iPad/iPod and even the Windows PC with 5KPlayer launched. Once you choose the target mirroring device, this free AirParrot for Mac alternative will quickly connect and mirror your Mac to Apple TV and more.
AirParrot Mac Cracked VS. Free AirParrot Alternative
1. DearMob 5KPlayer is an AirPlay server with full function, stable and intact.
2. AirParrot alternative is free and safe, no need to worry about to violate any federal law.
3. Constant free updates available plus 24/7 professional tech supports.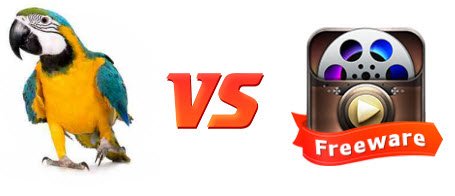 4. This free AirParrot alternative is a standalone software, 100% safe and green, no virus, no malware, and no plug-ins.
5. Multifunctional software that not only supports AirPlay mirroring, but also 4K UHD playback as well as downloading video to MP3.
There is a free AirParrot alternative who does exactly everything the expensive AirParrot does, why would you risk your computer hardware and yourself to use AirParrot cracked on Mac?
How to Mirror Mac Display to Apple TV with Free AirParrot Alternative
Step 1: Free download and launch this free AirParrot Mac alternative on your Mac. Make sure your Mac and your Apple TV 4/3/2 are on the same network.
Step 2: Click AirPlay icon on the right corner of this AirParrot. Choose your Apple TV 4 from the AirPlay status icon on the list.
Step 3: Once activated, everything on your Mac screen can be put onto the TV with the help of AirParrot Mac free alternative.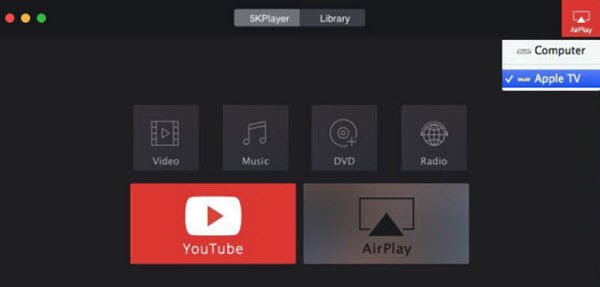 5KPlayer is totally the free alternative of AirParrot for Mac, and it is also another choice of Reflector for Mac and Windows as it also enables you to screen mirror iPhone/iPad/iPod to Mac or Windows PC.
Home | About | Contact Us | News | Privacy Policy | Agreement | Site Map
Copyright © 2023 Digiarty Software, Inc. All Rights Reserved.
5KPlayer & DearMob are brands of Digiarty Software, Inc. Any third party product names and trademarks used in this website are property of their respective owners. All the related logos and images, including but not limited to Apple's AirPlay®, Apple TV®, iPhone®, iPod®, iPad®, iTunes® and Mac® are registered trademarks of their own. Digiarty is not owned by or affiliated with Apple Inc. and any of those companies.