AirPlay for macOS Monterey to Stream Video Music
Written by Kaylee Wood | Last update: June 08, 2021
How to use AirPlay on macOS Monterey? Since Mac OS X had been renamed as Mac OS and macOS Monterey is the latest generation of Mac OS, wondering if there is any difficulty in AirPlay on macOS Monterey? Or is there any difference between AirPlay macOS Monterey and AirPlay Mac OS X to stream video music? Luckily, you can get help from 5KPlayer, a free AirPlay server perfectly compatible with macOS, to AirPlay macOS Monterey to Apple TV as well as AirPlay iPhone/iPad/iPod to Mac to stream video music at will.
Use AirPlay on macOS Monterey to Stream Video Music
To successfully AirPlay macOS Monterey to Apple TV or AirPlay iPhone/iPad/iPod to macOS Monterey, you need 5KPlayer to get the devices connected wirelessly. As the best free AirPlay streaming server, it allows you to AirPlay macOS Monterey and Windows 10 to Apple TV as well as AirPlay iPhone/MacBook/iMac etc to Apple TV.

iPhone, iPad, and iPod are portable yet small in screen to watch a movie or TV show. And Mac is better than iPhone/iPad/iPod when playing a movie or music but it can hardly provide a more satisfactory effect than Apple TV. However, every coin has two sides. iPhone, iPad, iPod and Mac (MacBook, MacBook Air, MacBook Pro, etc) are easier to carry and more resourceful in video and music than Apple TV, while Apple TV own theater effect when playing videos music. So, it is wise to stream videos music from iPhone/iPad/iPod/Mac to Apple TV to enjoy kinds of movies music with better effect and 5KPlayer can help you AirPlay macOS Monterey/Sierra/Mojave/High Sierra/OS X El Capitan/OS X Yosemite/OS X Mavericks to Apple TV and AirPlay iPhone/iPad/iPod to macOS Monterey without any cable.
How to AirPlay iPhone/iPad/iPod to macOS Monterey| AirPlay macOS Monterey to Apple TV?
Apple devices support stream technology requiring iOS 4.2, iTunes 10.1, iOS 5, OS X Mountain Lion and above, but it is not certain whether you can successfully AirPlay macOS Monterey now. Since there are problems like AirPlay not working after macOS Monterey upgrade, AirPlay mirroring not working on Monterey, not connecting to Apple TV from Monterey, etc, So, it is urgent for you to get help from the best AirPlay server - 5KPlayer. Compatible with any Mac OS, 5KPlayer macOS Monterey will allow you to AirPlay iPhone/iPad/iPod to Mac computer and Mac/PC to Apple TV to stream 8K/5K/4K videos, HD movies (MKV/M2TS/MTS/AVCHD etc) and SD files (AVI/MP4/MP3/AAC etc) without cable. What is still better, you can use it to AirPlay Window 10/8/7 to macOS Monterey and Apple TV 4/3/2 in a free and smooth way. Get 5KPlayer at hand, keep away from AirPlay not working forever.
How to AirPlay MacOS Monterey with 5KPlayer?
Before AirPlay macOS Monterey, you should first download the best free AirPlay server 5KPlayer (Free for Mac

/Free for Windows

) and run it on your computer. 5KPlayer is low in CPU-occupying that it takes you a little time to download and install.
Note: Please make sure that your iPhone/iPad/iPod/Mac and Apple TV are in the same WiFi network.
AirPlay MacOS Monterey to Apple TV
Step 1: To AirPlay macOS Monterey to Apple TV, click AirPlay button on the top right corner of 5KPlayer and you can see a list of AirPlay receivers. Choose Apple TV. Once AirPlay is enabled, the AirPlay button will go red.
Step 2: Add a video, movie or music to the program and it will automatically stream video music on macOS Monterey to Apple TV.
Note : Only videos in MP4, M4V, MOV and music in MP3, AAC are supported to stream currently! You need a video converter to convert the video/audio format if you want to AirPlay DVD, MKV, M2TS, AVCHD, AVI, WMV, FLV, etc on macOS High Sierra.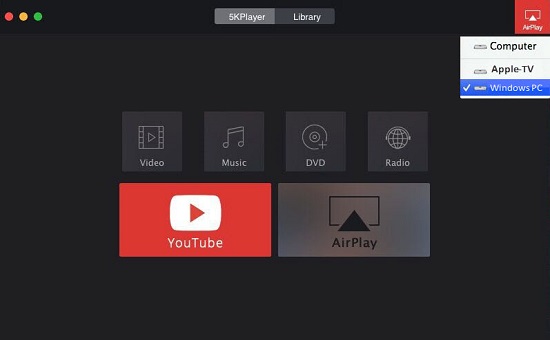 5KPlayer is not only a free AirPlay server for macOS Monterey, but also a video music player and online video downloader to play HD 4K 8K 1080p MKV MP4 etc video movies and AAC MP3 FLAC etc music with multi-subtitle tracks and DTS multichannel surround sound. And you can also use it to download hot movies like Pirates of the Caribbean 5, popular TV series like Game of Thrones 7, sports show, music videos, etc from 300+ sites like YouTube, Dailymotion, Vevo, etc and share them on HDTV.
Home | About | Contact Us | News | Privacy Policy | Agreement | Site Map
Copyright © 2023 Digiarty Software, Inc. All Rights Reserved.
5KPlayer & DearMob are brands of Digiarty Software, Inc. Any third party product names and trademarks used in this website are property of their respective owners. All the related logos and images, including but not limited to Apple's AirPlay®, Apple TV®, iPhone®, iPod®, iPad®, iTunes® and Mac® are registered trademarks of their own. Digiarty is not owned by or affiliated with Apple Inc. and any of those companies.