FAQs about Windows Media Player Won't Play MP4 Files
Here, we have excluded the situation that your MP4 video file has been damaged or broken that causes WMP not playing MP4 error.
Q1: Does Windows Media Player Support MP4?
It is clear that WMP for Windows XP, WMP 9 Series, Windows Media Player 7, 10 and 11 don't natively support MP4 file format. As for Windows Media Player 12, it plays MP4 videos but it can't play all of the MP4 file formats.
Q2: Why Does MP4 not Play in Windows Media Player?
As we mentioned from the beginning, codec is to blame. Windows Media Player won't play MP4 because it doesn't come with necessary MP4 codecs. Though WMP 12 plays some MP4 files, but it will also fail to play when the MP4 codecs are not supported by Windows Media Player 12.
Q3: What is Windows Media Player MP4 Codec?
MP4 codecs are used to encode the MP4 videos files we see in daily life and different MP4 codecs will form different MP4 files. So, Windows Media Player MP4 codec is used to encode WMP-compatible MP4 files. To let MP4 files be played on Windows Media Player before version 12, you have to download external MP4 codec pack like K-Lite codec pack to beef up your WMP.
Luckily, Windows Media Player 12 natively supports some MP4 codecs like listed below: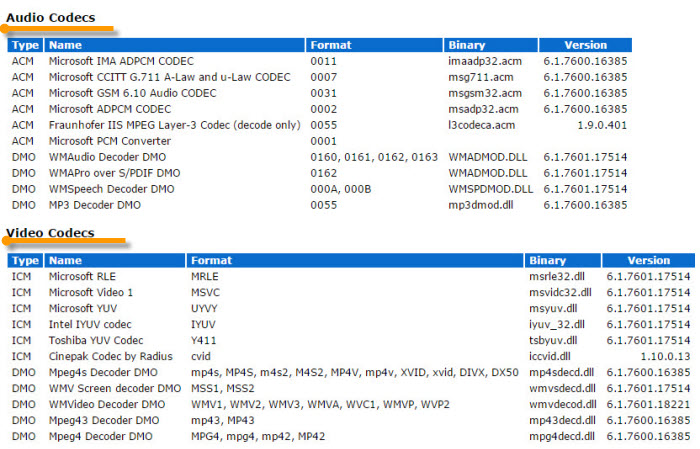 However, MP4 file not playing in Windows Media Player 12 problem also happens a lot because WMP 12 may not support codecs like HEVC H.263/H.264/H.265, MPEG-4 ASP, H.264/MPEG-4 AVC,H.263, VC-1, Dirac, MPEG-2/4 (HE)-AAC, AC-3, Apple Lossless, ALS, SLS, Vorbis(with private objectTypeIndication).
Q4: Why Windows Media Player Show No Video or Audio When Playing MP4?
Windows Media Player MP4 no video occurs as MP4 is a container format that can contain different kinds of video and audio streams, and the video and audio streams can be encoded in several ways. So, here we once again return to codec problem. If the MP4 video or audio codec is not WMP-supported, Windows Media Player won't play MP4 files of this kind.
Q5: How to Get Windows Media Player to Play MP4?
In conclusion, all of the discussions are about codec. So, you can download Windows Media Player MP4 codecs or third-party codec pack like K-Lite to beef up your WMP, or just convert the MP4 to Windows Media Player more compatible format like WMV and AVI. Wiser choice, you are suggested to try another MP4 player to play MP4 video files.