Top 4 MP3 Players macOS Big Sur Free Download
Posted by Kaylee Wood | Last update: June 29, 2020
A MP3 player macOS Big Sur is imperative if you've got plans for the latest Mac, or that you're not able to choose one among many MP3 players Catalina now that there are too many options, listed in APP Store or available for download. That being said, the top 4 best MP3 players for Mac (macOS Big Sur) on this page are genuinely free and handy, enabling you to play MP3 AAC FLAC music on Mac (macOS Big Sur/Mojave/High Sierra/Sierra/OS X) as if sitting in the front row of a concert.
#1: 5KPlayer - Best Free MP3 Player macOS Big Sur Download
Among all MP3 players macOS Big Sur out there, 5KPlayer is an overachiever: More than a bare-bone MP3 player MacOS Big Sur, it plays AAC, M4A, FLAC, WMV music on Mac (macOS Big Sur/Catalina/Mojave/High Sierra/Sierra/OS X) to the fullest extent. Click to get 5KPlayer below!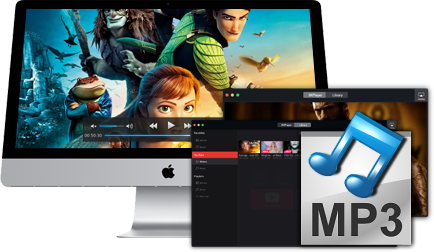 Of all MP3 players Mac Big Sur we have tested yet, the free 5KPlayer is the most configurable and compact option. It is highly-integrated: Aside being a high-quality MP3 player for macOS Big Sur, it handles other advanced audio codecs without hassle, such as FLAC, CUE, OGG, AAC, etc without transcoding, thus preserving the original music quality from source to your ear.
There isn't an effective music achiving APP on Mac for long, and managing MP3 on macOS Big Sur via iTunes seems the last wannabe, thus calling for a reliable Mac MP3 player like 5KPlayer: featuring a clear-cut GUI, you may easily create a playlist, add, delete a MP3 file on Mac, or just click a heart icon to tag it as your favorite MP3.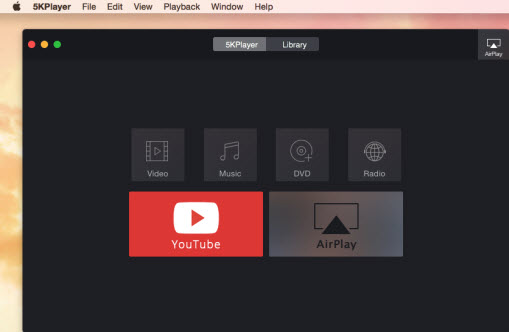 5KPlayer macOS Big Sur since its release has been an enthusiatist-reaper: totaling half a million download for the time being, this MP3 player macOS Big Sur is no the 6th most downloaded multimedia player via CNET. Users can not only enjoy lifetime upgrade of this video music player, it is constantly upgraded to fit in to the latest Mac OS.
The latest version of this MP3 player for macOS Big Sur is 100% green and safe, you may directly download it below:
VirtualDJ Home – Another Overlord MP3 Player for macOS Big Sur
This might not be popular with the majority who need an easy-to-use MP3 player macOS Big Sur, for whom we recommend 5KPlayer, yet VituralDJ Home is a real hit MP3 player for macOS Big Sur:
Winning 1 million+ new downloads from Mac users every month, Virtual DJ Home provides not only the basic MP3 playing functions on Mac, but also drive you thru some easy tricks to do real DJ mixes. Once you're comfortable with the operations, it's a lot of fun cranking out your own MP3 records, and play the MP3 on macOS Big Sur. That being said, VirtualDJ Home is worth considering if you're thinking of going deeper with the MP3 players for macOS Big Sur.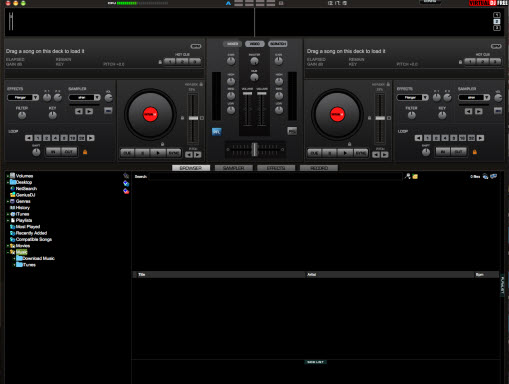 Pros:
Freeware.
VirtualDJ Home is a Mac MP3 player available in Mac APP Store.
4.0/5.0 ratings by 1940 users.
Cons:
Less usable than user-oriented Mac MP3 players like 5KPlayer.
Elmedia Player from Eltima - A multiformat video player for macOS Big Sur
Winning several "Strong recommends" on CNET, Elmedia Player from Eltima is one that's beautiful in design as well as good in functionality. That been said, you may well use this MP3 player for macOS Big Sur to play MP3 FLAC music files, MP4 MKV and more video files, while also download MP3 music from popular music websites.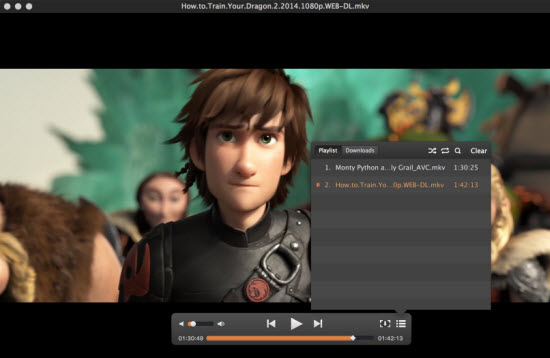 Pros:
Freeware.
4.5/5.0 ratings.
Cons:
Extended functions for Elmedia Player Pro.
Enqueue - MP3 Player Big Sur for Audiophiles
Paid MP3 players for macOS Big Sur is not in my budget, to be frank, but we still decide to recommend Enqueue as the only $9.99 macOS Big Sur MP3 player for audiophiles like you.
Standing on the edge point of being compact, Enqueue is 8.7 MB only, working seamlessly on OS X 10.6 or newer. If you're quite used to iTunes' way of managing files, Enqueue MP3 player for Mac can't be a better alternative. The ability to play MP3 FLAC files on macOS Big Sur is pleasing many, yet Enqueue macOS Big Sur MP3 player won't read protected music files or smart playlists anyhow, which makes it a less compatible MP3 player macOS Big Sur when compared to 5KPlayer.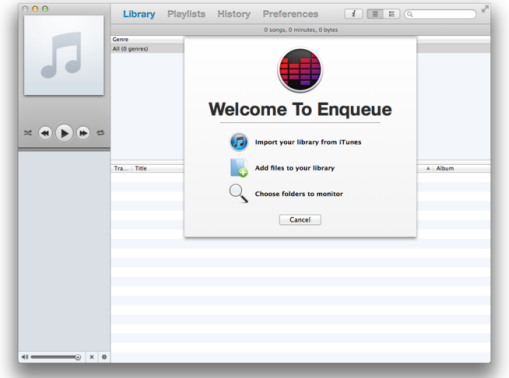 Pros:
Very sensitive to macOS Big Sur MP3 library changes.
Smooth performance even with a large library of MP3 on Mac.
Cons:
No specific update for macOS Big Sur compatibility yet.

VOX – macOS Big Sur MP3 Player
Rather than a single-platform macOS Big Sur MP3 player, VOX player for Mac is released in duplicate for iPhone 7 (Plus) and for Macbook Pro (OS Catalina). Designed to fit in the powerful engine of you Mac OS devices, this MP3 music player for Mac is a powerhouse for music in MP3 APE CUE OGG.
As is reviewed by Engadget.com, this MP3 player macOS Big Sur is punching above the weight and proivdes 4x deeper sound resolution for anyone who wish to play MP3 on macOS Big Sur with it.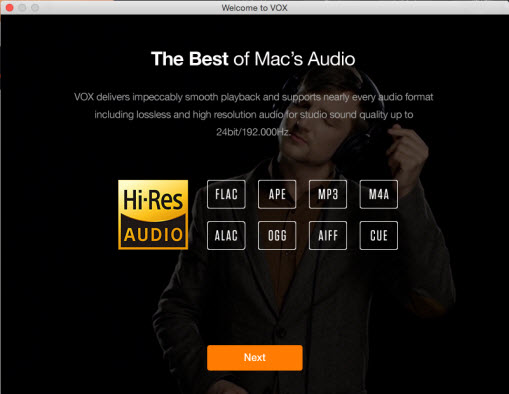 Pros:
Freeware.
Cons:
Since the latest upgrade of this MP3 player macOS Big Sur, it is now shipped with flattened GUI yet some VOX player no sound issues occured.
Have you made up your mind as of which MP3 player for macOS Big Sur is the very thing you like? As per free macOS Catalina MP3 players, 5KPlayer is a second-to-none choice, you may find it equally useful as a DVD player for macOS Big Sur, or simple an all-you-can-eat media player for macOS Big Sur. However, if you have a relatively easy budget, the $9.99 Enqueue isn't a bad choice, in that many of the users speak highly of their instant after-sale email service. But before you decide to shell out the money, you may try if this free MP3 player Big Sur is capable enough for your music playback demands!
Related Articles
Top 3 MP3 Players for Windows (10)/Mac Free Play and Organize Music FilesReview the top 3 free MP3 players for Windows (10) or Mac to choose the best Windows 10 music player and Mac El Capitan to play music in MP3, AAC, OGG, WMA, and Lossless FLAC.
Download Best Free Music Player to Play All Music Songs FlawlesslyLooking for a free music player which can play all music songs in MP3, AAC, AC3, WMA, FLAC and other formats? Here, the most powerful free music player for Windows and Mac OS is ready for you.
Top 10 Best Music Players for Windows 10To expand your choices, top 10 music players for Windows 10 are listed here for you to free customize or replace the default Microsoft music player for Windows 10 -Groove Music. Play any music on Windows 10, discover new songs on Windows 10.
Home | About | Contact Us | News | Privacy Policy | Agreement | Site Map
Copyright © 2023 Digiarty Software, Inc. All Rights Reserved.
5KPlayer & DearMob are brands of Digiarty Software, Inc. All other products or name brands are trademarks of their respective holders. All logos, trademarks and images relating to other companies that may be contained wherein are applied in the Internet that are not used for commercial use. Digiarty's software is not developed by or affiliated with such companies.