RealPlayer Free Download Windows 7/10 Review
"* No private - wants all your stuff in the cloud,
*Constantly asks you to set up an account, when you start it, and everytime a looping video replays (years ago I paid for advanced level Real Player features, but they apparently cancelled that contract unilaterally)
* Downloader rarely works, and with only one or two browsers at that.
* Interface is totally confusing." -- commented by an Anonymous on CNET
Jack of all trades, master of none. RealPlayer has transformed itself into more than just a media player – a video photo editor, a file transferor, a web video downloader, a DVD burner, a share software etc. Its emphasis on strong playback ability has been diluted by all the other seemingly attractive utilities yet requiring you to sign in. RealPlayer at present only supports playback of m4a, mp3, wma, ra, rv, rm, ram, mvb, wav, flv, 3gp, 3gp2, mp4, m4v, wmv, iv4, avi, MPEG-4, QCELP, EVRC. So if you are looking for a strong media player that is lightweight and capable of dealing with other formats like divx HEVC 4K 8K high-res videos, you may have to look away.
Common RealPlayer Windows 7/10 Problems
After hands-on test of RealPlayer on Windows 7, we advice users do mind those buttons at installation setups, like "Agree" button which might trick you into installing Norton software. We also encountered several download problems using its download plug-in on firefox Windows 7 system. It just failed the download task and generally unable to respond to drag-n-drop videos (even WMP can respond quickly). And as same as complained by the CNET users, we also get endless signup alters to RealTimes. It is worth noting that the UI is not friendly enough for both video playback and file management.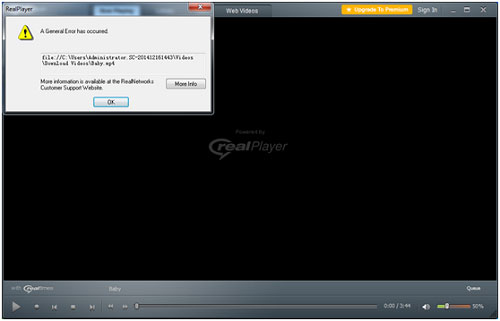 Where to download RealPlayer Windows 7/10 free?
Visit their official site by clicking RealPlayer Free Download Windows 7/10 here and you can download the latest version safely.
Note: It almost took me 20 min to download and finish installing. Failed once before getting the success installation.