MPC-HC Or MPC-BE: Media Player Classic Free Download
There are three media player classic names on online that might confuse users a lot as to the matter of downloading. Which is the rightful MPC shall we take? First let's start from MPC.
Media Player Classic, AKA, MPC is like the father/pedigree of many sons including powerful KMplayer, PotPlayer, MPC-HC and MPC-BE, meaning these players are using the same source code from MPC.
Media Player Classic is the name of the original player project which was founded and overall maintained by "Gabest" before 2007. After that, Doom9 forum continues the project by forking into two brands – Media Player Classic Home Cinema and Media Player Classic Black Edition.
The former(MPC-HC) is based on Casimir666's version aimed to add new features, fixing bugs and updating libraries while the latter(MPC-BE) is a revamped version of the original MPC (Gabest) with prettier interface catering to current aesthetics, updated library and newly added features including gesture control, fonts download, .y4m/.mxf extensions.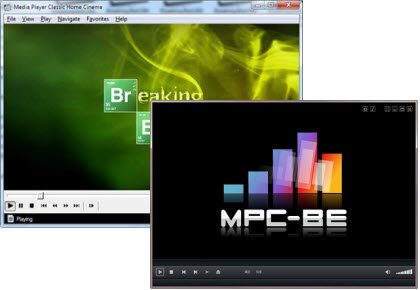 Generally, from users' perspective, there aren't many big differences between the two players. Some prefer MPC-HC's LAV filters for decoding while others prefer MPC-BE's preview pane on the navigation bar like what YouTube is doing. Both the players support many languages and almost all media files. However, MPC-BE is not as frequently updated as MPC-HC. The latest version of MPC-BE is V1.4.6, and the newest version of MPC-HC has already come to 1.7.10.
The only difference that matters between the two players is the use of LAV Filters. Since Media Player Classic Home Cinema cooperates with LAV filter, it is more efficient in decoding high-res video codecs like HEVC, H.2656/264, VP9/8, which, yet on the other hand results in the less effective support for HW decoding, in comparison with MPC-BE, due to DXVA1.0 incompatibility. Also, MPC-HC is integrated graphics enforced, therefore is more troublesome than MPC-BE in terms of shipping a discrete graphic like MadVR.
In addition, reported by some users, MPC-BE supports WASAPI directly, sends the correct number of audio channels over HDMI to the AVR without any intermediary. MPC-HC on the contrary needs addons to cope with that.
Thus, to sum up, if you are diehard LAV Filter lover, MPC-HC is your better choice. But if you prefer hardware decoding, the convenience of pairing discrete graphics, as well as the preview pane, MPC-BE is your second to none choice.
|Free Download Media Player Classic Codec Pack >>