Free WAV Player to Play WAV Files on Mac and Windows OS
Posted by Kaylee Wood | Last update: April 28, 2020
Are you troubled with WAV playback? Don't worry. This article will introduce a free WAV player which is available to play all WAV audio files on Mac and Windows OS without any settings. Here, you can learn what WAV is, what the difference between WAV and MP3 is, and how to play WAV files with the free WAV media player – 5KPlayer. This player can even play the WAV files that cannot be played on Windows Media Player, QuickTime, VLC, etc.
How to Play WAV Files If Current Players Fail to Play WAV Files?
Actually, 5KPlayer can act as a powerful WAV player to free play all WAV audio music files on Mac and Windows OS. It is really a good alternative when your default media player like Windows Media Player won't play WAV files for you.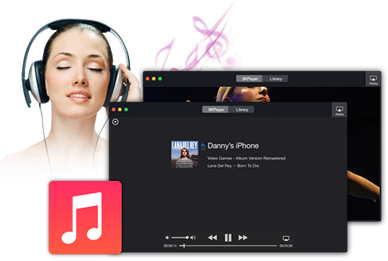 In theory, both Windows Media Player and QuickTime Player support for WAV playback natively. However, to our disappointment, playing WAV files with our default WAV player or other popular media players like VLC is not as easy as we imagine.
"WAV file won't play in Windows Media Player 11. Message'an audio Codec is needed to play this file'. I have look all over the place for this codec. I also try VLC and Real Player but no luck. Got the VLC going but no sound."
"I usually use VLC because of its reliability. Today, I need to play some WAV files. But VLC plays the WAV files silently. Gnome Media Player also plays them silently. Any ideas about how to play WAV files?"
What to do when you fail to play WAV files? WAV won't playback issue may happen due to the lack of correct codec packs or something wrong with your sound device configuration. Thus, you should download and install codec or make some correct configuration. If you believe the solutions are very difficult for you, how about convert WAV to MP3? But it is not a recommended practice. There's big difference between WAV and MP3. WAV (WAVE) short for Waveform Audio File Format is an audio file format standard jointly developed by Microsoft and IBM for storing an audio bitstream on PCs. WAV is an uncompressed or lossless format, while MP3 is compressed or lossy. That is to say, if you convert WAV to MP3, there must be some loss in quality. For novices and audiophile fans, a professional one-click free WAV player like 5KPlayer is the best way out.
5KPlayer is a professional free music player capable of playing WAV, APE, FLAC, MP3, M4A, AAC, WMA, MIDI, AIF and other lossless/lossy audio file formats. It comes with all codecs needed and enables users to play any music files directly without the need to configure anything. Just download this free WAV player and enjoy your WAV files right now.
How to Play WAV Files Using 5KPlayer?
5KPlayer is a simple-to-use free WAV player for Windows and Mac OS. Check the guide below to see how it works with WAV media files.
Step 1: Free download this WAV player and install it on your computer. And then launch it as needed.
As you can see, the user interface is very intuitive and clean. You can see at a glance where to load music files.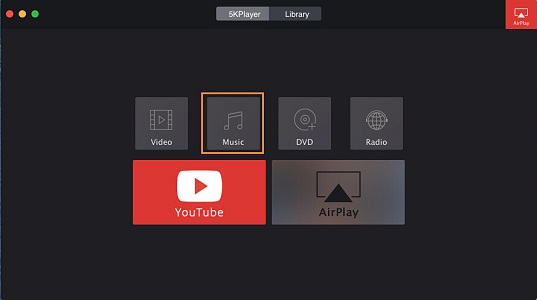 Note: Besides serving as a free WAV player to play WAV, FLAC, MP3, WMA, M4A, AAC and other audio files, 5KPlayer is an all-in-one video music player available to play MKV, MP4, AVI, FLV, MOV and other video formats. And it is also the best solution to free play 4K UHD videos smoothly. Other functions of 5KPlayer includes playing DVDs, listening to online radios, free downloading online videos songs from 300+ sites including YouTube, Vevo, Vimeo, DailyMotion and Facebook, and help free stream video audio to Apple TV with built-in AirPlay receiver and AirPlay sender.
Related Articles
Best Free M4A Player Best free M4A player plays all M4A music and audio on Mac El Capitan and Windows. Here you can learn how to play M4A, MP3, AAC, OGG with a robust M4A file player.
Best FLV Player Free DownloadFree download this best FLV Player 5Kplayer to playback your favorite FLV videos, movies, MVs etc on your Mac and Windows.
Best F4V Player Download FreeFree download this best F4V player as the flash video player to freely play F4V/FLV files and any other AVI MKV MP4 MP3 file.