Best Free AAC Player Plays All AAC Music and AAC Audio
Posted by Kaylee Wood | Last update: April 28, 2020
The best free AAC player can play any AAC file, AAC audio, and video files with AAC soundtracks have obtained with a .aac extension. It really enhances your auditory experience to pick one robust, best free AAC player that presents both AAC music and AAC audio with ultra clear sound. 5KPlayer offers some quick fixes and methods to get AAC media playing right now.
What's the Features of AAC Music and AAC Audio?
Best AAC player renders Advanced Audio Coding in best quality, reaching better effect than MP3 format music at similar bit rates. AAC audio consolidates its popularity by firmly ranking as the default audio format on YouTube, and heated devices like iPhone and iPad.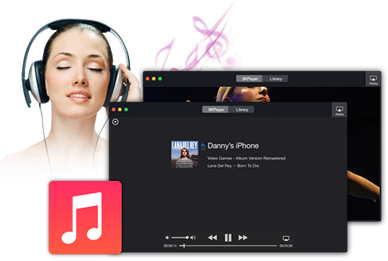 Best Free AAC Player Plays Even More Media Formats than Just AAC
Except for its flexibility in presenting AAC music and movies with AAC soundtracks, this best free AAC file player is compatible with much more popular media file types such as play m4a music, play ogg music, play mov files, .avi, .mkv, etc.
You may be a big fan of DVD collection, Hi-Fi music or are just into YouTube videos in varied confusing formats. But no worries at all, for 5KPlayer provides the easiest approach to your favorite AAC file and videos. There are no cluttering controls, no additional and useless stuff, please refer to tutorials on how to play more media files effortlessly with the best free AAC media player.
To date, the predecessor of AAC format - MP3 has officially announced its retirement with Fraunhofer Institute for Integrated Circuits terminating licensing for MP3-related patents. Though AAC has taken the place of MP3 to become the next top in terms of streaming music format, it's worth considering one AAC player that's not only sophiscated in this type of high-quality, low bitrate music files, but also plays MP3, FLAC beautifully,
Download and Play More AAC Audio from Music Streaming Sites
Directly play AAC audio from legal CDs or DVDs is recommended, yet it's also downright easy to download AAC files from Soundcloud, download music from Mixcloud and other legal music download sites with 5KPlayer. You music library is more binge-worthy than ever with the AAC player and downloader 2-in-1. Now click to free download the AAC file player below:
Two Steps to Play AAC Music and Audio with Best Free AAC Player
Download 5KPlaye setup, this best free AAC player only takes seconds long before you can enjoy the high fidelity AAC music.
Step 1: Import AAC music/video files to play
* Launch the best free AAC music player and click "Music" on the interface to pick your AAC file for playing.
* You can also play movies with AAC soundtracks by tapping "Video" button.
* Media file loading is also accessible by drag-and-drop action to the interface directly or right click on the playback area for the Open Media File Tab.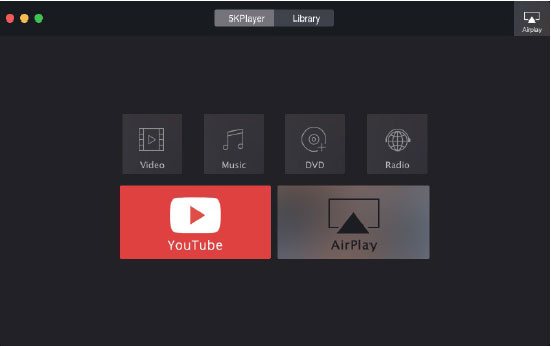 Note: With this best free AAC file player comes with abundant music resources, an exciting world of online music is in store for you through its integrated YouTube download function, moreover, please explore more from the list of online video websites 5KPlayer is eligible for. Hi-Fi music never comes enough for music fancier. For users pursuing even better acoustic experience from AAC music and more media types, this best free AAC media player is the second-to-none choice, for not only the AAC music but also the movies with AAC soundtracks do provide better audio quality than MP3 whilst keeping the bit rate lower. This makes AAC a suitable audio format for media players, and 5KPlayer the suitable player among all.
Related Articles
Best AAC MP3 Player Download FreeTake a look at best AAC MP3 player download list! We recommend you 4 best free AAC MP3 players for both macOS and PC Windows 10.
Top 4 MP3 Players macOS SierraTop 4 MP3 players macOS Sierra review here can help you find out the best free masOS Sierra 10.12 MP3 Player download.
Top 10 MP4 Viewers Free DownloadThis top 10 MP4 video player review will help you get the best free MP4 Viewer with euphonious sound and high image quality.
Home | About | Contact Us | News | Privacy Policy | Agreement | Site Map
Copyright © 2023 Digiarty Software, Inc. All Rights Reserved.
5KPlayer & DearMob are brands of Digiarty Software, Inc. All other products or name brands are trademarks of their respective holders. All logos, trademarks and images relating to other companies that may be contained wherein are applied in the Internet that are not used for commercial use. Digiarty's software is not developed by or affiliated with such companies.