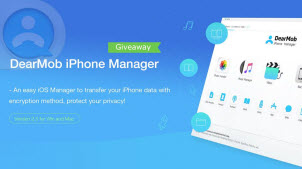 DearMob Giveaway: World's 1st iOS Manager to Transfer iPhone Data with Encryption
DearMob iPhone Manager upgrades to its version 2.5 for Windows and Mac to sport iOS data encryption functionality, virtually the first and only of its kind to provide users with U.S.Military grade password-protection. To celebrate, DearMob starts to give free copies of this iOS manager to Windows and Mac users from April 20th to 27th.
So far, the latest version of this iOS manager can not only export iPhone photos, videos, and contacts to computer or Mac with encryption, but also password-protect locally-stored files and folders, all through an industry-leading encryption algorithm of 1024-bit RSA, 256-bit AES, PBKDF2, Argon 2.
DearMob iPhone Manager Version 2.5 is the first and only data-encryption powered iPhone manager, and Windows and Mac can get it for free at:
https://www.5kplayer.com/iphone-manager/giveaway.htm
This upgrade, designed to raise the awareness of data security among iPhone and iPad users, to encourage them not to wait until it's too late before adopting effective methods for self-protection, is pushing consumer-oriented encryption technology up to the level of military standard. To be specific, DearMob iPhone Manager for Windows protects iOS videos, photos, contacts, or overwrites iPhone backup with AES and RSA encryption, while the Mac version relies on 1024-bit RSA, 256-bit AES, PBKDF2, Argon 2 to encrypt altogether.
Adding data encryption function to the iOS manager is a decision made to curb risks from roots: When personal data is still vulnerable to hidden attacks, starting to protect privacy with trustworthy encryption tools like DearMob iPhone Manager can efficaciously prevent data leakage from turning out to be true.
DearMob iPhone Manager Giveaway:
Windows and Mac users can get a giveaway license of DearMob iPhone Manager in the address below. Kindly be noted that the giveaway license doesn't include free lifetime upgrade.
https://www.5kplayer.com/iphone-manager/giveaway.htm
DearMob iPhone Manager users with full licenses may directly upgrade to version 2.5 for free.
About DearMob
DearMob, Inc, a vigorous software company with forefront developing outlook. DearMob is led by its innovative tagline products including: free 5KPlayer, DearMob iPhone Manager, etc. The brand is ready to enable more dynamic growth with compact and competitive products for Mac/Windows/iOS/Android users in 2018. For more information about DearMob, feel free to visit https://www.5kplayer.com.
Contacts
DearMob
Daisy Hsing , +86-28-85134884
media@5kplayer.com
https://www.5kplayer.com/