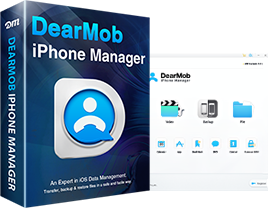 Official Release! DearMob iPhone Manager for Windows and Mac Hails the World Today
DearMob, Inc embraces the complete release of DearMob iPhone Manager today – the brand-new iPhone backup software for Windows and Mac with stable, secure, and super-fast utility to manage, transfer, backup and restore iPhone or iPad data.
This new-in and full-fledged iPhone backup software – DearMob iPhone Manager, stands fully ready to manage category-wide iPhone data including photos, music, videos, create ringtone, etc on iOS 11.2.1 or earlier.
DearMob iPhone Manager for Windows and Mac works in conformity with iPhone or iPad powered with iOS 11.2.1 or earlier, and is cordially inviting tests and reviews. The software is available at:
https://www.5kplayer.com/iphone-manager/
With the grand release of this swift iPhone backup software, DearMob, Inc lands on its new starting point to meet content management demands of iPhone and iPad users. With its data management expertise gained through the free DearMob iPhone Music Manager and DearMob iPhone Photo Manager back in 2017, this promising developer brings to users a genuine robust tool sporting category-wide iOS data support: DearMob iPhone manager can help users backup iPhone photos in JPG, HEIC and music in MP3 AAC format, 2-way transfer videos in MP4 MKV H.264 and manage more types of iPhone files such as SMS, Podcasts, voice memos, ebooks, bookmarks, calendars and contacts between iPhone and computer or Mac. By design, it's an universal tool to backup and restore iPhone data, transfer iPhone media files, or even transfer old iPhone to new iPhone, all in an incredibly easier manner, thus eliminating any inconveniences users may encounter in real terms.
DearMob iPhone Manager Supported Working Environment
Windows: Windows 10/8/7
Mac OS: macOS High Sierra/Sierra/OS X 10.11/10.10/10.9
iOS: iOS 11.2.1 or earlier
Supported iPhone File Types
DearMob iPhone Manager can backup and transfer: photos, music, videos, ebooks, voice memos, calendars, APPs, bookmarks, SMS, and contactss. It may also add ringtone to iPhone, backup iPhone data (encrypted) or restore iPhone from backup.
DearMob iPhone Manger for Windows and Mac offers multiple download options: Users can choose a 1-year license or a lifetime license, for 1 PC/Mac or multiple PCs/Macs with the price starting from $39.95, at: https://www.5kplayer.com/iphone-manager/
About Dear Mob, Inc
Dear Mob Inc is a vigorous software company with forefront developing outlook which keeps pushing itself in developing new products and revamping the capability of its free 5KPlayer. With a foothold in the mobile solutions in 2017, Dear Mob, Inc is ready to enable more dynamic growth with compact and competitive products to Mac/Windows/iOS/Android users in 2018. For more information about DearMob, feel free to visit https://www.5kplayer.com/
Contacts:
DearMob Inc.
Emily Wong, +86-28-85134884
media@5kplayer.com
http://www.5kplayer.com