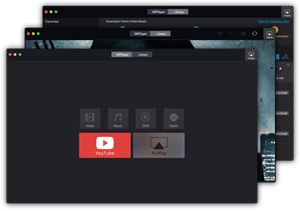 5KPlayer Revamps H.265/HEVC Playback/Streaming Features in Version 3.2 for Windows
DearMob releases 5KPlayer for Windows version 3.2 - the second mature upgrade to optimize the H.265/HEVC video codec playback function and present better visual enjoyment of 4K and 8K UHD videos. Meanwhile, the intrinsic support to stream H.265/HEVC coded videos from Mac and PC to Apple TV is also enhanced.
5KPlayer is a free multimedia player which fully supports hundreds of audio video codecs, especially the H.265/HEVC codec. As an Airplay server, the free application allows streaming H.265/HEVC encoded 4K and 8K videos in MP4, MKV, MOV, AIV formats from various airplay-enabled devices like Windows PC and 5K iMac to Apple TV. This time, to stand out among a variety of media players boasting the capability of H.265/HEVC playback, DearMob Inc., the developer of 5KPlayer particularly renews the H.265/HEVC file playback and airplay feature in 5KPlayer version 3.2 to facilitate seamless playing and streaming of 4K and 8K Ultra HD videos.
"H.265/HEVC playback will become the mainstream in the near future. And DearMob must catch up with the trend and run ahead of our competitors", said Houson Xu, Product Manager of DearMob.
Inspired by the market trend, teams of DearMob collected a sheer number of customer feedbacks about H.265/HEVC playback issues from various websites, forums, communities, and spared no effort to figure out the reasons for kinds of playback errors. Having learned from the causes of H.265/HEVC codec playback failure, DearMob did its best to step up 5KPlayer's performance in H.265/HEVC file playback and streaming, so as to keep the users of 5KPlayer satisfied.
The first and primary thing to keep users satisfied is to ensure functions are enhanced and new features are added. So this time, DearMob has sharpens the H.265/HEVC playback feature of 5KPlayer, and meanwhile added a new feature that enables the application to play a certain portion of damaged H.265 files. Moreover, the increasingly popular demands of users for much smoother H.265/HEVC streaming is met as well.
With the completely revamped version 3.2 for Windows, users of 5KPlayer are able to play and stream their favorite 4K and 8K videos encoded H.265/HEVC quickly and conveniently without stutters, hiccups and glitches. And Manager Xu promised that more efforts will be spent by DearMob to build 5KPlayer into a much more powerful H.265/HEVC player and streamer.
About DearMob Inc.
DearMob, Inc. is an emerging & burgeoning company engaged in free mobile software developing. In pursuing the ultimate goal of providing users with omnipotent mobile tools, it tries best to research and develop practical applications compatible with mainstream platforms like Windows, Mac, iOS and Android. It currently involves in multimedia playing, video music downloading and streaming, as well as multi-screen video playback, and will foray into the market of mobile antivirus solution, and file managerand backup solution for iPhone, iPad, and Android devices. For more information about the company, please visit: https://www.5kplayer.com/