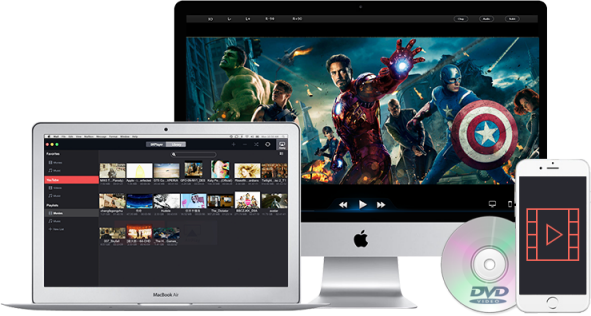 5KPlayer Gives DVD Video Converter Away for One Year Anniversary
DearMob's long-awaited One Year Anniversary giveaway is finally staging: This time a deluxe lineup of best-in-class DVD video converter and other discount are available for 5KPlayer's old friends and new entrants from the websites below:
It's been a complete year since 5KPlayer was born on January 20, 2015, and DearMob has achieved early success with over 1,600,000 downloads. This figure can't be attained without the encouragement messages and valuable feedbacks from all users. Carrying all the sincere gratitude from DearMob. Inc, the yearly giveaway and discount are available by February 2, 2016 at:
For Windows: https://www.5kplayer.com/software/dvd-video-converter-giveaway.htm
For Mac: https://www.5kplayer.com/software/dvd-video-converter-giveaway-mac.htm
Big Event: Tie-up of Free Multimedia Player and DVD Converter
The free 5KPlayer features media playback, YouTube video download, and AirPlay streaming on Mac El Capitan as well as Windows 10 as its major strengths. However, with its processing module centered on video and music playback, a DVD video converter is better capable of DVD ripping and video conversion.
The Most Up-to-date Free Video Player with 8 Updates a Year, Now in High Gear
The year 2015 sees 5KPlayer growing prudently as a free video player: There are 6 consecutive updates in 5KPlayer for Windows, capturing Windows 10 and Surface Pro 4 users with a streamlined design for Windows desktop and tablets. There are 8 updates in 5KPlayer for Mac, adapting to Mac El Capitan and the new iMac 4K as smooth as cream. When compared to big name media players such as VLC Media Player, which features 4 major adjustments in 2015, 5KPlayer is indeed a fast runner on the road of media playback.
The Most Easy-to-operate DVD Video Converter for 5KPlayer Users, Now for Giveaway
Old users of 5KPlayer setup may find every gadget in this giveaway easier-to-operate than other video converter in market. For example, the frequently used FLV to MP3 conversion and MP4 to WMA conversion functions in the WinX HD Video Converter Deluxe are also popular among 5KPlayer users, and the DVD ripper can back up DVD movies as VOB format videos, ISO images or video_ts for this best free VOB player in case of any DVD damage. As of DVD playback on computer, 5KPlayer will need external help to attain a 4K DVD player standard on a HDTV.
In the meantime, thanks to a shared principle in design, 5KPlayer users can navigate in the new DVD video converter in no time. Compared to memorizing keyboard shortcuts and functional tabs in an unfamiliar design all from the beginning, getting a free licensed copy during this Anniversary promotion is better to go.
Features of Anniversary-Exclusive DVD Video Converter
* Convert: Convert MKV to MP4 format, and convert video to iPhone and other 410+ profiles;
* Rip : 1:1 rip DVD videos to MOV, AVI, or MP4 format, and rip DVD to ISO image, video_ts;
* Subtitle, Edit: Add external subtitles to videos, and edit videos.
* Lifetime Free Upgrade.
Fitting professional functions into a simple design, the free 5KPlayer will carry on in 2016 to refine its lineup and further improve the playback performance on Mac and Windows 10. It deems user's accreditation as an invaluable asset both for the software and for the development team, hence user-exclusive giveaway and other forms of rewarding activities will be available at the websites below in days to come.
DVD Video Converter Anniversary Giveaway
Free DVD video converter from DearMob will be available by February 2, 2016:
Get best-in-class DVD video software for Windows (for Mac)
Get best-in-class DVD video software for Mac (for Windows)
About DearMob Inc.
DearMob Inc is a vigorous software company with cutting-edge DVD and video software developing outlook which never loosens the efforts in developing new software as well as revamping 5KPlayer's ability. In 2016, DearMob, Inc is ready to enable and support dynamic growth in the fast-moving mobile software market by delivering more convenience and entertaining helper to all the Mac/Windows/iOS/Android users. For more information about the company, please visit: https://www.5kplayer.com/