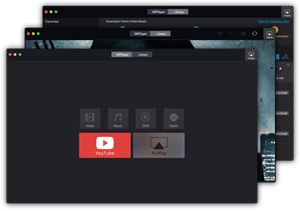 Change Is Now - 5KPlayer Brought 4K 8K Super High Vision Playback Into Every Household
DearMob, Inc. has recently improved 5KPlayer, the UHD-determined multifunctional 4K 8K player, for both Mac version and Windows to be prepared for the upcoming Rio Olympics videos in 8K. Learn how to download, play and AirPlay 4K 8K videos at https://www.5kplayer.com/video-music-player/play-4k-8k-videos-guide.htm.
4K videos are spreading all over the video sharing sites and NHK is also confirmed to launch 8K transmissions to showcase some of the Rio Olympic Games in August according to DTG news. Test broadcasts will run for seven hours a day in 8K and be available at about 60 public viewing sites around Japan. To make 4K 8K video sources attainable, watchable and economically viable, new approaches has been taken by DearMob to update 5KPlayer to download, AirPlay and play unlimited 4K 8K videos.
The new version of 5KPlayer is powered up with H.265/HEVC streaming in decoding of 8K/60p ultra-high-definition video, which can decode up to 1100 frames per second at 8K (7680x4320) including the extensive use of downloading 4K 8K videos from 300+ online video sites. "8K video requires much higher compression ratio than 4K," the product manager Houston Xu says, "In order to efficiently decode 8K UHD videos, 5KPlayer is updated to process audio of up to 22.2 channels and ready to contribute to the realization of truly immersive 8K video enjoyment."
Moreover, this new version of 5KPlayer also aims to fix 4K 8K video playing error ultimately which makes the whole UHD stream civilian. For those who have problems of playing 4K 8K UHD videos on Mac, PC and mobile with VLC or other players, they might as well download this best 4K video player to enjoy 4K/8K programs and fascinating sporting events like 2016 Rio Olympic Games.
Price and Availability
The most economical way to watch 4K 8K videos for everyone: Free download 5KPlayer version 4.1 for both Mac and Windows at http://www.5kplayer.com
About DearMob Inc.
DearMob, Inc. is a vigorous software company which develops innovative video software. In pursuing the ultimate goal of providing users with omnipotent mobile tools, it never loosens the effort to research and develop practical applications compatible with the mainstream platforms like Windows, Mac, iOS and Android. In 2016, DearMob, Inc is ready to enable dynamic growth in the fast-growing mobile software market by delivering more convenience and entertaining helper to iOS and Android users.
For more information, feel free to visit: http://www.5kplayer.com