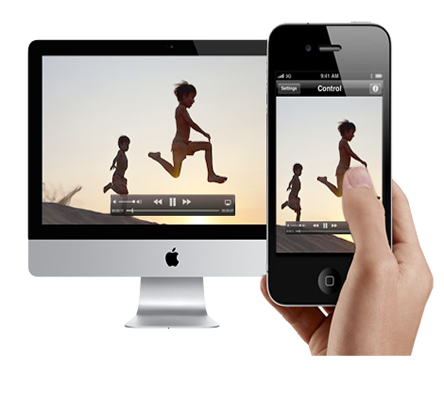 Back and Bravo! 5KPlayer's iOS 9 Compatible AirPlay on Windows and Mac Returns
The AirPlay function of DearMob's all-round multimedia player software - 5KPlayer now supports iOS 9 powered iPhone, iPad to stream videos and music to Mac and Windows. To date, the developers are striving to take this experience to iOS 10 as soon as possible. With its seamless playback, online downloading, and AirPlay streaming function running in high gear, 5KPlayer takes a quantum leap forward in its version 4.0 for Windows and Mac.
AirPlay, enabling users to AirPlay from iPhone, iPad to PC and Mac further completes 5KPlayer's function lineup: Among all AirPlay servers hindered by iOS 9, 5KPlayer makes the breakthrough to stream movies from iOS 9 powered iPhone, iPad to Mac, Windows, or AirPlay videos from computer to Apple TV in Wi-Fi environment. According to Houston Xu, Product Manager of DearMob,
"5KPlayer's AirPlay sets you free: From the kitchen, living room or anywhere as you please, it intelligently connects devices and delivers videos to a bigger screen. We're working to take this experience to iOS 10, too."
A full set of iOS 9 compatible AirPlay functions greets users this time: Audiovisual streaming, screen mirroring and screen-recording. When compared to all the video players in market, such a comprehensive software supplying all the three functions, and especially AirPlay mirroring without hiccup is indeed a precedent-setting one.
Hopefully, users can solace in find 5KPlayer's AirPlay streaming more binge-worthy when joined hands with its online downloading and playback function. Considering Apple's proposal of Time Warner's takeover lately, according to The Fortune, content demand on Apple TV remains insufficient. That being said, 5KPlayer as a resilient 4K video downloader can nab plenty of contents to computer before transmitting them to TV screen via AirPlay, another way round of binge-watching on TV.
By wirelessly replicating the content from iPhone, iPad to computer, or from computer to Apple TV by way of AirPlay, 5KPlayer not only overcomes iOS 9 incompatibilities, it also considerately wipes out the slightest experience of inconvenience which, when so frequently happens in everyday use, is anything but slightest.
Free 5KPlayer Avaibility:
5KPlayer now supports AirPlay from iOS 9. The Version 4.0 for Windows and Mac are available for download at https://www.5kplayer.com/
About DearMob Inc.
DearMob, Inc. is a promising mobile software developing company developing useful software for Windows, Mac, iOS and Android users. Its product lines currently involve in new-generation multimedia playing, music video streaming and downloading and multi-screen video playback, and will extend to mobile apps, mobile antivirus and file backup solutions. For more information about the company, please visit: http://www.5kplayer.com
MEDIA ONLY Contacts
DearMob Inc.
Emily Wong, +86-28-85134884
media@5kplayer.com
http://www.5kplayer.com